BENTON, La. — Elizabeth Carper turned 100 on Tuesday but marked the milestone Saturday with family and friends. 
"All my family came and celebrate today. Thank you for being here today," said Carper. "I love everyone."
Carper danced and kicked her way onto a red carpet after exiting her limousine which led her very own car parade. The parade was followed by a gathering where family shared memories, kinds words, and gifts with Carper.
 KTBS asked Carper something most are usually curious about: her secret to a long life. 
"My secret is if you obey your parents. God gave us a promise, and we'll live a long life," said Carper. "If not, your days should be short." 
She also mentioned that obeying God was part of her longevity. That is something she makes sure family and friends know to do. 
Carper's mom lived to be 104 and gave birth to her very close to the location of her birthday party: across the field from the pavilion where the party was hosted. The house is no longer there but her family still owns the land. 
While Carper has one biological daughter, she has raised many children under her wing. 
"She's just been a good mother to a lot of kids. And we don't really call them foster kids, we call them our extended family," said Carper's daughter, Mary Johnson. 
Johnson said her mother has over 30 extended family members that she helped raise. Many of them came in from other states, including Texas, Virginia and Florida. Carper's great-granddaughter, Shanae Pickens, drove from Ocala, Fla., with her children and husband Ian.
"It just meant a lot for us to be here," said Shanae.
"She's probably one of the most amazing people I've ever met," said Ian. 
During the celebration, Shanae read aloud a letter from President Biden to Carper. He wished her a happy birthday.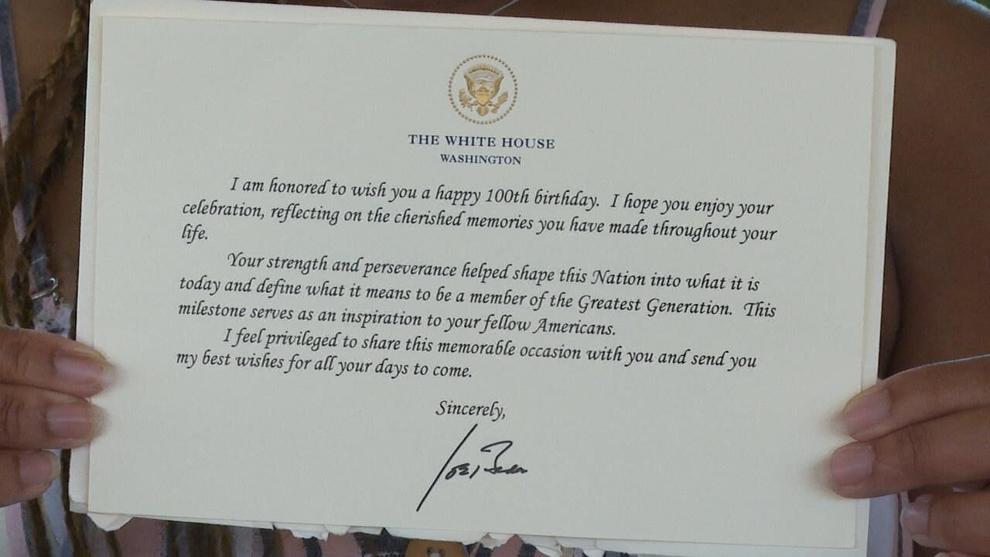 "I hope that all my family follow my footsteps and they can live a long life, like I did," said Carper.