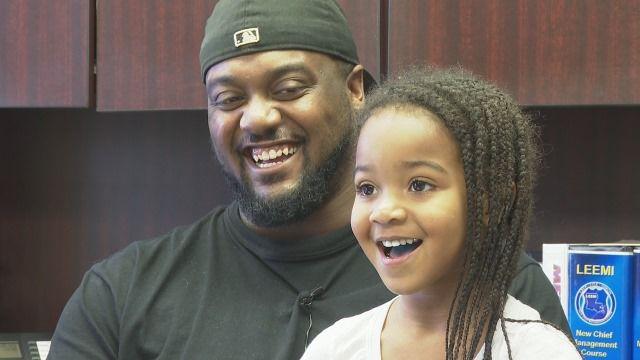 BENTON, La. - "They're calling him a super hero," said Haylee Taylor as she pointed at her father, LaRandle Taylor.
The 31-year-old Benton police officer is thrilled to have his side-kick back in his arms after a near death experience Saturday morning.
"I thought I'd never see my kids again. A lot was going on in my mind, especially on the ride to the hospital," said Taylor.
Taylor was patrolling state Highway 3 in Benton shortly after severe storms passed through the ArkLaTex. He noticed some utility lines down and blocked off the southbound lane to protect drivers from any danger. 
Meanwhile, a driver approached and Taylor stepped out to slow him down. The driver drove over the lines, which whipped around and made contact with Taylor and his police unit. Taylor was shocked from the utility lines and could barely move.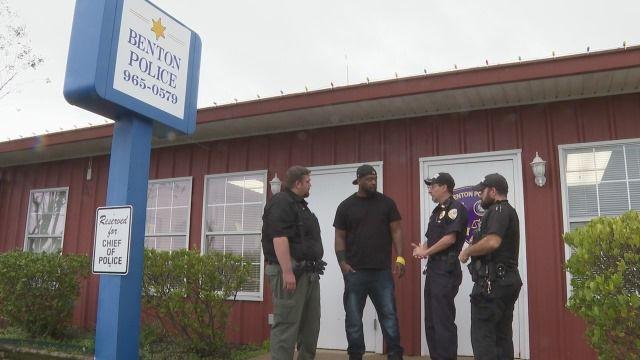 "He was very lucky. Just having enough energy to get up off the ground to get to his unit to call for help was a miracle in itself," said Chief Charles Pilkinton.
Pilkinton rode in the ambulance with Taylor, who sustained injuries on both his arms and legs and kidney problems from the electric shock. If it weren't for his brothers in blue, Taylor said he might not be here today.
"I knew I had family, but this showed me how big my family really is. And it meant a lot for me, it really helped. Just making sure I was eating and checking on my constantly. I got a lot of friends it seems like and I'm blessed to be here," Taylor said.
Taylor is a part-time employee with the Benton Police Department, which means he is not eligible for sick or vacation time. If you're interested in helping while he recovers, an account has been set up for donations.
First National Bank of Benton
401 Sibley
P.O. box 280
Benton, LA 71006