He's believed to be the only American to have served in four wars. But that only begins to tell the story of retired Col. Steve dePyssler of Bossier City. Our community will soon celebrate his next milestone in a life of service and giving.
"No different than any other," he says of his upcoming 100th birthday. "I still get in my car and come to work. I can still drive, fortunately, and I have no problems at all."
He still rolls into work every weekday morning at the Retiree Office at Barksdale Air Force Base. He's the director there. A volunteer for more than 40 years since his own retirement from the military. Never paid a dime.
"I am healthy. I am mobile. And I am knowledgeable. And as long as I can help people and as long as I enjoy coming to work then I will continue to work," dePyssler says. "My goal is to help one person a day for as long as I live. That's my goal. And has been for years and years and years."
He's helped many thousands of retirees get their VA benefits, awarded them trinkets -- like a cap, or a pin, or a decal. And he helps military widows get what's owed them in their time of grief -- plus a gift from him of a necklace.
"When they're leaving my office, they're all smiling and happy," dePyssler says with a smile of his own.
A middle-aged fellow retiree and volunteer in the office, Fred Acosta, says of the sharp-minded and energetic dePyssler, "For 100 years old, he doesn't act like he's 100."
And consider that 80 of those years have been in service to country. Almost 40 -- 38 to be exact -- were on active duty, starting with World War II.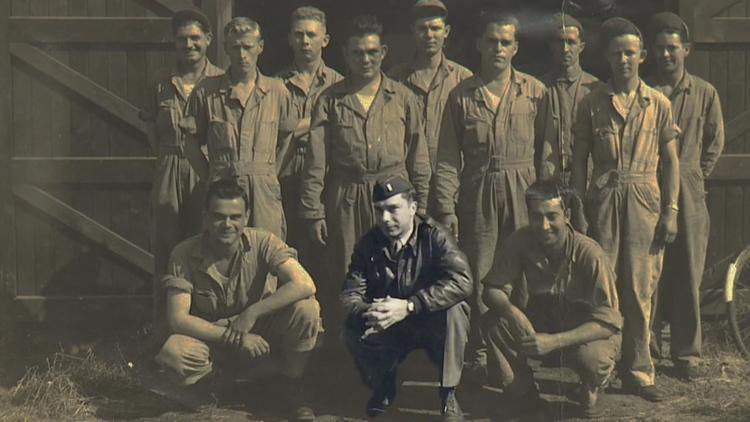 "I was there on D-Day in the air with the engineers," dePyssler recalls looking down the armada of ships.
He watched the historic seaborne invasion from above. He'd soon be on the ground helping engineer batallions set up airfields. And get forces to the front as they battled through France and into Germany.
"I was on the outskirts getting all the people that I could lay hands on to get in the Battle of the Bulge," he says.
Col. dePyssler's specialty was logistics, a role he would continue in three successive wars, in support of the French in the Indochina War, then the Korean War, and finally the Vietnam War after he transferred to the Air Force.
"I didn't have to fire a gun. I just happened to be there," he says. "In the real world I have done more after I had retired than I have ever done in the military."
Col. D still puts out a couple of publications for retirees -- for free. And there've been major projects he's led to help the military and their families -- like the Northwest Louisiana Veterans Home, the veterans cemetery, scholarship funds, and the Purple Heart stamp. He says all his activity has helped him reach 100. His advice?
"Keep busy. Help people. Take care of your family," he says.
Col. dePyssler credits a great marriage, too. He and Gloria are going on 75 years. He says her meal plan has helped keep him healthy.
About 250 people are expected at a big birthday bash this Friday in Bossier, including some veterans from around the country who served with Col. dePyssler in the Vietnam War.