SHREVEPORT, La. - At the corner of Pierremont Rd. and Fern Ave. in Shreveport, the home of John and Bitsy Smith, husband and wife of 27 years, is known as the "holiday house." 
For seven holidays each year, the couple makes a full effort to decorate their home. The Fourth of July is on Thursday, and this particular holiday brings a special meaning for the Smiths. 
Related Content-- FREEDOM FEST FINALE SCHEDULE OF EVENTS
Mr. and Mrs. Smith are supportive of the military in the United States. Mr. Smith's father was a retired Lieutenant Colonel in the U.S. Army and Mrs. Smith's father, sister and brother were all U.S. Marines. All of them have passed on, and Mrs. Smith's brother was the last one to go.
Three weeks ago, the couple began to decorate their home for Independence Day, and has continued to add patriotic items on each side of the house to finish the masterpiece. Just yesterday, Mr. Smith put up Uncle Sam and the swing in the front of the house. He told KTBS 3 when the swing goes up, that's how anyone would know they're done or close to being finished decorating.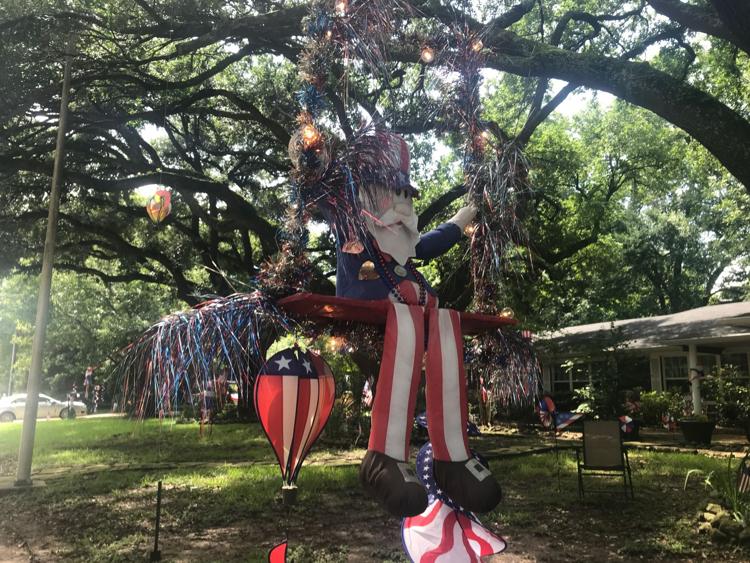 During the Fourth, the couple stays at home and lights fireworks in their driveway for their friends to watch or anyone who passes by the house. They light the ones that shoot straight up in the air, and it lasts for about 20 minutes.
"It's nice to see the smile on people's faces. That's the main thing," said Mrs. Smith.
Mr. and Mrs. Smith has been decorating their home since 2002. 
Usually, the couple takes down their decorations on the Fourth, but this year, they're going to allow it to stay in their yard through the weekend. 
Mr. Smith reminds KTBS 3 that they do it for the community. 
"That's what we do this for. We've been very blessed, and this is our way of giving back to the community. I was born and raised here in Shreveport for all 64 years," said Mr. Smith. 
Mr. Smith explained to KTBS 3 how neat it is to be able to go to stores and tell them where he lives. The workers in the store know exactly where they live and name it the "holiday house." 
The couple decorates for seven holidays and after Independence Day, they will be on break until Halloween.