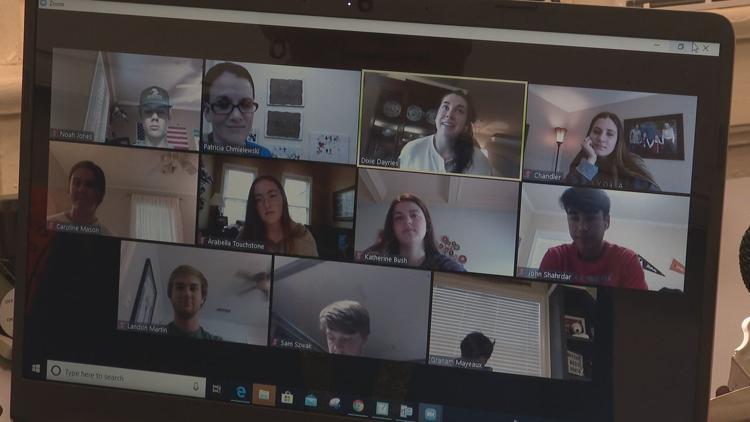 SHREVEPORT, La. - The halls are quiet and classroom desks are empty at Loyola College Prep.  It's the new normal for teachers like Patricia Chmielewski.
"Every morning when I come in here and see the empty desks," Chmielewski said holding back tears. "I miss the kids. And I feel what they're missing too."
Chmielewski teaches algebra and pre-calculus. It's no question, learning behind a computer screen is a big adjustment for both students and teachers.
She says it's strange, but it also shows what she and her students are capable of doing.
"It doesn't feel the way I thought it's supposed to feel. I can sit at this desk and interact in some level, they're asking questions, they can see each other and I can see them taking notes," added Chmielewski.
The math instructor is teaching a group of seniors on a program called Zoom. Students can solve problems and see their friends as if they were in a classroom.
But senior Dixie Dayries says it's really not the same.
"I would rather have four weeks of school in class with my friends than a prom. Not being at school is the worse part. I definitely hope we can have those experiences because it's our last time," she shrugged.
Joe Landreneau, a social studies instructor at Loyola, He believes in order to keep the students engaged you have to maintain a good relationship.
"They need to feel like they're still able to maintain that relationship with their teachers. Not feel lonely and not feel isolated while we are apart from each other. While we might have to be physically distant, maintaining that emotional connection is really important for the high school students," said Landreneau.
For the time being, Loyola plans to make it work. Like they always do.
"I wish we could see each other in person, but I'm glad we have this," said Chmielewski, as she waved goodbye to her students over the computer.  "Email me if you have any questions, I'll see you Wednesday after spring break. Bye."
Loyola is a one to one school, meaning all students are provided iads to do school work.  That's how most students access Zoom, although it can be done through any computer, phone or tablet.