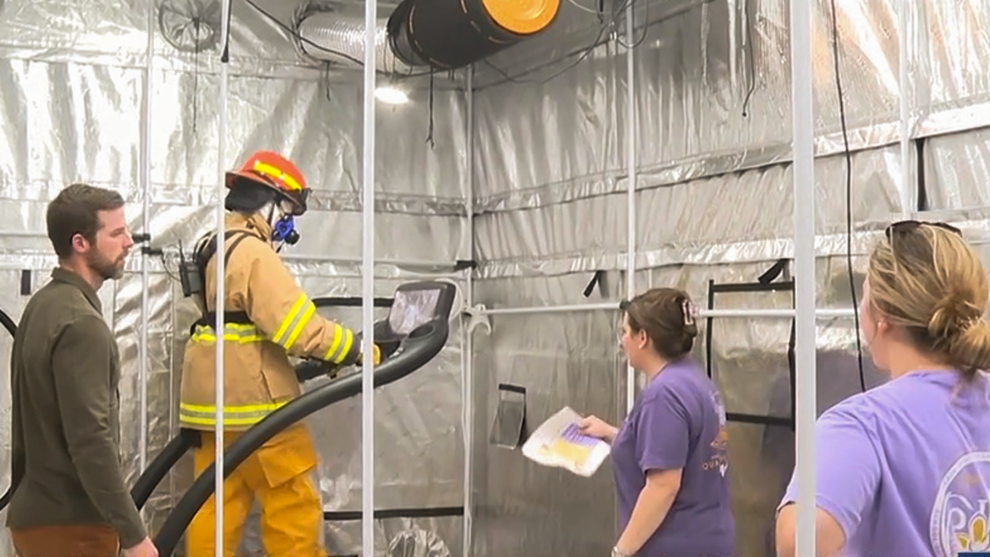 SHREVEPORT, La. - Louisiana State University Shreveport's $1.2 million investment in a new state-of-the-art Human Performance Lab will provide pathways for increased research potential, new teaching opportunities and revenue generating community engagement. 
The HPL will offer the only environmental chamber for human data collection in the state of Louisiana as well as industry-standard equipment and over 20 different assessment opportunities. After years devoted to personal training, strength and conditioning training, and specifically, environmental stress research.
HPL Director Cory Coehoorn is using the HPL to study heat stress on firefighters.
"We're looking at things that can make them healthier. We take this research, we move to the next step, we start to create some solutions," he said. 
Those solutions include cooling suits and personal protective equipment. 
There are several factors that are taken into account to conduct this study, Coehoorn said.
"We use core temperature pills and we use that information to find out how quickly a firefighter heats up, or where they are in their current state in our exercise protocol. The bod pod uses air displacement technology to capture their body fat percentage," Coehoorn said. 
Another part of the study is collecting saliva to check inflammation levels, which can determine heart disease. 
According to Coehoorn, cardiovascular disease is the number one killer in firefighters, and this heat stress data can determine whether a firefighter will have that issue.
The environmental chamber will be able to control temperature, humidity altitude, and control oxygen availability. For example, they can mimic what it would be like to exercise on top of Mount Everest. Anyone can come in and test their aerobic abilities, body composition testing, get a running analysis, test motion, brain activity and more. 
"For those out there who are athletes and who want to improve their performance and improve their health we have different resources attached to studies that people can come in and get involved with to learn more about their bodies," LSU Ochsner Health's Dr. Naina Bouchereau-Lal said.
The HPL has already hosted over 400 athletes including Bossier Parish Community College, LSUS athletes and soon C.E. Byrd students.
These tools help grow LSUS as a hub for medical studies and puts Shreveport on the map.
"We have the resource that a lot of other institutions don't have. We're able to create a lot of knowledge that helps us bring up our treatment plans, bring up our safety plans, our health plans, and we can just bring it to that extra level," Bouchereau-Lal said.
If you want to get your body's performance tested email Coehoorn at cory.coehoorn@lsus.edu.