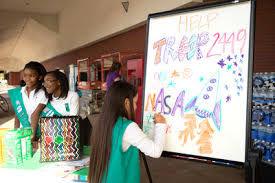 LOUISIANA - The Girl Scouts of Louisiana are adapting their methods to selling cookies. 
COVID-19 has made the girls get creative, and find ways to sell their produce in a socially distant, and contact-free way. 
They hope the new efforts will keep them and customers safe. 
One of the ways they plan to do this is through a new partnership. Food delivery service 'Grubhub' has partnered with the Girl Scouts. 'Grubhub' will play a big role in helping the girls deliver the cookies, and pick them up, all in a contact-free manner. The partnership will be piloted in Shreveport and Lafayette. 
Back in 2014, the Girl Scouts of the United States of America launched the 'Digital Cookie®' platform online. According to girlscouts.org, the platform allows members to:
Gain new essential business and social skills in a fun and engaging way.
Invite cookie customers to easily order and pay for cookies online and through their mobile app.
Earn funds to power amazing year-round activities for her and her troop!
"Girls and families are making decisions on how they want to safely participate in the cookie program this year," said Amaris Harris, GSLPG Marketing & Communications Director. "The Digital Cookie platform is very popular this year as it allows customers to safely order and pay for cookies online and either have them shipped to their homes or through contactless delivery from a Girl Scout."
The Girl Scouts of Louisiana- Pines to the Gulf, plan to help members run virtual cookie booths on social media and set up drive-through cookie booth locations, as an alternative to their normal cookie sale setup. 
"Our Girl Scouts just don't stop," said GSLPG CEO Rachel Broussard. "We are so proud of the leadership our girls have displayed in continuing to serve their communities through health, economic, civil and social crises. They've made masks for essential workers; practiced compassion by collecting toiletries and food for those in need, shown respect and gratitude by writing to the elderly, and more. That leadership and grit are in part powered by the Girl Scout Cookie Program and this year, with all that's going on in the world, we know our girls need that fuel like never before. We have to rise to the occasion and make sure they have the tools they need to succeed"
If you know a registered Girl Scout, reach out and find out how she's selling cookies in ways which meet state and local safety protocols. 
If you don't know a Girl Scout, text COOKIES to 59618, or click here. 
Shreveport and Lafayette residents can click here to order cookies through Grubhub. 
Remember- all proceeds will stay with your local troop.