BLANCHARD, La - The KTBS 3 Freedom Fest Finale is set for this Saturday evening, and this year will be bigger than ever.
CLICK HERE TO LEARN MORE ABOUT THE KTBS 3 FREEDOM FEST SERIES!
Due to COVID-19, this year's Finale will not take place along the Shreveport riverfront.  Instead, we will be featuring firework displays in eight locations across our viewing area and showing them live at 9:15 p.m. Saturday on KTBS 3 and KPXJ CW 21.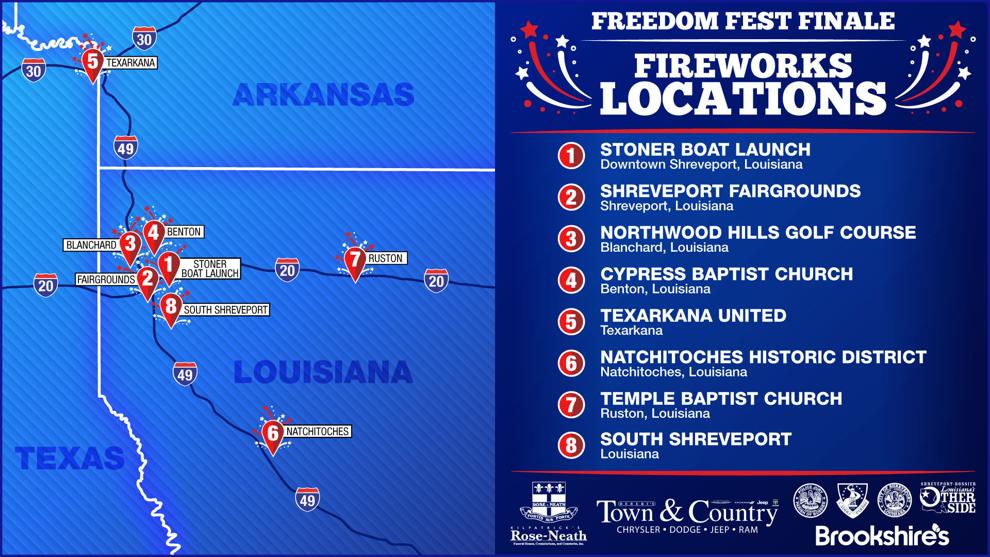 One of those locations is Northwood Hills Country Club in Blanchard. The public is invited to attend and you can watch from your car or from more than 30 acres surrounding the lake and the fireworks.  Here is some information you may want to know.
CLICK HERE FOR BLANCHARD'S FREEDOM FEST FINALE FORECAST
-Location:  Northwood Hills Golf Club/5000 Northwood Hills Drive, Blanchard
 -Food will be available to buy, including pizza, BBQ, hot dogs, hamburgers, and snow cones
-Jake Williams Band will perform and Shelly Crow Liles will sing the National Anthem
-Gates open at 6 p.m. and port-o-lets will be available
-Fireworks start at 9:15 p.m.
-Social distancing is encouraged
The Freedom Fest Finale will be aired on KTBS 3 and KPXJ CW 21 on July 4th from 6 p.m. to 10 p.m. Click here for all of the details.