BOSSIER CITY, La. - It was a great way to kick off the weekend and summer for that matter. Freedom Fest Friday: Country Night drew hundreds to the East Bank District & Plaza in Bossier City.
CHECK OUT THE PERFORMANCES IN THEIR ENTIRETY WITH YOUR KTBS EVERYWHERE CONNECTED DEVICES!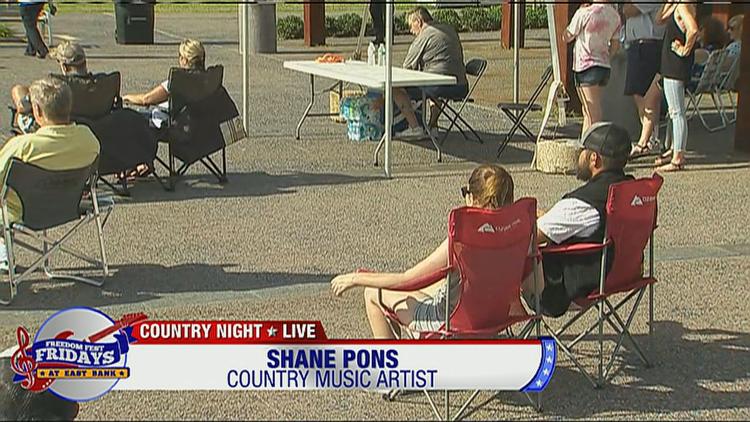 Beating the heat with something cold to drink, spectators didn't let the heat advisory keep them from having a good time and unwinding after a long week.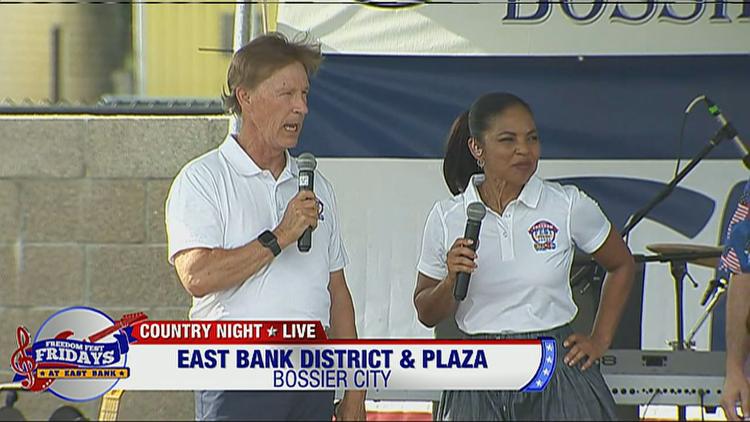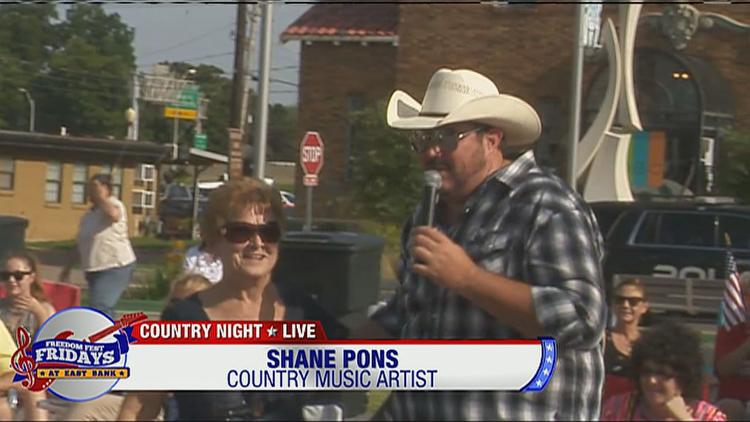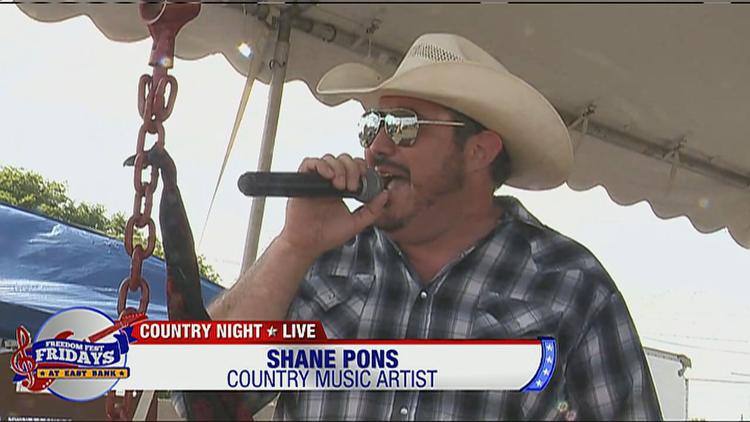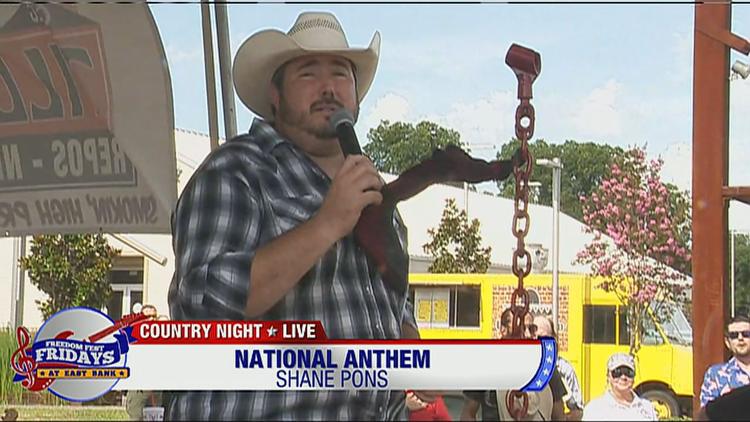 Following the opening prayer by KTBS 3's Rick Rowe, he and Brenda Teele welcomed sponsor Chris Tilley who led the Pledge of Allegiance, then Bossier City native and country singer Shane Pons belted out the National Anthem.
Pons kicked off his show by encouraging fans to jump on the Shane Train. He also performed a number of original songs for the crowd. 
Pons took the show to the people, stepping off stage and dancing with those at East Bank.
As a child, Pons says he enjoyed listening to his mom sing in the choir at church. Later on, he would sing in the kid's choir while his mom was supporting him as the director of the choir.
After that rousing performance, Rick and Brenda talked with Pons about how he launched his career singing in karaoke bars.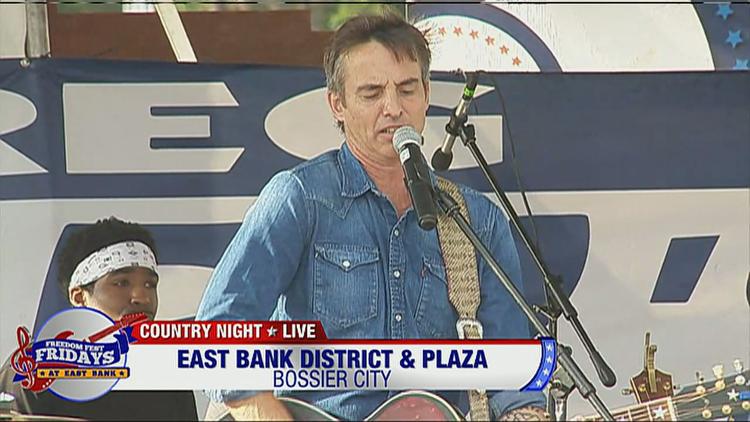 Next, singer, motivational speaker and former U.S. Army Ranger Keni Thomas took the stage. Thomas drew from his experience in the military to move the crowd.
One of the songs Thomas performed was Shreveport 2 LA.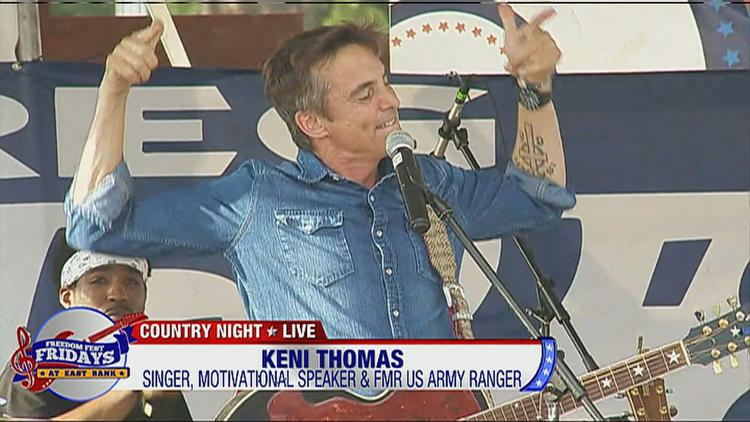 The evening of country sounds was sponsored by the City of Bossier, Christus Velocity Urgent Care, Greg Tilley's Bossier Mobile Homes and Greg Tilley's Repos - New Homes.
It was a perfect evening for the family to get out and enjoy some great music, good eats from the food trucks and bouncy houses and face painting for the kids.
Be sure and join us again next Friday for our final Freedom Fest Friday of 2019 from 5 p.m. to 8 p.m. It's ArkLaTex Idol Night featuring two previous American Idol sensations from the ArkLaTex, Garrett Jacobs of Bossier City and Cade Foehner of Shelbyville, Texas. ArkLaTex Idol Night is sponsored by the City of Bossier, CHRISTUS Velocity Urgent Care and LSU-S.
As always, you'll find our your favorite food trucks, free parking, face painting, and a laid-back atmosphere to kick off your weekend right. It's all leading up to the KTBS 3 Freedom Fest Series Finale on July 4th.
Of course, KTBS 3 will broadcast each concert LIVE on your KTBS Everywhere devices. They'll also be available on demand on connected devices. Click here to learn much more about the KTBS Freedom Fest Series.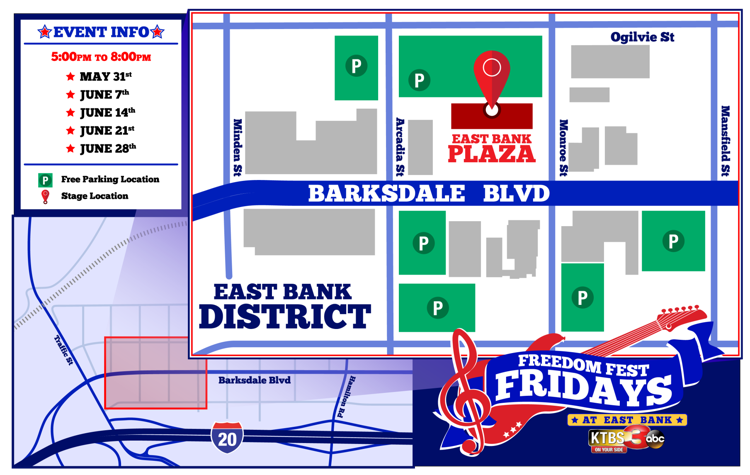 About East Bank District
For the past two decades, Bossier City, like most communities in the U.S., has looked for ways to revitalize its downtown area, but has always been faced with the challenge of how to go about the process and how to finance the project.  Since knowing that a re-energized downtown would aid in the success of the new high technical jobs that were coming to the area and also become a tool for economic development of the downtown area, the City took action and engaged the services of a local architectural firm, McSwain Architecture, to be the project architect for the redevelopment process.