The number of people who became U.S. citizens reached a five-year high last year, with more than 750,000 people naturalized.
In 2016, Bossier City business owner Sandra Slaughter was one of them. 
Slaughter is from a small town in England. She traveled to the U.S. for work. It was her love of travel and business opportunities that caused her to stay and pursue the American Dream.
In fact, Slaughter, owner of "Oh So Designs and Embroidery," is not just dreaming it -- she's living it. 
"It's a lot of hard work. But, hard work pays off," Slaughter said.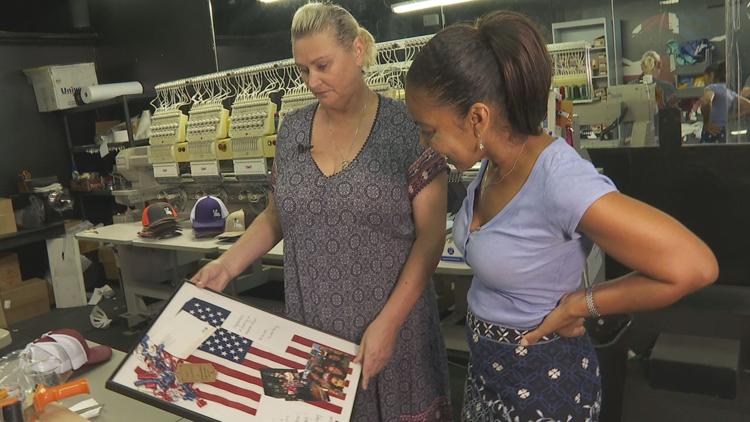 When she started in the embroidery business back in 1995, she was on the technology side. She traveled from her home in Doncaster, England to the U.S. on a work visa. 
Getting a work visa wasn't a simple push of a button. "I had to prove that nobody else in the states had the knowledge that I had to qualify to come over to the states," Slaughter said.
She taught embroiderers how to use computer software similar to what she uses today. "So I experienced American life. I experienced parts of the big cities, you know," Slaughter said.
She traveled to cities like New York, Chicago and Florida each time staying longer and eventually getting a green card.
"After renewing twice I decided, well I'm not going anywhere. I'm going to be here," she added. "This is now my home and I did want to become a citizen."
So Slaughter opened her own business and decided to become a naturalized U.S. citizen. But there are a lot of moving parts to the naturalization process.  
"Filling out a large amount of paperwork, going to have fingerprints and medical examination" were part of the process.
Add to that, Slaughter was a business owner, divorced and raising two young sons. Her oldest is 13.
Her youngest son is 9: "His name is James Kennedy Slaughter. Kennedy after the President Kennedy," Slaughter said.
Her sons enjoy being connected to her homeland and theirs. "To me it's an added bonus to them," she added.
It took Slaughter about a year to complete the naturalization requirements. And on Dec. 14, 2016, days before turning 50 years old, she did it.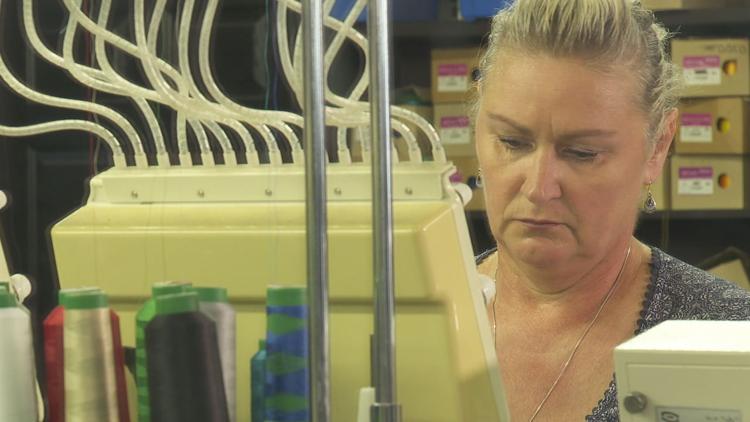 "The best thing in the whole process is when I got sworn in," Slaughter said.
She framed the oath of allegiance and the flag that she and the other soon-to-be naturalized citizens were given at U.S. District Court in Shreveport.
"I think there was 21 or 23 of us all together. We were all from all the countries you could think of which was really cool," Slaughter said.
She also received a letter from the White House, welcoming her into the country. It was signed by President Barack Obama. 
"It's pretty cool. Very proud of that," Slaughter said.
It's a thread in time, she'll always remember.
"It was a little surreal to be honest with you, because I'm from a small town in England. England is a small place. I'm in this huge country, I'm making it," Slaughter said.
Business for Slaughter is "Oh So" good. It was a brave decision for a young woman in her 20's to travel so far from home in search of a dream. And of all countries to part from, England from which the U.S. declared its independence.
"It's history. What happened, happened. And obviously it was a great move to be independent from another country," Slaughter said.
Slaughter says she misses her family in Doncaster. But the U.S. is home, and she's living the dream.
"Owning your own business is definitely a part of the American Dream. I'm very blessed to be able to say that I'm a business owner here in the United States," Slaughter said.
Naturalization ceremonies are taking place in 110 locations this week, with 7,500 new citizens taking the oath of citizenship. In Shreveport, 34 people from 18 countries will gather in the Tom Stagg United States Courthouse to be sworn in.