TEXARKANA, Ark. - One week from Saturday, KTBS 3 crews will fan out across the Ark-La-Tex for our annual Freedom Fest Finale.
This year, things will look quite different.
In addition to our top-notch entertainment, we're launching massive fireworks displays from eight locations across the area, all at the same time.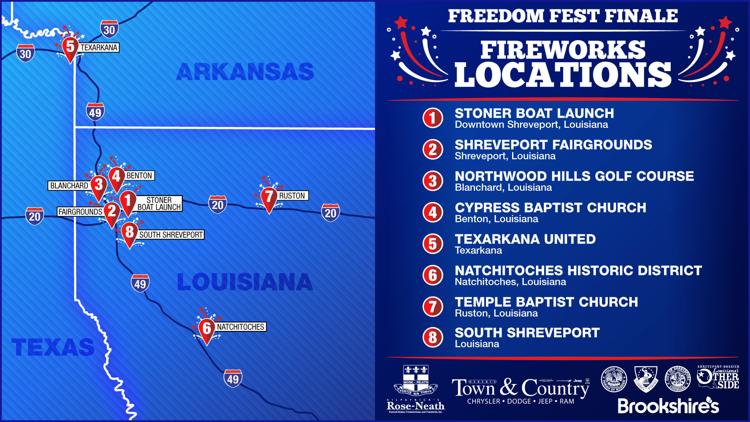 CLICK HERE FOR TEXARKANA'S FREEDOM FEST FINALE FORECAST 
The celebration kicks off at 6 p.m. on KTBS 3, with the fireworks set for 9:15. Of course the best seat in the house is, well, in your own house in front of the TV or on your mobile device.
But if you're just itching to get out, one interfaith ministry in Texarkana, Arkansas is finding ways to use this patriotic holiday to focus attention on praying for our country.
From meeting COVID-19 requirements to handling noise concerns, Texarkana United has been ironing out all of the details to create a positive and safe experience for everyone.
Due to COVID-19, Tracy Jones with Texarkana United says they do not want to swamp downtown with crowds of people viewing fireworks.
"We tried to build this show, so that you park anywhere really in a two and a half mile radius of downtown and be able to see the fireworks," explained Jones.
He says their mission is not all about fireworks, but unity.
For anyone wanting to participate in praise and worship, Jones says they're also sponsoring a prayer rally featuring Christian music.
Two stages will be set up downtown starting at 3 p.m.
The event will conclude after the fireworks show that begins at 9:15 p.m.
"We have a range of local and national talent that will be coming in to perform, and to basically celebrate our God and our country," said Jones.
Texarkana, Arkansas City Manager Kenny Haskins says they've received complaints about the upcoming fireworks show creating anxiety for dogs and cats in the Animal Care and Adoption Center.
"It's an uncomfortable situation for animals this time of year," said Haskins.
Curtis Elkins with Pyromania Fireworks says he's aware of the recent concerns.
His company is designing all of the fireworks shows for the KTBS 3 Freedom Fest Finale.
He says the shows this year will be more visual with minimal sound.
"We wanted to make sure we put on the best visual display as possible, while also taking into consideration eliminating the noise factor for the local area," said Elkins.
While there's no such thing as silent fireworks, Elkins says they plan to remove the salute shells or loud sonic boom type shells that are typically used in shows.
Jones says anyone visiting the prayer rally and music venue is encouraged to wear masks and practice social distancing.
"We're trying to build an event that allows us to continue with a great tradition in our country with all those things in mind making it as safe as we can for everybody," said Jones.
Entertainment for the event will include, Charity Gayle, Josh Sherman and the Ryan Kennedy Band.
There will be food vendors and portable bathrooms set up in downtown Texarkana downtown.
Once again, fireworks will be launched from eight locations across the ArkLaTex.
The Freedom Fest Finale will be aired on KTBS 3 and KPXJ CW 21 on July 4th from 6 p.m. to 10 p.m. Click here for all of the details.