BENTON, La. -- DNA evidence links two teenagers to the slaying of a Barksdale Air Force Base airman who was shot after he interrupted a vehicle burglary at his Bossier City home -- but the handgun seized from one of the suspects is not the murder weapon, KTBS News has learned. 
TSgt. Joshua Kidd, 30, was killed Sept. 25, 2018, after he found two would-be car burglars in the garage of his home in Bossier City's GreenAcres Place subdivision as he was getting ready to go to work. He was shot as he chased one of them.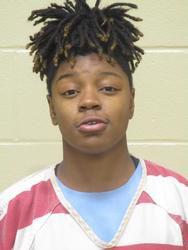 Murder suspects Jareona Crosby, 18, and Alonzo Wilson, 15, both of Bossier City, both admit being in Kidd's garage. Wilson has implicated Crosby as the actual shooter but she denies it. They are scheduled for pre-trial hearings this week to discuss on whether their statements to police can be used at trial. 
"Her DNA is on the door handle (of the victim's vehicle); his DNA is on a flashlight" found at the crime scene, District Attorney Schuyler Marvin said Monday. "The DNA backs up his story about what happened."
But the gun authorities have is not the murder weapon. Crosby was arrested first and the stolen 9mm handgun found at her apartment has been tested by the crime lab and is not the one used to kill Kidd. No gun was found after Wilson was arrested, attorneys in the case said. 
Even though the actual killer is disputed, both defendants can be prosecuted under the "felony murder" law. In such cases, a person involved in the commission of certain felonies, including burglary, can be held responsible for a person's death even if someone else killed the victim. Wilson is being charged as an adult and both face life in prison if convicted as charged. 
The first break in the Kidd murder investigation came after police, who had vague descriptions of the suspects, got a picture of a teenager who went into a convenience store near GreenAcres Place not long before the airman was killed. Detectives took the picture to schools to see if anyone recognized him. Employees at an alternative school for students with behavioral issues recognized Wilson, Detective Christopher Tuttle testified earlier.
A second break came three days after Kidd's slaying when a student told her school resource officer that Wilson and Crosby had told her about committing car burglaries.
Crosby has admitted breaking into cars that night but denied shooting the airman, the detective testified. Wilson has implicated Crosby, saying he saw her shoot Kidd. 
For Joshua Kidd, except for his young son not feeling well, the last day of his life began routinely: He got ready for work that morning, fed the dogs and let them out, and then raised the garage door. His wife told police she heard her husband yell and then slam the door leading from the house into the garage about 5:45 a.m. That was followed a short time later by the sound of gunfire and Mrs. Kidd went outside to see her mortally wounded husband lying on the sidewalk in front of their home, the detective testified.
Before Kidd was shot, there had been vehicle burglaries in GreenAcres Place subdivision, nearby Greenacres subdivision and an apartment complex. Thieves had gone "car hopping," going from house to house looking for things like money, guns and cell phones in unlocked cars.
Authorities believe Crosby and Wilson left the neighborhood after Kidd was shot and went to a McDonald's across the street from nearby Airline High School, where they split up. Tuttle said Wilson changed clothes in a restroom, asked to exchange loose change for a $5 bill and bought a sausage biscuit before leaving.