SHREVEPORT, La. -- More than once a week, someone is murdered in Shreveport.
In 2021, every homicide so far has been committed with a gun. And almost every day someone is shot – but survives.
Some in law enforcement say that problem in our community could be slowed by taking illegal guns off the streets. So, is enough is being done to keep the people committing guns crimes behind bars?
Local enforcement agencies have been teaming up in special details aimed at getting the illegally possessed guns out of people's hands – but especially away from previously convicted felons. In June, a special operation called Blue Knight targeted those with illegal guns and resulted in the seizure of 47 weapons over a single weekend.
As Shreveport heads toward what could be its most violent year ever, Caddo District Attorney James Stewart predicts his office's efforts to prosecute gun crimes -- along with the work of local police departments -- will start to turn the tide against violence in the community.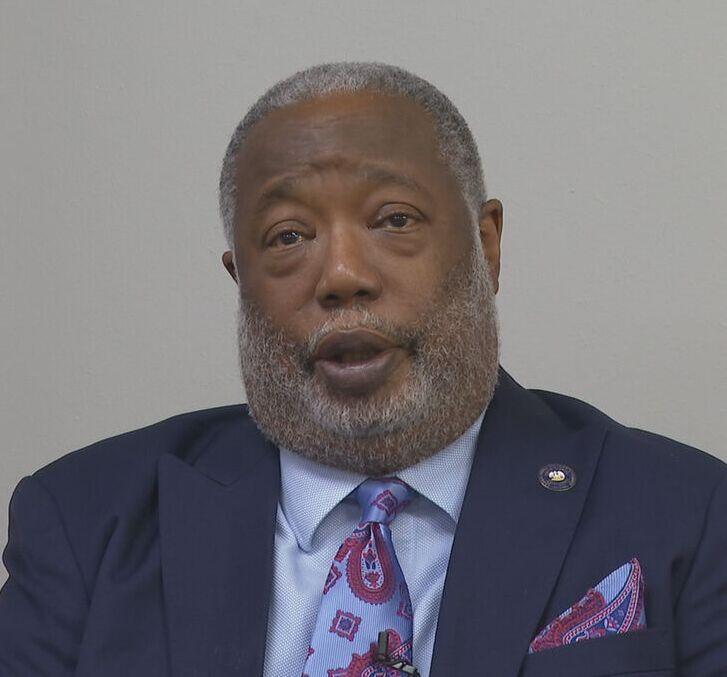 "I think the collaborative effort is making great strides; it's getting better by the week. I think people we will see a difference in terms of our ability to get convictions in those particular cases," said Stewart, adding, "If you're brought before us, whatever justice requires us to do, that's what we'll do."
KTBS looked at some gun prosecutions by his office. Here's what was found:
In a report generated in May and June on arrests by local law enforcement, there were 47 defendants with 67 gun-related charges. Those charges range from possession of a firearm by a convicted felon to illegal use of a weapon.
Of those, 82 percent results in convictions; 9% were dismissed and 9% were referred to the U.S. Attorney's Office for federal prosecution.
Of those 67 charges, here's how they ended up:
27 pled guilty as charged.
28 pled guilty to other charges.
6 were referred to the feds for prosecution.
6 cases were dismissed for a variety of reasons.
Included in the dismissals was one defendant who died. The statute of limitations expired in another case.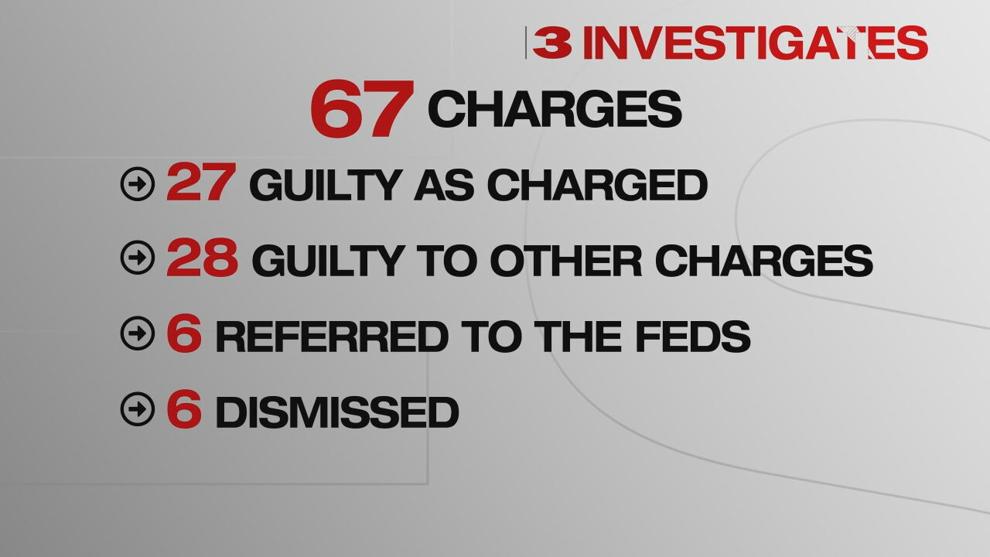 KTBS asked the D.A. to review the same two months of prosecutions. He points out that the standard of proof in court is more stringent than making an arrest on the street. 
"First, I would have to say there's no designation of gun charges. We evaluate each case based on the constitution and laws. We have a burden of proof beyond a reasonable doubt, which is different than the arresting for probable cause. So, we evaluate each case on that standard," said Stewart.
And sometimes that standard leads to charges being dismissed. KTBS found some examples.
Steven Dewayne Young was arrested by the Caddo Sheriff's Office in July 2019. He was found with a gun and crack cocaine inside of his car.
Young denied the items were his. Two witnesses came forward and gave sworn statements they were the owners of the gun and drugs. The D.A.'s office said it could not prove his guilt beyond a reasonable doubt and dropped the charge.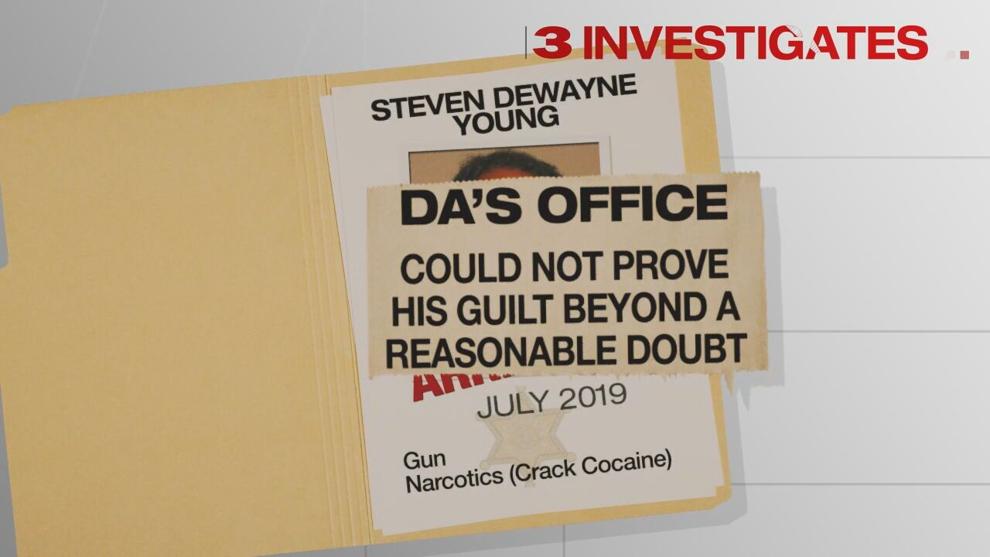 In another case, Calvin Underwood was arrested by the Caddo Parish Sheriff's office in 2018. He was charged with carrying an illegal firearm, being a felon in possession of a firearm and having marijuana.
The D.A. in March dismissed one of the gun charges and accepted a plea to the marijuana charge, which landed underwood a $100 fine. He was given credit for time served on a separate marijuana charge.
Another case in which Stewart rejected charges involved Orson Gibson. He was arrested for possession of a firearm by a person convicted of domestic violence and obstruction of justice. They charges were from a drive-by shooting that resulted in an unsolved homicide. 
Gibson drove a surviving victim of the shooting to get help and gave the convenience store clerk his personal gun. He didn't have a prior conviction preventing him from having a gun. So, the DA rejected the charges in April. 
Stewart said there's a big difference between a violent crime involving a gun and a gun simply being found.
One of the burdens of proof in the state's prosecution of firearms charges is actual possession versus constructive possession. A defendant's ''mere presence'' in the area of a gun does not prove he or she had control of it so that's considered constructive possession. And that came into play in some decisions by the district attorney's office on how it dealt with gun-related charges.
"You have categories of crimes of violence where we have victims. I think we are very effective at dealing with victims of crimes and dealing with their needs. You have another category where there are no victims, but guns may be involved. I think we are in a evolving situation with working with law enforcement to try and make the arrest and prosecutions better that we can convict," said Stewart.
The D.A. is leaning on the federal government for help with prosecution with some cases. KTBS found some examples.
David Lloyd Robertson was arrested in March 2020 and his file went to the Caddo DA's office in May 2020. Charges of illegally carrying of weapons while possessing drugs and possession of a firearm by a convicted felon were dismissed in June by Stewart's office.
But in between, the U.S. Attorney's Office in November 2020 secured an indictment for Robertson for the felon in possession of a weapon charge. The government and the defense are working out a resolution to the case. A status conference is set for Monday.
Then there was Jamarion Youngblood. He was arrested in May 2019 on an assortment of drug charges, along with two weapons offenses.
Stewart sent the gun charges to federal court, and in April, the 29-year-old Youngblood was sentenced to 13 years in prison for drug trafficking and firearms charges.
The district attorney said he also has a shortage of staff, budget constraints, and his office is one year behind because of COVID-19 related delays. But he points out, more jury trials have been tried in Caddo than any other jurisdiction in the state.
"We beat New Orleans, East Baton Rouge, Jefferson and all of them, because the people in my office were willing to go beyond what was necessary to get it done and they understood how important it was to be in court," said Stewart.
Stewart said his staff regularly meets with law enforcement to discuss ways to make their cases more effective and get more convictions. 
"We have a great working relationship with law enforcement in terms of what crimes need to be pursued. We work with them to develop the evidence that meets the legal standard to prosecute those crimes. Based on what we have been doing the last couple of years we are making progress. There are challenges on the law enforcement side and the prosecution side," said Stewart.
Sheriff Steve Prator and Chief Ben Raymond were invited to be interviewed for this story. Both declined.