SHREVEPORT, La. -- A pair of Shreveport Police officers face criminal charges in the wake of a street brawl on Devaughn Street on Mother's Day.
The Caddo Parish grand jury on Wednesday charged one officer with a felony and a second officer with a misdemeanor charge.
The officers were among a large number of police who responded to a May 12 fight among numerous neighbors and family members in the 2500 block of Devaughn, which is in the Werner Park neighborhood.
RELATED REPORT: Caddo grand jury declines criminal charges against 4 arrested in Mother's Day melee
Shreveport Police Officer Cinterrica Mosby has been charged with one count of malfeasance in office, which is a felony. Bond is set at $5,000.
Shreveport police Cpl. Phillip Tucker has been charged with a misdemeanor charge of one count of simple battery, with a bond set at $1,000.
Tucker surrendered to SPD Thursday afternoon, and Mosby plans to on Friday.
Attorney Ron Miciotto, who is representing both officers, said they were in a volatile situation where people were resisting officers' efforts to restore order. He said they "absolutely" acted appropriately and followed Police Department procedures. 
Both officers will fight the charges. "We will vigorously contest this matter," Miciotto said.
Substitute Police Chief Ben Raymond released the following statement in response to the indictments: 
"Corporal Philip Tucker and Officer Cinterrica Mosby will be placed on departmental leave, with pay, as is required by civil service regulations as well as the police department's policy.  As with any criminal matter, parties are innocent until proven guilty and we will not deprive that right from our officers.  We will be conducting our own administrative investigation into the allegations and will not make any additional comments at this time."  
There also were two off-duty officers at the scene, whom the grand jury declined to charge with any criminal offense.
Earlier this month, the same Caddo Parish grand jury returned no true bills for four individuals who were arrested by police for charges arising out of the same incident. As a result of the findings of the grand jury, the charges against those four individuals were dismissed by Caddo Parish District Attorney James E. Stewart Sr.
A video taken at the scene went viral on Facebook. It showed how Shreveport police swarmed the front yard of 2535 DeVaughn Street where generations of family members gathered to celebrate Mother's Day. 
Kayla James is the one who captured the brawl on cell phone video. At the point when the K-9 was released, all of the officers had already "rushed the porch," she said.
"So they're trying to pull people off the porch. They now have detained the guy on the porch. He fell from the porch. I read some other things about him being detained, but he fell from the porch. And he's on the ground with his hands behind his back and officer's on top of him," James said.
On the video you can hear James' voice. She was obviously upset and confused by what she was seeing.
"They're going to let the dogs eat him," James said on the video.
"To see that happening right before my eyes. I felt bad for him, but what could you do? So at this point you feel helpless because the people you call for help came there to cause this issue," she told KTBS.
District Attorney James Stewart told KTBS the grand jury could have charged Tucker with something more serious than simple battery.
"What we do is give them all of the categories that fit. And they chose to apply the facts to the law," Stewart said of grand jurors.
The dash cam video provided information on the circumstances that led to Mosby's indictment. On it you can hear her talk about her hand being swollen. She says the swelling is from hitting a woman in the mouth.
The audio is filled with profanity, raising questions of professionalism, Stewart said.
"All professionals, there's a line you can cross. You don't have absolute power. You still have to conduct yourself in a certain way," Stewart said.
The D.A. said the case landed in his office because of felony charges placed against those arrested. A K-9 can only be used in felony cases. As Stewart began to look closer, facts appeared to be missing, he said.
"Because we were receiving information from two different sources the information we received from SPD did not include information we received from another source. … We needed to talk to everyone and the best vehicle we had was the grand jury," Stewart said.
James agrees with the grand jury decision. She says it all started when Officer Mosby fell in a ditch.
"She gets out of the ditch with a little help from the off-duty officer He's trying to calm her down to let her know that no one pushed you in the ditch, I'm watching, I'm standing here, I'm your colleague, if something was wrong I would address the issue. And so he's trying to explain to her that no one pushed you in the ditch but, she was not trying to hear it," James said.
Stewart believes the grand jury's decision on Mosby is a good one.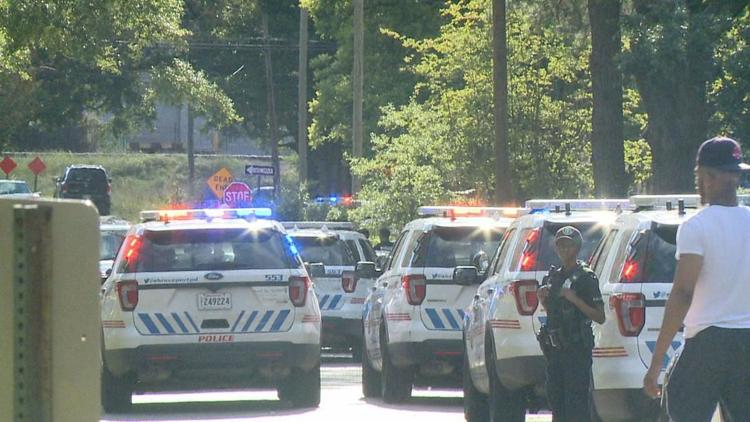 "What it tells the citizen is that system does work. There are 12 citizens from Caddo Parish who reviewed it. And they looked at it and they made the decision that I think they were supposed to make," Stewart said.
Miciotto has a different viewpoint: "She had been thrown in a ditch; she had been hit in the face; she had been hit in the chest by one or more of these people who were on the porch. The lady she was involved with tried to head-butt and kick her. The officer had to use force to subdue her. She acted in the bounds of the law." 
As for Tucker, Miciotto said: "Tucker followed all procedures in handling the dog. He was in a situation where there were five officers trying to subdue an individual who was residing arrest. He kept resisting. Tucker placed the dog in an area where he bit the man on his calf, so the injury would not be serious."
An internal investigation of the officers' actions that day was underway prior to the grand jury indictments.