SHREVEPORT, La. – Louisiana has one of the highest firearm death rates in the nation. More than 1,000 people were shot to death in the state in 2017, according to the most recent set of data collected by the Centers for Disease Control and Prevention. That number was the latest in a steady increase in firearm deaths each year since 2014.
David Joseph, the U.S. attorney for the Western District of Louisiana, said curbing violent crimes is the top priority in his district. That's why Joseph tripled the number of firearms prosecutions in the district since he took office in April 2018.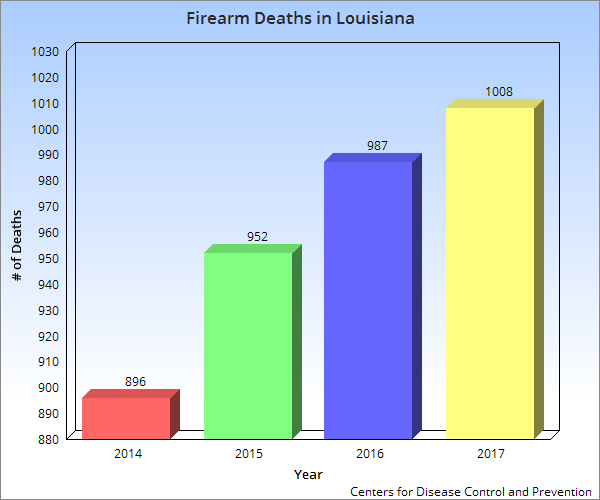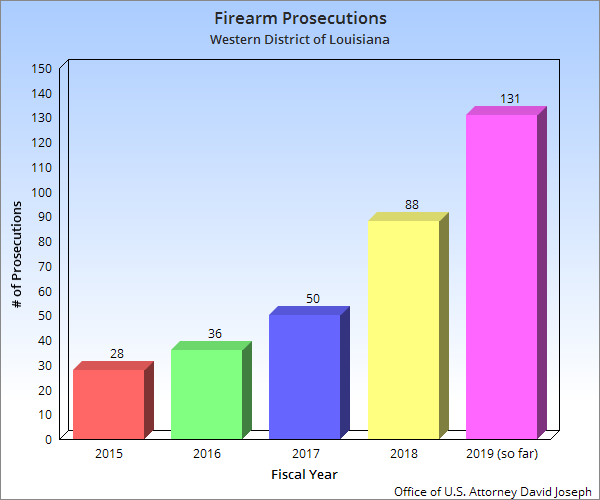 "I don't know that more people have (guns)," Joseph said. "We're looking harder."
The increase in firearm prosecutions is part of the Project Safe Neighborhoods initiative. PSN is a national collaborative, data-driven effort between local, state and federal law enforcement designed to keep guns away from people who shouldn't have them.
Each U.S. attorney is expected to lead the PSN program in their district. Joseph said he holds monthly meetings, during which city, state and parish law enforcement officials discuss strategy with the FBI and Bureau of Alcohol, Tobacco, Firearms and Explosives.
"We try to identify who are the alpha criminals in Shreveport and in Northwest Louisiana," Joseph said. "We figure out who those people are, look at their rap sheets, look at their arrest reports, and figure out if there's federal charges we can bring against them."
Joseph and federal agents depend on local law enforcement for that kind of background information.
"We trace every firearm we recover, whether we recover it as part of a criminal investigation or someone recovers it in a ditch behind their house," said Shreveport Police Chief Ben Raymond.
When a firearm is recovered by local law enforcement, the ATF traces it and stores the information.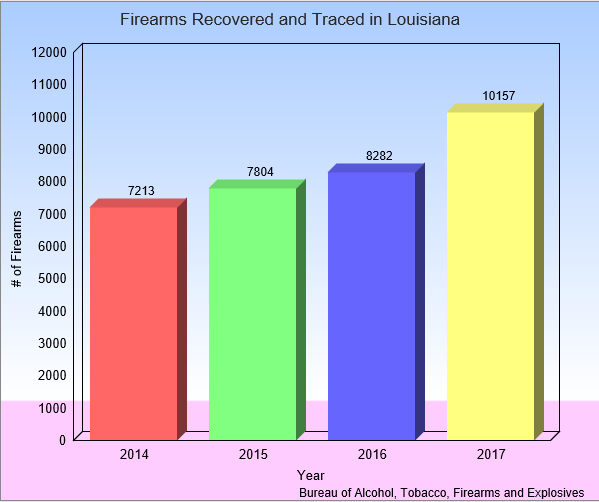 According to Shreveport police records, officers recovered 843 firearms in 2018, and 592 so far this year. The vast majority of those firearms are handguns. Of the firearms with a traceable origin, most originated within the City of Shreveport.
"(Firearm tracing) gives us an idea as to where are some of these weapons coming from," Raymond said. "Are they purchased locally? Are they stolen out of vehicles? Are they legally purchased and used in a crime?"
Raymond and Joseph agree, that rarely is a firearm legally purchased by a suspect in a violent crime.
"There's some anecdotal evidence that criminals are getting guns by breaking into cars around Shreveport – maybe not even breaking in -- just opening doors that are unlocked," Joseph said.
Joseph also learned about another trend through firearm traces.
"We are seeing some of the same guns pop up in multiple crime scenes in the district," Joseph said. "These guns get passed around. They may not just be one person that holds onto them. They may be passed onto other criminals that commit further acts with them. The gun that you accidentally left in your car that gets stolen may end up in several different crimes around Shreveport."
Raymond said analyzing the bullets and shell casings often allows investigators to link the same guns to multiple crimes.
Project Safe Neighborhoods also encourages local law enforcement to pursue prosecution on felony firearm charges in federal courts if applicable, even if the suspect is accused of other crimes.
"In the federal criminal justice system, there's no parole, so the amount of time you get sentenced to by a federal judge is how much time you're going spend in prison," Joseph said.
Joseph and Raymond agree that PSN has been effective in Northwest Louisiana.
"In 2018, there were 257 fewer victims of violent crime in Shreveport than the year before," Joseph said. "That's 257 people that weren't shot, weren't assaulted, weren't mugged. These are real people."
The Bossier City Police Department does not participate in PSN, but a spokeswoman said the department still traces recovered weapons.
"(Our street crimes interdiction unit) is actually in close contact with the communities across Bossier City," spokeswoman Traci Landry said. "They gather information, they use specialized techniques, they use specialized resources to get that information to make sure that we're on top of anything that could happen in the city."
Landry would not elaborate on the tools or techniques the department uses, citing security reasons.
Bossier City police records reveal that in 2018, 46 people were arrested in the city and charged with being a felon in possession of a firearm. That compares to 17 as of late August 2019. Twenty-four were arrested in 2018 and charged with possession of stolen firearms. Only seven were arrested on that charge so far in 2019.