SHREVEPORT, La. -- Marcus Boles was an Army veteran. His medical records reveal he struggled with post-traumatic stress disorder and substance abuse.
Boles was shot to death by a Shreveport police officer June 1 in the parking garage for Sam's Town Casino downtown. That officer was cleared of wrongdoing.
While video of the moments leading up to the deadly shooting does not clearly show what happened in the Sam's Town parking garage before Sgt. Timothy Adgate pulled the trigger, the rest of the case file paints a clear picture.
Surveillance footage, dashboard camera footage and interviews with Adgate and other witnesses reveal that Adgate was locked in a dangerous struggle with Boles and had to make a quick decision to save himself and the public.
It all started just after 6 p.m. Surveillance video from Cash Magic Casino on North Market Street shows a dark red GMC Yukon pulling into the gas station, as two men scuffle in the front seat.
Boles was in the passenger seat, stabbing Larry Jackson in an effort to steal his SUV.
Another surveillance video shows Jackson jumping out of the driver's side of the vehicle, clutching his chest. His white shirt is stained with blood. Boles, now in the driver's seat, turns right on North Market and speeds away.
Jackson called 911 to report that he'd just been stabbed and robbed. After his release from the hospital that evening, Jackson would tell investigators that Boles was an acquaintance who had asked him for a ride prior to the incident.
As Shreveport police officers began searching for the stolen SUV, several of them headed toward downtown Shreveport. Adgate was the first to find what they were looking for.
"I figured I'd check the (Sam's Town) parking lot because that would be the best route to go hide," Adgate told investigators after the shooting.
Surveillance footage from Sam's Town provides a dark and partially-blocked view of Adgate getting out of his cruiser and walking over to the SUV. Boles was in the back seat.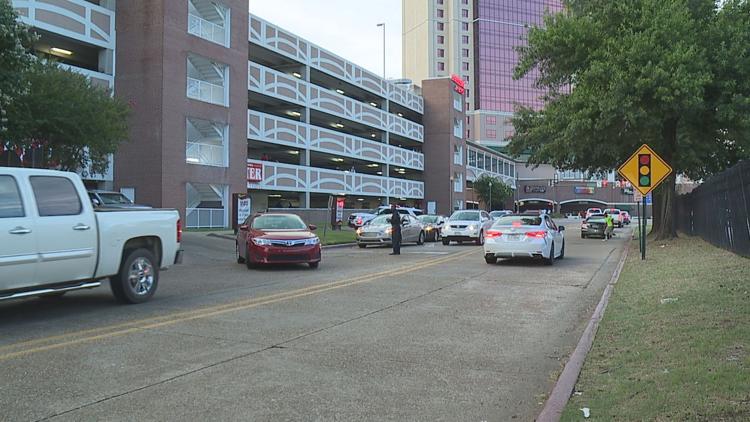 "Once (Boles) brought up the left hand, I saw him dialing the phone," Adgate said. "He was calling some female or something and saying, 'The police are out here trying to get me.' He kept talking on the phone, so I grabbed the door handle and opened it up and said, 'You need to get out of your vehicle.'"
In his interview with investigators, Adgate said he slapped the recording device mounted on his shoulder to turn it on as Boles came out of the SUV. Caddo Parish District Attorney James Stewart told 3 Investigates that no body camera footage of this incident was available.
"About the time I went to put the first handcuff on … he reached back with that arm and immediately snatched my gun," Adgate said.
The officer said they struggled and fell to the ground.
"We were fighting there for a minute and I reached down, and I grabbed my knife out of my vest. And as soon as I got my knife out, I immediately started cutting (Boles) and trying to stab him to get him off me," Adgate said.
"I was still on my back. I know at that point, if he got my gun, I'm dead. Without a doubt. His intent was to kill me," Adgate said.
The Sam's Town surveillance footage shows people driving through the parking garage stopping and getting out of their vehicles.
"You could see the person that was tussling with the cop –- it was very obvious he was reaching for the police officer's gun. There was no question about it," said witness Joshua Cooper in an audio interview with investigators.
"I turned the corner and I saw two guys running towards people on the ground," said Wayne Coburn, another witness.
According to the witnesses, a bystander knocked Boles off of Adgate and tried to get him to calm down. That witness, Leroy Scott III, reluctantly told investigators what happened.
Scott said he jumped out of his vehicle when he saw the officer pinned to the ground and shouted at Boles, "Whatever you do when you get up, don't kill him!"
Scott said he eventually intervened to help Adgate because he thought Boles was going to stab him. He said he grabbed Boles by his left hand, allowing Adgate to get back to his feet.
At that point, witnesses and Adgate say Boles made a break for the driver's side of the SUV and got in.
"I said, 'Get on the ground! Get on the ground!' And he just looked at me, and just kept looking at me and backing up," Adgate said.
Officer Jeanne Adams arrived as Boles climbed into the driver's seat. Her dashboard camera captured the shooting.
"I said, 'You're not leaving. I can't let you leave. You're going to kill somebody else if you get out of here. I can't let you leave,'" Adgate told investigators. "He stuck in there. I said 'Don't do it. Don't do it.' And as soon as he went to turn that key to crank it, is when I fired one shot to the side."
As officers and paramedics rush in to detain Boles and administer first aid, Adams can be heard comforting a distraught Scott.
"Everything doesn't work out the way you want it to," Adams said.
"I just wanted to stand for what's right," Scott tells Adams.
Boles died at the hospital. His autopsy found he had one gunshot wound to the chest, eight knife wounds and cocaine in his system.