SHREVEPORT, La. – Trivenskey Odom led a swath of Shreveport police officers, Caddo sheriff's deputies and Louisiana state troopers on a chase through Shreveport, ending in his death.
Three police officers, two deputies and one state trooper fired a total of 49 shots when the SUV Odom was driving was disabled at the intersection of Jewella Ave. and Greenwood Rd. 19 of those shots hit Odom.
"That's overkill. You wouldn't even shoot a dog that many times," Dock Odom told 3 Investigates the day after his son was killed.
The Caddo Parish grand jury concluded in June that the law enforcement officers involved in the shooting were justified in their actions.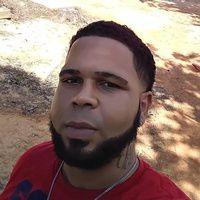 Following the grand jury's decision, 3 Investigates obtained footage from dashboard and body cameras of responding officers, dispatch and radio recordings from Caddo 911, police incident reports and interviews with the officers involved. These materials reveal details of Odom's dangerous rampage in the final hour of his life, and show why the officers fired so many times.
Odom's aunt called 911 from her home on North Market St. at 5:41 p.m.
"There's somebody with a gun and threatening people, and he's pulling in my driveway," Tanna Quackenbush told the dispatcher.
"He's just already said he's shot somebody in the leg," she continued.
According to police, Odom had shot his friend, Sugaranita Jones along the 200 block of E. 70th St. Then police say Odom stole his own brother's white Chevy Tahoe at gunpoint.
Police say Odom drove the Tahoe to a home on Dickinson St., where he kicked in the door and punched a woman in the face, before driving to his aunt and uncle's home.
Caddo deputies arrived ten minutes after Quackenbush picked up the phone to call 911. Video from a deputy's dash cam shows Odom driving across the lawn and peeling out onto North Market St.
The deputies followed.
Odom led the deputies onto Interstate 49.
According to police reports, Odom reached speeds of nearly 105 miles per hour.
As Shreveport police officers joined in the chase, Odom led them onto Interstates 220 and 20, weaving between other vehicles at high speeds until he reached a traffic jam near the Louisiana-Texas state line.
Footage shows four deputies getting out of their vehicles. At least one had a gun drawn. According to the deputies, Odom had pointed a gun at deputies and his own head.
Before deputies could reach Odom, he drove away again.
Roughly 16 minutes into the chase, Quackenbush told dispatchers that "Odom may want to commit suicide by cop," according to reports. That information was relayed over the radio.
As the chase continued, Odom wove through traffic on interstates, main thoroughfares and residential neighborhoods. He can be seen waving his gun as he drives, even firing shots out the window at certain points. Odom ran multiple red lights and drove into oncoming traffic. He hit an SUV with a woman and child inside as he turned onto E. 70th St. from Liberty St., and narrowly avoided several other collisions. At one point, Odom almost ran over two children playing on Stonewall St., before shooting out the windows of a car on a nearby driveway.
Shortly after that, officers were instructed to disable Odom's vehicle.
As Odom approached the intersection of Jewella and Greenwood at 6:45 p.m. Shreveport Police Sgt. Steve McKenna fired a shot, and one of the Tahoe's rear tires popped.
At that point, Trooper Christian Lara had been waiting at the intersection with the spike strip. He threw it onto the road and Odom drove over it.
The chase ended with a seven-second barrage of bullets.
"I was looking down trying to get the spike strips, and I think I heard like a gunshot or something," Lara told investigators after the shooting. "I drew, looked that way, and then  everybody started unloading and then that's what happened."
Lara's bullets went into the driver's side of the Tahoe. Other rounds flew from the back and passenger's side, fired by the other officers.
One of those officers was Sr. Deputy Justin Dunn, who responded with his K-9.
"I see another trooper. He was balled. I could see him on the ground. He was crumpled up like he had been shot, and so I rolled my rifle off safety and took a shot," Dunn told investigators. "(Odom) kept going. I mean he was still moving and I kept shooting."
Dunn and Lara both said during their interviews that they knew Odom was dangerous before they took him down.
"What did you know about him, what he had done?" an investigator asked Dunn.
"That he had already shot somebody," Dunn replied.
"We heard that-- they said that he was firing into a house or something like that," Lara said.
"It's like he was wanting them to do this… I think he had his mind made up," Dunn said. "When I fired -- you know -- when I saw that he was not a threat, I quit."
Odom's family told investigators he'd been contemplating suicide for about a month prior to his death.
Dock Odom told 3 Investigates after his son's death that Trivenskey Odom had been in prison and was struggling in the wake of his mother's death.