MANSFIELD, La. – It was an emergency call that could have been tragic. Fortunately, however, it didn't turn out that way.
To set the stage, on Aug. 2 a call came into the Mansfield Fire Department that a child was electrocuted at a house on Oxford Road. The first firefighter dispatched did not answer the call.
Other Mansfield police, Mansfield fire and DeSoto EMS personnel did make the call. And they saw the MFD first-response truck on their way –- sitting not where it should have been.
"I didn't know that they had a problem with anything that my employee did," Fire Chief LaTarsha Shelton said in reaction to hearing a MPD officer filed an official complaint about the incident.
Well, "they" did have a problem. An incident report obtained by KTBS that was filed by Cpl. Rodney Christian focused on the conduct of firefighter Gwen Taylor.
Here's the 911 call:
Phone rings and a child is crying in the background
(dispatcher) "I need to know where you're located ma'am."
(caller) "837 Oxford Road."
(dispatcher) "OK and the baby got electrocuted."
(caller) "Yes."
The report states as emergency personnel responded to the call they saw the fire rescue truck parked in front of a night club. Christian refers to it as the Rough Rider Club in the report. But it's also known as the Disco. It's also located on Oxford Road.
More from the 911 recording:
(dispatcher) "Ok, they are en route to you. … I'm just trying to get you help in the meantime, ok? But they are already en route to 837 Oxford Road.
But were they? Photos taken at the night club at the time of the call clearly show the Mansfield fire truck parked in front of the Disco.
Christian's report continues to say Taylor was the on-duty firefighter who parked the truck there –- while she went inside and "joined the party."
"So they have a report on Miss Taylor. It's never been forwarded to me by no one by Mansfield Police Department. As the chief of Mansfield Fire Department nothing's ever been reported to me," Shelton said.
Christian, in his report, said Taylor was the closest fire personnel to the call. In addition to the complaint filed by Christian, other police, firefighters and EMS personnel also wrote statements about what happened.
Shelton claims this is all she knows: "Only thing I got was, that night I got a call from my captain and we're looking into it."
Shelton, who is a part-time chief for the city, said she was unaware of the complaint on file with MPD, which is a public record, nor the photographs taken of the fire truck parked at the Disco.
Taylor has continued to work without any type of discipline. She's not received a formal write-up nor was she suspended. Shelton said she couldn't put a timeline on when her investigation would conclude. Afterwards, she said she would "send it up the ladder."
But while they look, KTBS looked into past but similar actions involving Taylor.
A handwritten report in February 2016 from then-Fire Chief Wayne Nichols states firefighter Brandon Spears said he couldn't find Taylor when she was supposed to be on duty that night. Another firefighter came in early the next morning for the day shift and also said Taylor was not there. Nichols said he asked Spears if Taylor said she was leaving early and he said "No."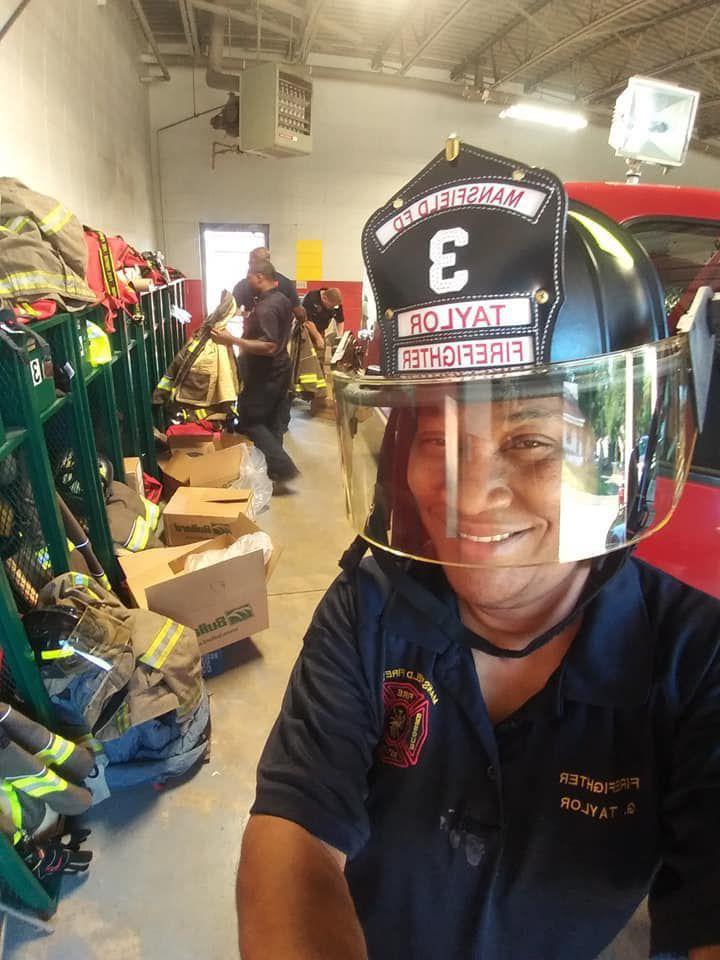 Then in August 2016 an incident report about a disturbance on Bernard Street, also filed by Christian, indicates he found Taylor on the scene when he arrived. Later, he said a woman called to say Taylor had been there and gambling on the job.
Nichols added to the complaint, saying he talked to Taylor, who denied she was there gambling. Taylor told Nichols she went there to pay money that she owned to someone. 
The same month, a warning notice was issued to Taylor with a recommended suspension for "loud and inappropriate behavior and language" in the Police Department lobby and "insubordinate behavior" to the fire chief.
Below it, Nichols wrote he would recommend Taylor be discharged if "this happens again."
That reprimand didn't go anywhere after former Mayor Curtis McCoy crossed out and initialed the description of the violation.
Taylor wrote in response: "I was provoked and everyone here was loud, rude and disrespectable."
KTBS also has confirmed an incident in which Taylor brought a gun to work at the fire station. As a convicted felon she is prohibited from possessing one.
It's uncertain what, if any, discipline Taylor received. Shelton said she was unaware of the incident since it happened before she was chief. 
Nichols, who is now the assistant fire chief, said, "I don't think it would be something I could probably talk about."
Taylor was hired by McCoy even though she had a criminal record. She had convictions for forgery, with a three-year sentence, along with shoplifting and drug possession on her record before she went to work for the Fire Department.
Back to the incident on Oxford Road, the dispatcher walked the caller through how to care for the injured child prior to EMS' arrival. The child apparently was shocked and suffered a burn on the arm.
Shelton promised to update KTBS on the progress of her investigation when it concludes.
"We want to make sure here in Mansfield that all our employees are conducting themselves for the public because we are here for the public 24/7," said Shelton.