RUSTON, La. - The people of Ruston woke up on April 25 to find much of their city in ruin.
An EF-3 tornado tore through the town, scattering debris and leaving some families homeless.
"It sounded like a huge train was coming," said Megan Proverk, a student at Louisiana Tech University. "We walked outside and we thought, 'This isn't happening. This is just a dream.'"
But after one of Ruston's darkest hours, the sun came out. The community joined together, and a wave of volunteers were helping their neighbors within hours of the storm.
As Ruston's city leaders are aware, however, a natural disaster can also bring out the worst.
"We anticipated that in an emergency like this, where you have a major catastrophe, you would have some less than scrupulous contractors show up," said Bill Sanderson, Ruston's Chief Building Official. "We had those on day one."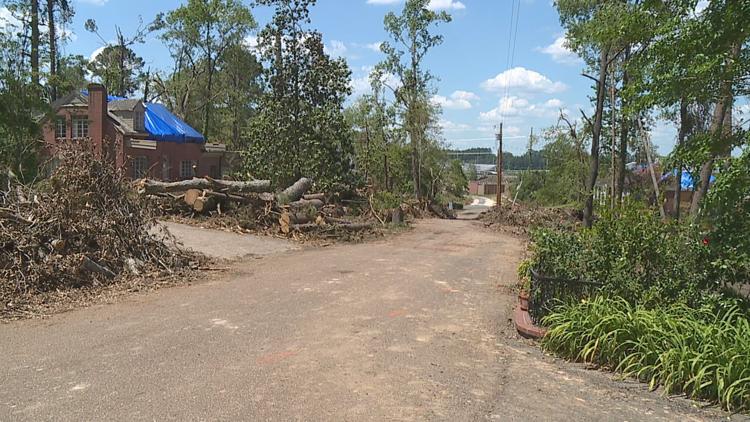 Sanderson said scammers wasted no time preying on the most vulnerable, visiting neighborhoods that were hit hardest by the storm.
"They're preying upon the fact that their homes, their yards -- everything is disturbed. They want to get back to a normal life," Sanderson said. "They explain that they can come in – "I have a crew that's finishing up. They can be here in three hours -- I can be here tomorrow or the next day. I'll need a down payment to get the materials… and we'll start getting you back to a normal life tomorrow."
Then, Sanderson said tomorrow never comes and the contractor doesn't show.
Sanderson and neighbors have also seen contractors charging upwards of five times the going rate for a job, like tree removal.
"They come up and they act like a normal person -- 'Oh, were going to help you out.' And they charge outrageous amounts of money to move one tree off the house," said Stephen Regan, a gardener in one of the most devastated neighborhoods in Ruston.
Regan said he saw a lot of questionable contractors come to the neighborhood since the storm.
"They leave and their crews here unpaid," Regan said. "The guys get run off."
One neighbor, who did not want their name used out of fear of retaliation, told 3 Investigates that a man came to their home, quoting $31,000 to clean up the yard. When the neighbor first tried to end their business relationship with the man, he attempted to coerce them. Sanderson confirmed that he and his team found out about this man and asked him to leave town, and he complied. Neither Sanderson nor Mayor Ronny Walker could provide any additional information on this contractor because the city is considering legal action.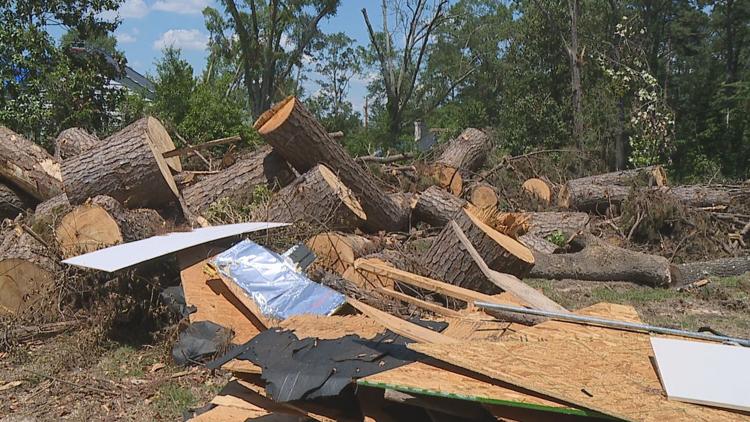 Under Walker's leadership, the city has cracked down on any contractors that raise a red flag.
"We took a stand early on, as a city. We're not going to put up with that. We're going to be very aggressive with our permitting (and) inspections," Walker said.
3 Investigates requested records of all the contractors cited by the city of Ruston in the three weeks immediately following the tornado. Eighteen were cited for working without a permit.
A first offense costs $250. Sanderson said some of the contractors were cited more than once, but all 18 have since applied for a permit.
The city has expedited the permitting process and waived fees, allowing contractors to get to work faster.
"We feel like we're making it easy to get the work done, because we want our citizens back in their homes," Walker said. "But we want it done right."
Sanderson, meanwhile, has embarked on an information campaign. He and Ruston police officers are passing out flyers containing advice for hiring an honest contractor.
If you are hiring a contractor for repairs, Sanderson suggests:
Verify the contractor is licensed with the State of Louisiana. Visit the Louisiana State Licensing Board's website or call Ruston's inspection office at (318) 251-8640.
Do not make a down payment. A reputable contractor will usually not require one until construction materials are on site.
Have the contractor's insurance company, and not the contractor, provide a certificate of general liability to your address.
If anything seems too good to be true, it probably is.