UPDATE Thursday:
The Caddo Parish grand jury today concluded no criminal charges should be filed against the four family members arrested.
 The family had called police about a domestic disturbance at a house across the street from where they were gathered for Mother's Day.
 The domestic disturbance call got out of hand when the first officer to arrive radioed she needed help. About 50 officers responded.
 Some of the four arrested were beaten and one was bitten by a police K-9.
 The district attorney and the police department are continuing to investigate what happened.
ORIGINAL STORY posted Wednesday:
SHREVEPORT, La. -- A joyful gathering on Mother's Day didn't end with warm goodbye hugs. It was interrupted by a fight between a couple across the street.
Family members saw what happening and called Shreveport police. Officers came out but, later tempers flared again.
So family members called police again. This time it was melee.
Dozens of police officers got involved. Four people from the family that actually reported the trouble wound up in jail, and now a law enforcement investigation is underway into what happened.
Did police use excessive force? Is their official report a true reflection of what happened? How did a domestic disturbance call escalate to an officer's call for backup.
Those and more questions likely are being asked by a Caddo Parish grand jury that's meeting this week on the matter. The D.A.'s office isn't commenting on what evidence is being presenting. It's not immediately known when the grand jury will report.
A video taken at the scene went viral on Facebook. It was just before 5 p.m in the Ingleside neighborhood. 
Shreveport Police swarmed the front yard of 2535 DeVaughn Street. Generations of family members are there to celebrate Mother's Day.
At 4:47 p.m. there's a dispatch from SPD: "Female caller requesting officers back out in reference to a female refusing to leave... looks like it's going to be 2528 DeVaughn."
They're the ones who called police about a disturbance across the street where Robert Thomas Jr. lives.
"And from what I'm seeing and understanding is one officer got out of her unit and slipped and fell in the mud, and from that moment on it was an attitude," Thomas said.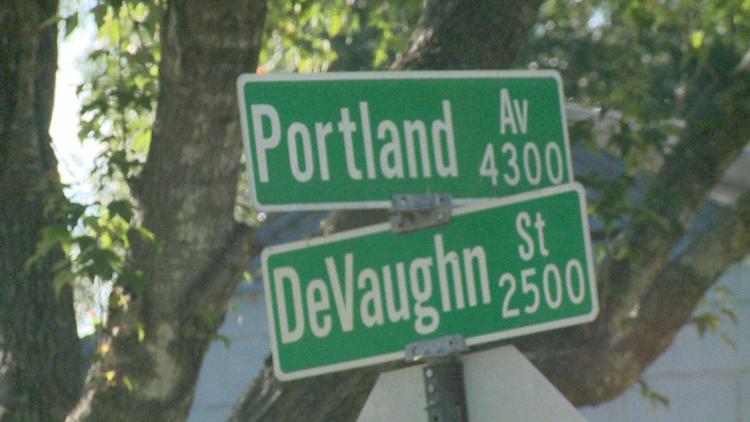 Another police dispatch: "(Inaudible) a 10-33 west side 1659 for DeVaughn. ... All units on the east side be advised west side is working a dispute call nature unknown officer is asking for help 2528 DeVaughn District 10."
As units arrive, there's a group of people standing outside in front of the house where the officer reportedly fell. 
But, 2528 DeVaughn, the address for domestic disturbance call, is across the street.  "Those people over there were with family members enjoying Mother's Day and I guess they just seen the crowd and they ran where the crowd was," Thomas said.
"Oh, my god. Oh my god," could be heard on the video. 
Thomas continues, "Grabbed by neighbor the female my elderly female neighbor and slung her to the ground. When her husband came to her defense they grabbed him and slung him to the ground."
Dozens of units responded.
Thomas adds, "They deliberately ran to those people house and starting physically handling those people in a manner that was totally unacceptable and unnecessary."
At one point, about 50 officers were there, including a K-9 unit.  When Police Chief Ben Raymond was asked about the K-9 response, he said, "Our K-9 units respond citywide, so if an officer says I need assistance that's something that a K-9 would respond to."
Thomas says the responding officer's call for assistance went out when she slipped and fell.
"And her words were, 'Oh, yes, I want blood now.' That's what the police officer was saying, 'I want blood now,'" Thomas said. 
According to Officer C. Mosby, she didn't slip into a ditch, she was pushed. Mosby wrote in her arrest report of Cynthia Davis. "Other females pushed her in the ditch causing her to fall."
And the 19-year-old made a gesture as if she was going to hit her. Although the report doesn't say Davis ever touched Mosby, Davis was arrested for battery and simple assault of an officer.
Officers report pulling 36-year-old Antoine Hardeman from the porch and slamming him to the ground.
"And by them helping me try to get this person out of my home, they became the victim of over aggressive policing," Thomas said.
Hardeman was bitten by the police K-9. The police report says, "While officers tried to detain Antoine Hardeman, Hardeman lunged and threw a punch at them. One officer says he grabbed her around the waist and slammed her to the ground." 
Another report says Hardeman "lunged and bear hugged her. After breaking his grip she hit him with a closed right and left fist multiple times."
Hardeman was arrested for battery and resisting an officer with force. Lewis Torell, 21, was also arrested for resisting an officer with force, and Viola Green, 47, was arrested for battery of a police officer.
"She wasn't doing anything. She was just standing in her yard protecting her home asking, 'What's going on?' Next thing you know they're man-handling her, her husband and all of her family," said Thomas.
Raymond says the district attorney is reviewing the case and there will be an internal investigation following a grand jury's decision whether to formally charge the four people arrested.
"Even though there might not have been any criminal charges, make sure our employees acted appropriately and responded as they should have," Raymond said.
Police officers who went to DeVaughn Street were wearing body cameras and microphones. Sources tell KTBS News there is cell phone video showing some of the fighting going on and the dog bite. KTBS will continue to follow the story.