SHREVEPORT, La. – A video posted to Facebook Sunday evening, showing cockroaches crawling on the walls of a restaurant, has garnered more than 70,000 views and a lot of reactions.
The video was posted by Spencer Flores with the caption, "Welcome to Ichiban Shreveport please share." Flores has not returned KTBS 3's request for comment.
Tabitha Trewolla, who identified herself as representative of Ichiban on Youree Drive, confirmed that Flores is a former employee of the restaurant who was terminated from his position. She would not provide a reason for his termination, citing privacy.
"Don't eat here if you have been," one commenter on the video instructed other Facebook users.
"I've eaten there a couple of times. It does not look too good," said James Moore of Shreveport. "It does not make me ever want to eat there again."
Others on Facebook defended the restaurant, which has long been a dining staple of Shreveport known for its reasonably-priced Japanese fare.
One commenter called Flores "vindictive," while another called the video "nothing we didn't know."
Others questioned the video's authenticity.
KTBS sent the video to the Louisiana Department of Health Monday morning. Within two hours of receiving the video, an inspector visited Ichiban and completed a report.
Health department communications director Robert Johannessen said Monday that the video was four weeks old.
"Based on what our inspector saw today, it's really not indicative of the conditions that we found at the restaurant today," Johannessen said.
Monday's inspection report found no pests in the restaurant, but listed four critical violations:
CROSS CONTAMINATION – "Raw animal food is not separated from ready to eat food, or is placed, stored or displayed above ready to eat food. Raw egg shells stored over RTE soy beans. Cooler rearranged." [CORRECTED ON SITE]
CROSS CONTAMINATION – "Raw unprepared vegetables are not separated from ready to eat potentially hazardous foods. Boxes of unprepared vegetables stored above prepped vegetables."
TOXIC CHEMICALS – "Chemicals are stored with/above food, equipment, utensils, linens, single-service or single use articles. Cleaning supplies thro3ughout kitchen stored with food service items and ingle service items."
INSECTS/RODENTS/ANIMALS – "Rodents are present in the establishment. What appears to be rodent droppings in rice storage area."
Ichiban passed the inspection.
In Louisiana, restaurants don't receive a numerical score or a letter grade for health inspections. Inspectors only document critical and non-critical violations.
As explained on health inspection reports, critical violations "MUST BE CORRECTED IMMEDIATELY... Repeat violations may lead to enforcement actions or permit suspensions." The inspector notes beside each violation whether it was corrected on-site with the abbreviation "COS."
Non-critical violations "should be corrected by the next regular inspection or according to the compliance schedule … established by this office," per inspection reports.
KTBS reviewed each inspection report from Ichiban's Youree Drive location in 2019. There were four of them: one in April, one in August, one on Dec. 23, and the report from Monday.
According to Monday's report, the rodent issue was not corrected on-site.
Critical violations, like "Raw animal food is not separated from ready to eat food, or is placed, stored or displayed above ready to eat food," appeared on all four reports.
Constance Griffin, the Caddo Parish manager for the Louisiana Department of Health, said it's not uncommon to see recurring critical violations at restaurants.
"There's kind of a lot of change over. We try to educate when we go into these establishments," Griffin said. "But if you're not talking to the same person or someone in charge every time, then those violations seem to repeat."
Non-critical health violations also reoccurred across Ichiban's inspection reports. Those included walls, ceilings and floors that were dirty and in disrepair.
"So basically, we document if there are enough of those non-critical violations, (and) we call them in for a conference and talk with them in regards to those non-criticals," Griffin said.
Re-inspections are scheduled with restaurants that commit five or more non-critical violations. Ichiban's inspection reports show as few as six and as many as nine non-critical violations.
Failure to correct violations within the required period of time results in a $150 fine for the establishment.
KTBS asked Johannessen what it takes to shut a restaurant down. He pointed to the most recent instance of a restaurant being forced to close by the health department.
Dupont Fish Market in Shreveport was shut down in July 2018, two years after the last time health officials shuttered a food establishment.
Violations at Dupont included flies, insects, rodents and other live animals inside the business; rusted utensils and food contact surfaces; and utensils not being clean to sight and touch.
"(Dupont) was a restaurant that had repeated violations, very significant critical violations, and failure to address them," Johannessen said. "At that point, the only option that we had was to close the restaurant down."
KTBS visited Ichiban around noon Tuesday. Typically a busy spot for lunch during the work week, not a single customer was dining there.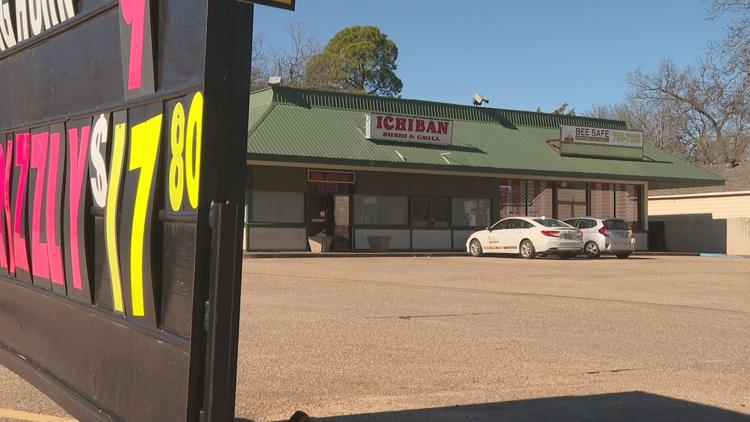 A man who identified himself as the front-of-the-house manager said the owner was not in the establishment and he didn't know when he'd be returning. The manager also would not provide a phone number to reach the owner.
Minutes after KTBS visited the restaurant, Trewolla called the television station.
KTBS featured Trewolla in an unrelated story at Ichiban in early 2019, in which she was waiting tables.
Trewolla confirmed the information about Flores but declined to comment on the video.
The health department conducted its follow-up inspection at Ichiban Thursday. The report from that inspection notes that the kitchen had been cleaned and power washed, and the restaurant produced a year-long contract with a pest control company effective Dec. 31.
The only critical violation on that report, shell eggs stored with vegetables, was corrected on-site. The only non-critical violation was "floor is not maintained in good repair."
Follow this link and click "acknowledge" to look up health inspection reports for Louisiana restaurants.