SHREVEPORT, La. – It took two veterinarians and $3,000 to save Snickers' life. Desiree Sendelbach, a volunteer with Key to Happiness Rescue in Shreveport, said the now-healthy six-month-old puppy was nearly killed by the canine parvovirus.
"It's so horrible. It destroys their insides, and it's everywhere," Sendelbach said.
Sendelbach said she has encountered, at the very least, ten puppies with parvo this year.
"I lose count because I go through the whole thing with them," Sendelbach said. "Sometimes I forget a little bit because we lose them and it's painful."
While parvo typically spikes during the warmer months, Sendelbach, who has been involved in dog rescue for most of her life, said this is becoming the worst uptick in parvo she's ever seen.
"It's bad. It's really, really bad," she said.
Key to Happiness is a foster-based rescue, which focuses on finding temporary homes for dogs until they are adopted. Sendelbach said saving sick puppies puts a strain on the generosity of the most reliable donors, who typically help pay for food and transportation. Now, she has to ask them to help foot four-figure vet bills.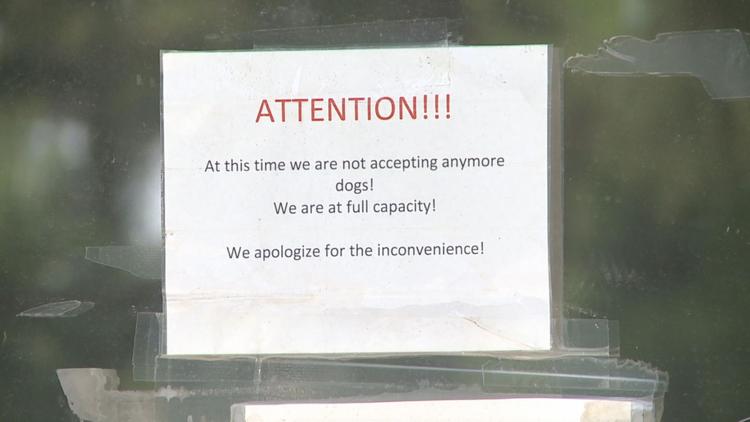 "It happens pretty quickly, and within a day, you're going to have the animal essentially crashing," said Connie Philipp, Director of DeSoto Parish Animal Services. "You've got the animal laying down and lethargic, they're nauseous, they'll start out with diarrhea but then you'll start seeing blood in it because their (gastrointestinal) tract is really insulted by this virus."
A sign now hangs on the front door of the parish animal shelter. It says, "At this time we are not accepting anymore (sic) dogs! We are at full capacity!"
Philipp said she can't take any more dogs because parvo has forced her and the staff to keep puppies in their care for longer periods of time.
"I've changed the protocol for adoption. (Parvo) would manifest anywhere from five to ten days after their first vaccine. Now we've seen situations where it's manifesting five to ten days after their second vaccine," Philipp said. "I've made it a new guideline around here that we're not going to adopt puppies out until five to ten days after their third vaccination, when they should be fully covered at that point."
Philipp said warm weather and a rainy spring have only helped the virus spread, so until the outbreak of parvo dies down, she is not taking any chances.
"One thing I've added is foot baths in front of each of the puppy stalls, so that the staff disinfect their feet going in and out of the puppy rooms," Philipp said.
While it could cost hundreds or thousands of dollars to save a puppy with parvo, Philipp points to a much cheaper option.
"Vaccinate your animals. There are low-cost clinics that can help you out with that, and nobody wants to see these beautiful babies suffer," Philipp said.
Veterinarians recommend puppies get three to four parvo shots, with the last one administered when the puppy is at least 17 weeks old. Since the virus is spread through fecal matter, it' best to keep puppies away from high-traffic areas, like dog parks, until they're fully vaccinated.