BOSSIER CITY, La. -- When most people think of the everyday duty of military members what comes to mind most is protection of our country.
But for some, their duty is to provide comfort to military family members left behind.
Marie Hudson Hines is one of those who was left behind. She often visits her husband's grave at the Northwest Louisiana Veterans Cemetery near Keithville.
Her husband, William Booker Hines, served in the Army for more than 20 years and fought in the Korean War. He died in May 2014 and was laid to rest with military honors.
"When the gentlemen came over and got down on his knee to place that flag in my hand and to say to me, 'Thank you for the service your loved one gave,' that was a bit more than I could handle," Hines said.
She was appreciative of that honor guardsmen.
But long before the honor guard serves at a funeral, the members put in long hours of practice.
"We're supposed to be sharp crisp and motionless," said Tech Sgt. Corey Wilkins, Barksdale Air Force Base honor guard program manager.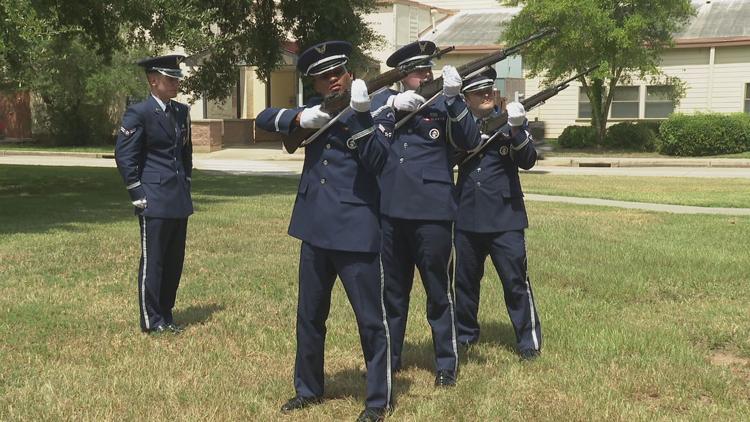 They guard national monuments and serve as the "guardians of the colors" by displaying and escorting the national flag during some events. But they also provide funeral honors for fallen military members.
"What we want to do is honor the heroes that have come before us and we can say that every funeral that we go to is a funeral of a hero," Wilkins said.
The Barksdale Air Force Base team travels the United States to serve at funerals of a fallen airmen or veteran.
"Our honors consist of a flag fold, a flag presentation to the next of kin. If the person did over 20 years, we will do a three-man firing party, like you see in the movies," Wilkins said.
It's no easy task becoming a member of this team. Every unit nominates its best airmen.
Senior Airman Jourdain Keel wanted to be a member of the honor guard since he was in high school. For him being a part of the honor guard is about serving the families of those who serve our nation.
"I want you to have this flag. I want you to receive this honor and to me, above serving my country, it's also serving the family. That's another big thing as for why I decided to join," Keel said.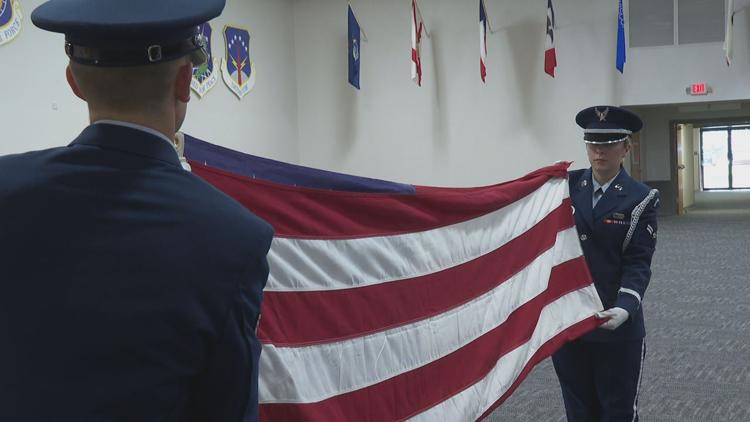 Wilkins says it's an honor and a dream come true to be working with other airmen, but it comes with an emotional price.
"It could be the last time a family encounters an air force member. So if this is your last time, we only have one time to get it right. So we have to be perfect. That's why we need the best of the best," Wilkins said.
Although these airmen are trained to do their job, there's something they all have to face: emotion.
A difficult task for these honor guardsmen is their military bearing. They must be motionless and emotionless.
For Senior Airman Austin Lee Redden, that's the hardest part of his job.
"I do want to show compassion for them and want to say I want to mourn with you but at the same time I have a job to do there," Redden said.
And for Keel, it's even worse. Both of his parents are in the military. He knows it will likely be him receiving the flag one day.
"I know that I'm going to be one day in their position, whether it's in 20 years or 60 years down the road," Keel said.
So how do they keep their bearing?
"What's my next step? That's really it. It's like, OK we got the casket up to the front, OK next step I'm going to be turning to my left, or my right, or taking two steps backwards. That's really it, you have to work on what's your next step," Redden said.
And if it's hard for these airmen, you can only imagine how a family member feels while receiving a flag.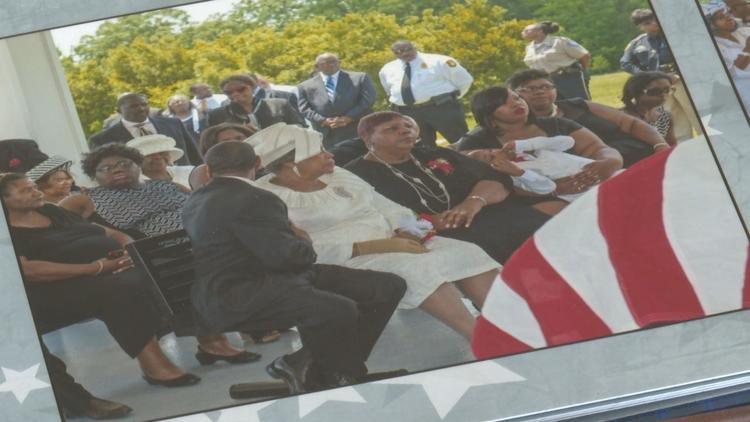 Hines says she'll never forget all the emotions she felt that day.
"It was a heart-wrencher. And not only that, the precision with which the honor guards took him out of the casket and placed him right here. That said to me, this man is getting the best that he deserved," Hines said.
It wasn't until after she buried her loved one that she realized the importance of this flag for her; it meant closure.
After he served his time in the military, William Hines became a police officer. Marie Hines said he was the first officer of color to work in the Shreveport Police Department.