A program that brings together airmen who are leaving active duty and local companies. Many say it's a win-win for all involved.
It's called the Air Force Career Skills Program and it's helping airmen transitioning from active duty to life in the civilian workforce. Lt. Col. Melvin Green is one of the first from Barksdale Air Force Base to take advantage of the program that just started last summer.
"One of the purposes of the program is to help broaden your resume and give you a skill set that you probably didn't have before," said Green.
He just finished his internship with the Louisiana Tech Research Institute, which is housed at the Cyber Innovation Center in Bossier City. He was an instructor and policy advisor on some of the same topics he was involved with at the Global Strike Command.
"The internship program was mentioned to us and one of our staff said, 'Hey, maybe that would be good for us to have some of the smart folks who are looking to retire, they could come and contribute to some of the programs we're working with Global Strike Command,'" Green said.
"Lt. Col. Green is the first intern we've had. It's a relatively new program and it allows Louisiana Tech to increase our partnerships and the work we do with the Air Force and to support the local community," said Adam Lowther, director of Research and Education for the Louisiana Tech Research Institute.
You might be thinking this just sounds good for those military members who are transitioning into something military related in the community, but that's not the case. In fact, at Volunteers of America in Shreveport they have an intern working for them in the finance department.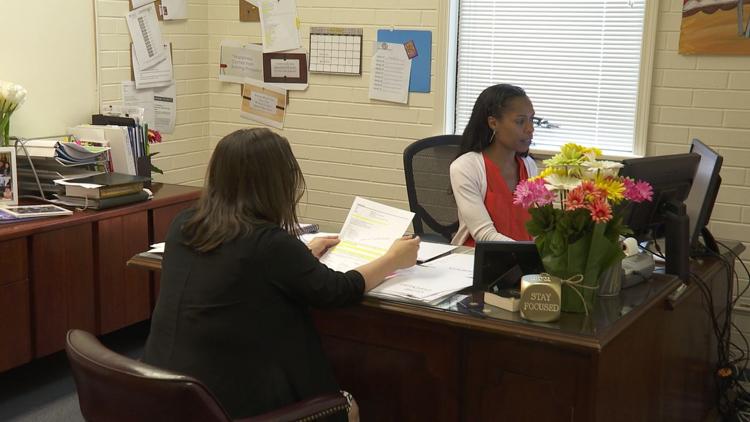 "I remember getting an email from our H.R. Director and looking at it and thinking what is this program. I read through the documentation and it spelled it out really clearly that this is a retiree or soon to be retiree from just over at Barksdale that we could have come and work at our program. I thought wow that's great because we serve veterans in our other programs," said Valerie Perez, controller for Volunteers of America North Louisiana.
The internship can last for a maximum of 180 days at the end of the service members active duty commitment. While they intern, they are paid their regular wages by the Air Force so no out of pocket expenses for any of these local organizations.
"To me the most important thing is that we not only add value to our programs, but it helps us save costs in the community when we're really looking to provide the much needed services," said Tricia Jowell, communications director for Volunteers of America North Louisiana.
The coordinator of the career skills program at Barksdale said every airman leaving the Air Force is told about the program during something they call T-A-P or the Transition Assistance Program. If someone is interested they have to get their commander to sign off and release them. And she stressed that it is completely up to the separating or retiring service member to find their own internship.
"The big thing about the program, the onus is on the individual. The Air Force is not going to go out and actively match the service member to an organization. It's the service member's job and responsibility if they so choose to participate in the program to go out and find a company in which they can be matched with," said Green.
He also told me that he was the fourth person within his command to sign up and it started really catching on from there, with four more people signing up within the next month alone. He's seen positive results and great opportunities for the future.
"If you're aircraft maintenance and you want to go over and continue to work maintenance you can do so at the regional airports and things like that. Or if you want to get outside your industry, the senior master sergeant I talked to said a lot of folks are getting into real estate, they're getting their real estate license during that 6 months or 180 day transition," Green said.
Whatever the industry it seems to be working out well for those involved here in North Louisiana.
"It's a great program. It allows us to support the community. To help as they transition off of active duty," said Lowther.
"It's a win-win. We're able to give them exposure in the civilian workforce and get them more acclimated to retiring and going back into the workforce in our community. But we also get to benefit from having their expertise," said Jowell
Green also told me from his experience the bigger the company the harder it is to make a connection because the large companies can't figure out how not to compensate a government employee during their internship.