SHREVEPORT, La. -- The Catholic Diocese of Shreveport has been without an official bishop for more than a year now. It is an unusual situation, but local Catholics are praying the right decision is made and they hope it is made soon.
On a recent Saturday evening dozens gathered at the historic Cathedral of St. John Berchman's in Shreveport for a regular night of mass. In there, the congregation feels close to God, their priest and the church. However, there is a feeling of disconnection between the Catholic Diocese of Shreveport and the Vatican in Rome.
"Any diocese needs a leader," church member David Spinks said. "Just like the apostles who came down. Bishops are successors of the apostles. As they lead their flocks, the bishop is like a shepherd."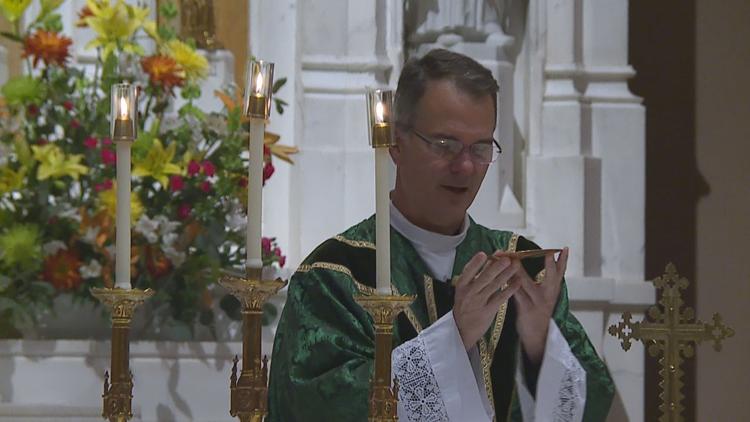 For the past 14 months, that flock has been led by the Rev. Peter Mangum. He became an administrator for the Catholic Diocese of Shreveport or interim bishop after Bishop Michael Duca was asked by Pope Francis to move to become the new bishop in Baton Rouge. The change was sudden, but Mangum was happy to fill the gap.
"Typically the amount of time that a diocese waits for a new bishop or at least the announcement of a new bishop is six to eight months," Mangum said. "We are already at 14 months. The church already envisions that this can happen, so it is not any grave concern of ours. They are just trying to find the right candidate for us."
The process is different than most might think. There is no application or waiting for the next person in line to take over. It starts with other bishops. They submit the names of priests who they think would be a good bishop.
"Maybe a priest is well known for his presence in the media or writings of his, books, things of that nature," Mangum said.
Those names are submitted to the Apostolic Nuncio in Washington D.C. They then whittle the number of candidates to three names.
Those names are sent to Rome, where the Vatican makes their recommendation to the pope. The pope then makes the final decision.
"I am anticipating, one day, getting a phone call from the nuncio himself telling me who the next bishop will be," Mangum said. "Then it will be my responsibility to set up a press conference in order to introduce the new bishop to the rest of our diocese and the entire Shreveport area."
When Mangum stepped into his current role, he was eager to help. But he had no idea what he would face over the next year. The Rev. Earl Provenaza, a well-known Shreveport priest, retired. Four other priests in the diocese then passed away. Add that to other priests leaving the country to serve elsewhere and Mangum was left trying to fill their positions.
Additionally, around this time last year, an ugly sexual abuse scandal exposed a catholic clergyman which made international headlines.
Earlier this year, 17 other priests from northern Louisiana with ties to Shreveport were accused of sexual abuse. Mangum said exposing the names was the best way to keep the church transparent.
"That is one of my goals," Mangum said. "That is one of the things I have done. I am glad that so much of that is behind us. Hopefully, the diocese is absolutely primed, ready to welcome a new bishop with many of these difficulties behind us."
Many local Catholics are also pleased with Mangum's work not just in the past year, but throughout his long standing history with the Catholic Diocese of Shreveport.
"He has traveled all over the country representing our diocese in place of a bishop," church member Christopher Leach said. "He is our diocese administrator and he has filled that role fantastically. I can not think of anybody who could do a better job."
No one knows when Mangum will get a call from the Apastolic Nuncio naming the next bishop of Shreveport, but they are hopeful it will be sometime soon.
The Catholic Diocese of Shreveport oversees 16 parishes in northern Louisiana and Mississippi. That includes 40,000 Catholics.