SHREVEPORT, La. -- Cool cars are in these days -- especially restored old Mustangs.
You've probably seen a few of them on TV being auctioned off for big money. Well, you don't have to go to one of those fancy auctions like Mecum or Barrett Jackson to bid on a sweet ride.
The Christus Foundation in Shreveport-Bossier is raffling away a 1968 Mustang to benefit the Cara Center, Gingerbread House and Holy Angels.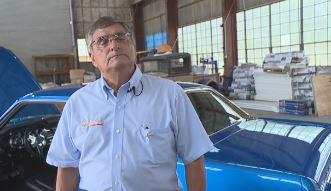 The car is fully restored and upgraded with some modern conveniences. It's the brainchild of John Treadaway, owner of NAPA Auto Parts.
"I've always been partial to children and the Gingerbread House ... horrible things those kids see ... when I see things like that, these are the people that need to be helped and Holy Angels, of course. You know we want them. I just want to give something back to the city," Treadaway said.
The project turned out to be an 18-month labor of love with many participants.
"Well, we have Jim McGee which you met already ... Ron Hatch ... those are two that literally did 90 percent of all the work. Then our body work was done by Tim's Paint and Body, TC and his crew. We had Black Sheep Powder Coating for us. We had Troy and Jeff at Summer Grove Auto Care do some work for us on the drive-train," Treadaway said.
And that was just the short list. There were many others indirectly involved in the restoration.
"So everybody donated everything. I might add as we are talking about it that every penny we raised for this vehicle will be given to those kids," he said.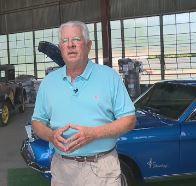 Car enthusiast Jimmie McGee was one who labored many hours bringing the old classic back to life.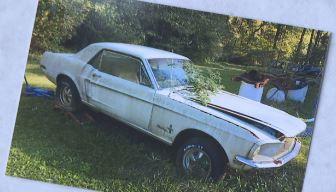 "I found a car in Haughton and it was in really poor condition and it had a lot of rust. So we bought the car really cheap. And if it hadn't been for the free labor and all the people involved, we couldn't have restored the car. It was that bad gone," Treadaway said.
So, every part of the Mustang was either refurbished or replaced.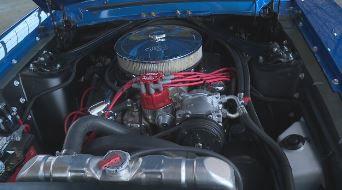 "Alright, we started out with a brand new reconditioned Ford 302 engine. We have a 5-speed manual transmission that we have upgraded. And then factory air conditioning. Aluminum radiator. Every bit of the wiring, all the brakes, power steering...everything has been replaced," Treadaway said.
The original, skinny 14-inch wheels and drum brakes were replaced with a modern day set up to handle the extra horsepower.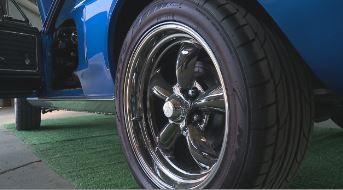 "It has disc brakes on the front, drum brakes on the back. It's a 1- inch wheel...upgraded wheel. It came with 14-inch wheels. All the suspension is original style suspension, but it's been upgraded to a stronger suspension," he added.
The interior also got some much needed TLC.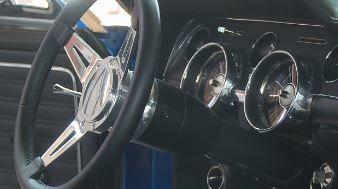 "Full dash pad, new dash instrument bezels, steering wheel, all the seats, carpet," Treadaway said. "Shreve-Trim did the whole interior for us and it's factory the way it would look from the factory the only thing that is not original from inside would be the radio it has an upgraded radio."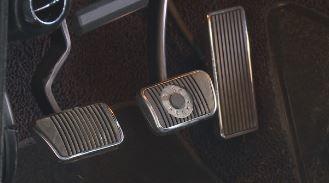 And for drivers who prefer manually shifting gears: "We put a hydraulic type clutch to make it much easier to push in and out than the old standard clutch was."
And to keep from looking like Fred Flintstone from the Flinstones cartoon driving the car. "We replaced the entire floor from the firewall to the trunk lid and we replaced the left quarter panel, the cowl duct, hood, front fenders and both doors," Treadaway said.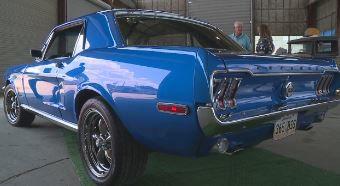 As for the immaculate paint job, the Mustang was originally white, but blue looks pretty darn good.
"No it's an original Ford color and all the body work was done by Tim's Paint and Collision on Highway 1 North Market. It's just a base coat, clear coat, blue paint," Treadaway said.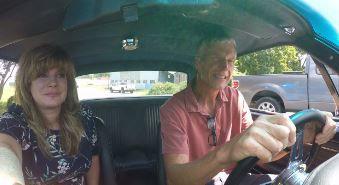 Finally, it was time for a test drive. Lidgette Burda, an account executive at KPXJ, went along for the ride. Bottom line: the 51-year-old "new car" drove like a dream, according to meteorologist Joe Haynes said. 
Raffle tickets are $50 and can be purchased here, in person or at Gingerbread House or Holy Angels. The drawing is Sept. 5 at 2 pm.