There's an urge to put a public restroom outside the Caddo Parish Courthouse -- at least on the part of one commissioner.
Anyone could use it, thought it would primarily be there to give the homeless who hang out around the courthouse a place to go.
But hold it. Some commissioners want to close the lid on the idea.
Exterior doorways, the bushes, the trees. They're places where the homeless use as toilets outside the courthouse.
"We want a clean downtown. We want an inviting downtown," says Republican District 10 Commissioner Mario Chavez.
He thinks he's unlocked a solution to this mess: install a restroom outside the courthouse like this one. It's called the Portland Loo, in use in its hometown of Portland, Oregon and other cities. Heavy-doody -- uh, duty -- stainless steel, single occupant, flushes, but nothing fancy. Cost: $134,000.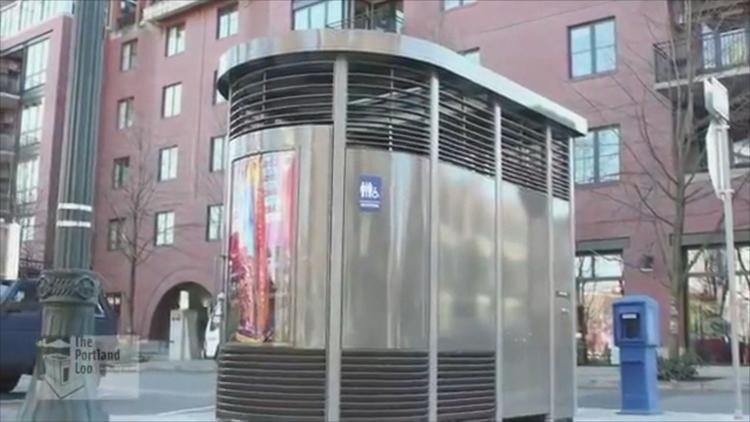 "It's cheaper than a $200,000 fence," Chavez notes, referring to another proposed idea.
A fence, like the wrought iron one that rings the library that's catty corner to the courthouse, has also been discussed as a way to keep the homeless out so they can't relieve themselves on the courthouse grounds, and to improve security. But Chavez says a fence would just move the defecation and urination problem elsewhere.
"So they'll do it within the breezeways of the local businesses," Chavez says. "We don't want that."
Chavez says the Loo could go in an exterior corner of the west side of the courthouse, where it could be hooked up to utilities.
"Nicely tucked away," he says.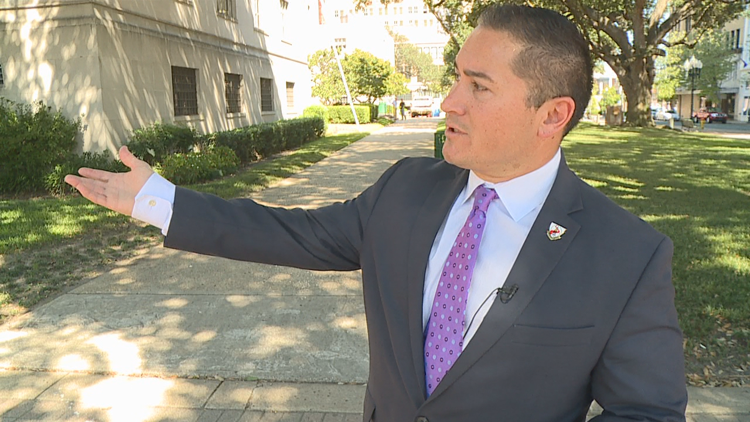 Chavez says there are always going to be a lot of homeless around the courthouse. There are places to sit. There's shade from the sun. And it's a great place to panhandle with lots of people going in and out.
"If (the homeless) are going to be here anyway, and permanently, we might as well give them and other professionals a place to use the restroom."
At least one passerby likes it.
"It's very convenient," John Butcher says. "They have 'em all over the cities, or used to, and I wish we'd have one at the courthouse in downtown Shreveport.'
Homeless people we talked to at the courhouse also like the idea.
"I think that be good quality to have something like that around here so it would take care of all the needy," says Larry Stratton.
Though the restroom would mean a longer walk, a woman identifying herself as Ashley says, "Yes. People would actually use the restroom."
Adds Chavez, "I think if you give people the opportunity to be a human being, they will be human beings."
The issue got aired out at Monday's work session of the Caddo Parish Commission, with fellow Republicans raising the biggest stink.
"I think that this is crazy," said District 1's Doug Dominick. "We've changed this issue from being a safety issue to a homeless issue. We're talking about spending $134,000 for a porta potty. That's exactly what it is."
And, said District 8 Commissioner Mike Middleton, "I don't think we need to be trying to do something that's going to attract folks down to the courthouse square."
Groups that try to help the homeless also expressed concern that the restroom would further take them away from services that already exist for them, like at the Rescue Mission a short distance away.
But Chavez is not giving up.
"I think we should search our heart," Chavez told fellow commissioners. "Our job is to work for the people. And the people aren't just those with money in their back pocket."
Other commissioners voiced a desire to help the homeless. But getting enough votes for a 3-ton restroom outside the courthouse is a heavy lift for Chavez.
"It would be nice for us to be a little more progressive in Shreveport, and I think get out of our own way for once, and become San Antonio, become an Austin, become a Dallas, become a Portland, Oregon or a Los Angeles, and actually put some outdoor public facilities for people to use," Chavez said.
The commission voted to send the restroom issue to the long range planning committee for further consideration, just as they did with the fence idea. We'll let you know if either make it back to the full commission for a vote.