SHREVEPORT, La. - A Shreveport man working at a local furniture store has quite a story. He's helping hundreds of people now. But it's not always been that way.
Colinizio Bell, like all of us, has a past. KTBS met up with him while he was working in a local warehouse.
"I like putting stuff together. It's a little hobby of mine," said Bell, who's been working in the LazyBoy Furniture warehouse for a little over a year.
"I had put this application in like three months ago and three months later she called. That was nothing but God," said Bell, w ho was the first  to be hired as a helper on the delivery truck.
"With the background that I have you always have your shield up," Bell said.
Understandable. Bell's job on the truck didn't last long.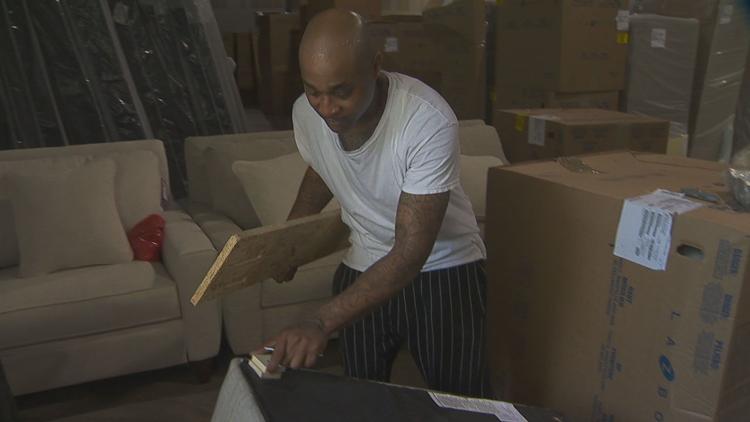 "And we had him in the warehouse one day and he was so self motivated. He had that place looking amazing. And now he manages the warehouse for us," said Alicia Lockhart, who owns the Shreveport LazyBoy Furniture store. "Seeing it when it's not nothing and then when once you put it together it becomes something. That's always been an intrigue to me since I was little, so."
The same could be said of his own life.
He almost threw it away. He's grateful for people like Alicia.
"She don't look at what on the outside. And she's willing to give everybody a chance," Bell said.
Added Lockhart: "We always do a background check and he talked about his past. And I believed him; it was truly in his past. And if you really want to work hard and be a part of our team we are happy to have you."
It's a hard day's work for Bell now, but it wasn't so long ago that he was working off a sentence of hard labor.
"The old Colinzio was involved in just about everything illegal that there was," said parole officer Melissa Johnson.
From gang violence to drugs, Bell spent all of his adult life in and out of prison.
Finally, something Johnson said to Bell broke through.
"We were discussing his background case file and the things he had been involved in through the years," Johnson said.
Bell continues: "And she said Colinizio, I don't mean no harm about this, but you're old school. And she said, 'You ain't tired?'"
"He's been doing this his whole life and it's not working out. So maybe it's time to try something new," added Johnson.
Plus, Bell had a new daughter. He was locked up when she was born.
"I was like enough is enough. I lost so much," Bell said.
Under the 2017 Louisiana Reinvestment Act, parolees like Bell are getting help putting their back together.
"Finally, for the first time in Louisiana's history, putting some resources into these programs to try to turn some of these folks around and get them leading productive lives," said Bill Tuggle, state Probation and Parole district administrator. What Bell is doing with his life is a great example of that.
"This is somebody that can set an example in his community, in his own family maybe. Here's an individual who has said to himself, 'I'm tired of going to prison. I want to get a salary, pay taxes,'" Bell said.
And even buy a new car. Yes, Bell has a shiny new car.
"Nothing major, just a Malibu, 2015, you know. That's something that I went out and got without dealing - you know," Bell said.
He also says the key to his transformation was there all along.
"And the tool was my family who loves me in spite of what I've done or who I became. They're always loving, never shy away," Bell said.
The life he has today - the one that's becoming something special -- is an answer to prayer.
"Once you hold on strong and you show Him that you're trusting in Him and you're letting Him drive. I guarantee you the doors are going to open for you. I'm a witness of it. And He ain't done with me yet," Bell said.
Bell is still on parole, but under the 2017 Justice Reinvestment Reform he's earning Compliance Credit. His parole that would have ended in July 2021 now ends next month.