The city of Shreveport a few years ago had a garbage pickup fee -- a short-lived, $2.50-per-month one that was off the books before two months passed.
Shreveport's new mayor, Adrian Perkins, is proposing an $18-per-month garbage fee that would provide pay raises for sanitation workers and new revenue to bolster the city's reserve fund. The administration is calling it a "fee for service" instead of a tax, but residents can't opt out of paying. The fee would have to be approved by the City Council, which is now considering the proposal.
A sanitation fee in Shreveport is not unprecedented. The outgoing Shreveport City Council in late 2010 approved a $2.50 monthly fee that would provide money to buy new garbage trucks at a time when the Sanitation Department's fleet was in terrible condition. It was projected to generate just under $2 million a year, said former city councilman Monty Walford, who sponsored the ordinance.
A new City Council took office in December 2010 -- and by February 2011 the fee was gone. The council kept a $2.50 recycling fee.
If the $2.50 fee had remained on the books, it would have generated $15 million in revenue over the past eight years.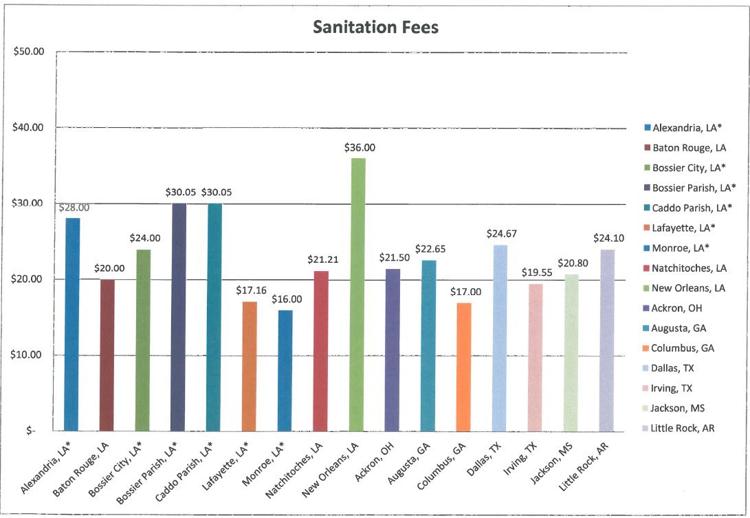 "The good thing about ours was, at last it was a start," Walford said Tuesday. "You can escalate it. They (the Perkins administration) are trying to make it all up on this ($18) solid waste fee."
Walford said he believes $18 a month is too high and Perkins should have reviewed overall city spending first. Perkins inherited this year's city budget from his predecessor, Ollie Tyler.
Raises for sanitation workers could be accomplished with a $2.50 to $3 fee, Walford argued.
"That's more than enough to give them 10- to 12 percent raises," he said.
Perkins also wants to use revenue from a sanitation fee to increase the city's reserve, or rainy day fund, which he said is currently $3 million. That's about 1 percent of the city budget and a reserve that low will hurt the city's credit rating, which affects the interest rate the city pays when it borrows money for things like construction projects, Perkins said.
"Once they build reserves up, they'll keep collecting the fee," Walford said.
He said he believes a better solution would be to start with a low fee and escalate it over time, with all money dedicated to garbage and trash services such as salaries and new trucks.
The city has been struggling to get garbage pickup back on schedule. Officials blamed an exodus of sanitation workers to a private company that picks up garbage and trash in Bossier City and pays higher salaries than the city of Shreveport. Bossier City residents pay a $24-per-month sanitation fee.