SHREVEPORT, La. -- When a person has a new baby, it's exciting to see if they have mom's blue eyes or dad's cute ears.
But there's one gene that no parent wants in their child's DNA code -- that's a mutation for BRCA1 or BRCA2, which is linked to breast cancer.
About 5 to 10 percent of breast cancer cases are thought to be hereditary in both girls and boys.
The father of famous pop singer Beyoncé recently learned he has breast cancer and is encouraging his daughters to find out now if they also carry the gene.
That's the same advice this Bossier mother is giving to her daughters. She may have inherited the gene mutation from her mother.
"It breaks my heart because you know that you handed that down to her. And I wish anything else in life beside that but, you know," said Matsy Evans.
At 80-years-old, Evans is a breast cancer survivor. When she was 53 years old she had a mastectomy. Her daughter Melonie Hill was 30.
"Any class that they brought her to I went with her," says Melonie Hill. 
Now, Melonie Hill, at 56 years old, is the breast cancer patient, and her 19-year-old daughter wonders if she too will one day sit in a treatment chair waiting to receive chemo.
"I'm not scared or anything, if my grandma can do it twice," said her daughter Jodi Hill.
Evans, who is Jodi Hill's grandmother, survived breast cancer twice. The first time was in 1993.  She had the diseased breast removed.
"Eighteen years later it came back in the other one," said Melonie Hill.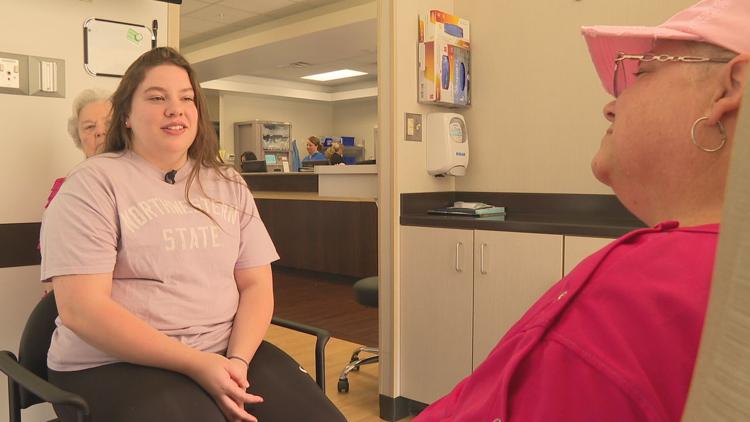 Melonie Hill said she knew then what she would do if she ever faced a diagnosis of breast cancer: "I knew that if something happened to me I was going to have them both taken."
When she was diagnosed last month, that's exactly what she did.
"It's not like I haven't seen this part of it what happens and what has to go on. I was just okay let's do this," Melonie Hill said.
Because of the family history, Melonie Hill is taking a genetic test to find out if she carries the gene mutation. If so, her daughter may be at higher risk of contracting the disease.
"At least they'll be aware. They'll be knowledgeable about it and have themselves checked," says Melonie Hill.  
Now, just like Melonie Hill did for her mother, the role is reversed for Evans who now takes care of her daughter. So are Melonie Hill's daughters.
"She did cry when Dr. (Scott) Boniol told me that I would lose my hair," Jodi Hill said. "The only reason why I cried was because she cried," Melonie Hill said as she shared a laugh with daughter Jodi Hill.
Her daughter has unmistakably inherited her mother's positive outlook and not worried about the possibility of inheriting the gene known to cause breast cancer.
"It's a part of life so. I know if they both can do it - I can do it," said Jodi Hill. "That's my girl," Evans said.
And for anyone else fighting this battle Melonie Hill says, "This is doable. The treatment is only temporary. But it's doable there's always someone to help. And the man upstairs will definitely pull you through this storm."
Early detection is critical.  If there is a family history of breast cancer. Whether you're male or female, get a mammogram even sooner than the recommended age of 45.