HAUGHTON, La. -- The Fox Chase subdivision in Haughton has gotten a lot of publicity over the past few years for all the wrong reasons. It has flooded repeatedly. Some of the people who live there wondering if the nightmare of flooding events is ever going to end.
"It was the second week of May when I got a phone call from my next-door neighbor. It was around four-fifteen in the morning. She was telling me I might need to look out my back door because it was full of water," said Courtney Cathey, a Fox Chase subdivision resident.
This most recent flood happening in Haughton on May 9.
"There was pretty much a creek coming out of the side of our house, between mine and my next door neighbor. It was big flowing water," said Cathey.
And unfortunately she wasn't even close to the only one in Fox Chase with an unexpected, unwelcome and life changing wake-up that morning.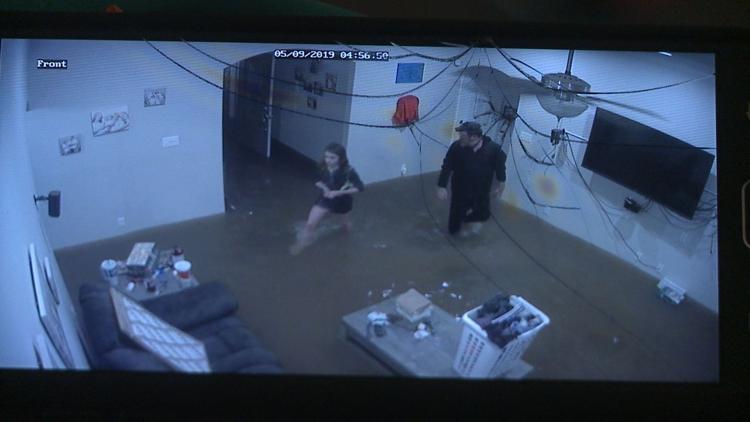 "We were woken up at 4:09 that morning. We had an inch of water in the foyer. We took time to unplug appliances, get clothes together and opened the door about 45 minutes later and that's when the rush came in," said Melissa Hoff, a Fox Chase subdivision resident.
Time lapse video from that morning shows Hoff and her family try and gather and save what they can as different things start floating around their living room in close to a foot of water. So much water, so quickly coming from the sky and eventually from the Foxskin Bayou.
The creek is just on the other side of some trees and it's supposed to follow the treeline and go behind the houses. But on the morning of the flooding the water came right through the trees and smashed right into the side of Hoff's house.
"When it came up, we were in the direct line of what the natural flow would be," said Hoff.
2008, 2015, 2016, and 2019 all recorded flood events somewhere in this subdivision, according to people who live here. They are understandably frustrated and have many questions like, 'Why were homes allowed to be built here in the first place? And, "How can they stop the bayou from overflowing into their homes and neighborhood?"
"I'd like to see a plan to keep this from happening again," said Hoff.
Haughton Mayor Jack Hicks told KTBS there is a plan and they have been working on it for several years now.
"After the flood in 2016 we hired a company, Owen and White, to do a study of what it would take to help those folk out down there during flood season," said Hicks.
According to Hicks, the town paid over $40,000 to do the study and progress is being made.
"It's in the preliminary stages. We have a project number already. The final stages will be, probably a year before the work starts on it, because of the red tape they have to go through. But it has been approved and it will be done," said Hicks.
The work will cost about $1.66 million. Ninety-percent of that is federal money from FEMA. Ten-percent will come from the town, approximately $177,000. Hicks says that money is already in the bank.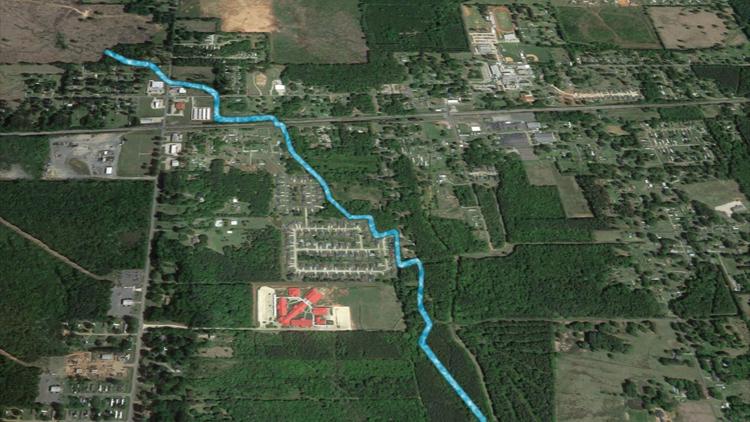 "It's going to start at Jefferson Street near the railroad crossing. It's going to go south all the way to Lincoln Street, which is approximately 2 miles," said Hicks.
Culverts will be replaced, the bayou will be widened and deepened. The plan says it will create a five-foot reduction in flood levels.
"It will be more than capable of handling 25 year flood events," said Hicks.
As for the changes that have been made by the town of Haughton to make sure they are ready for future growth, building and expansion without these kinds of growing pains cropping up, "All properties now that's developed inside the town go through what they call a flood management process where this company comes in and does a flood management on every piece of property sold or built on in Haughton now," said Hicks.
That flood management process was instituted after the 2016 floods in Haughton.