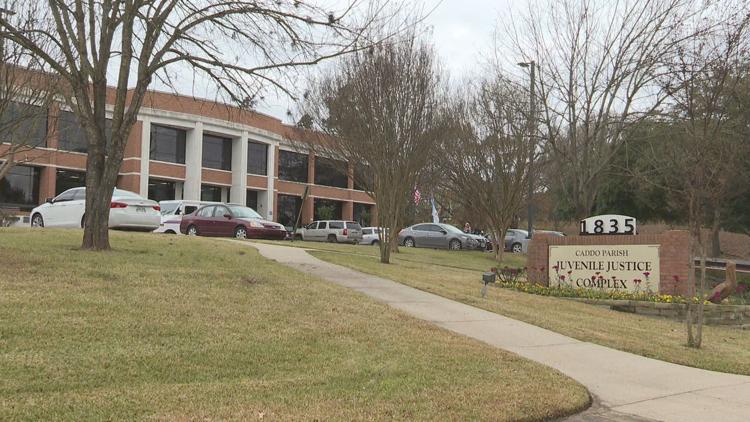 SHREVEPORT, La. – Starting Friday, all 17-year-olds accused of nonviolent crimes will be held in juvenile detention centers, instead of adult jails.
The Raise the Age Act received bipartisan support in the Louisiana legislature when it passed in 2016. Advocates say the new law saves money and protects teens from the dangers of adult jails.
"Raise the Age is a win for Shreveport, for Louisiana, and for our future," said Shreveport Mayor Adrian Perkins in a press release from the Louisiana Center for Children's Rights. "17-year-olds do not belong in adult prisons. Juvenile facilities provide rehabilitative services that reduce the risk of recidivism and increase the odds that they will be productive members of society. They have their whole lives ahead of them, and we should do everything in our power to unleash their potential, not lock it up," 
In Caddo Parish, where leaders have long known that the juvenile detention center is too small for the community's needs, leaders say Raise the Age could introduce a public safety crisis by straining the already-sparse resources.
Caddo Parish commissioners serving on the Juvenile Justice Committee met in Government Plaza on Feb. 19 to discuss what could be done to alleviate the strain. The consensus: Caddo Parish needs a bigger juvenile detention center.
"I call it a crisis," said Paul Young, a juvenile court judge in Caddo Parish, who attended the meeting. "I'm not sure what another definition of crisis is, other than having about 50 percent more kids needing to be in detention than bed space that you have."
Plans are drawn up to double the capacity of the 24-bed facility and the money is there to build it, but the Caddo Commission will not greenlight the project.
"The problem is the operating expenses, estimated to be about $3 million a year," Young said.
That would require more taxes, for which Caddo commissioners are unwilling to ask.
"Our goal is to save the taxpayers as much as possible," said Stormy Gage-Watts, commission president.
"People you talk to -- the citizens -- they're worried about the roads, they're worried about the parks. They just don't seem to worry about the juvenile justice system. It's sad to say, but it is," said Commissioner Doug Dominick.
Young said now is the time for the public to worry about the juvenile justice system.
"There's a lot of people running around saying this is not a crisis," Young said. "That's a crisis."
At the time of the meeting, Young said six or seven 17-year-olds were in the Caddo Correctional Center. According to statistics maintained by the Caddo Juvenile Detention Center, an average of 19 out of 24 beds are filled there each night.
"We are already full in detention," Young said. "If those (17-year-olds) were already in our detention center, I would already have to let six or seven of the people we think need to be in detention now… go."
Clay Walker, Caddo's director of juvenile services, has been preparing for the change by stretching the limited resources already available. He also hired five new employees for the detention center.
"What we've been doing for a couple years now is trying to find alternatives to detention for kids that don't need it," Walker said.
Walker said the parish is expanding the hours of the misdemeanor referral center to accommodate the influx of cases, and looking into alternative sites to house children.
Currently, Walker said none of the alternative sites are viable.
"There are strict laws about juveniles and how you house kids in detention centers," Walker said.
The committee decided at the meeting to look at the old Shreveport City Jail as an option to house juvenile suspects, but Walker said the facility would need to be brought up to standard.
"We would try to bring in some builders and get an estimate," Walker said. "If we can come in and say, 'yes we can do it there for a lot less,' then that would obviously be the choice they make."
Walker and some Caddo commissioners are optimistic that the juvenile jail can handle the 17-year olds for the time being.
"I believe the hope is in the programs that we already have in place," Gage-Watts said. "We're hoping that we don't have to over-incarcerate youth. That is our ultimate goal."
However, in July of 2020, 17-year-olds accused of violent offenses will go to juvenile detention centers. If nothing changes in Caddo Parish, Young warns the situation could become even direr.
"What am I going to do with them? When I get that phone call at night and they say, 'We've got so-and-so in here and he's committed a second burglary and we don't have any bed space. What do you want us to do?'" Young said.
The commissioners and the team from the Caddo Juvenile Justice Complex discussed other possible solutions, but determined them to be non-starters. There are issues with taking the kids to a different parish, since other facilities, like Ware Youth Center in Coushatta, are already full. Walker said state and federal grants also won't help the situation because grand money does not normally go toward operating costs, which is what the parish needs.