KEACHI, La. -- Water systems have their issues. That's been seen on a large scale locally with Bossier City and nationally with Flint, Michigan.
KTBS also get calls, complaints and tips from people around about many issues with small water systems in the ArkLaTex. Recently, reporter T.W. Starr spent some time in Keachi checking on a complaint about too much chlorine in the Keatchie Water System and what one resident says is the deadly consequences.
"I started noticing and my family started noticing that our water smelled like bleach. We had been nauseated that weekend. My animals started getting sick," said Keachi resident Ashley Fisher.
So after checking with poison control she decided to check the chlorine levels of her tap water. She took a video of herself doing the test using spa test strips for chlorine, alkalinity and pH balance.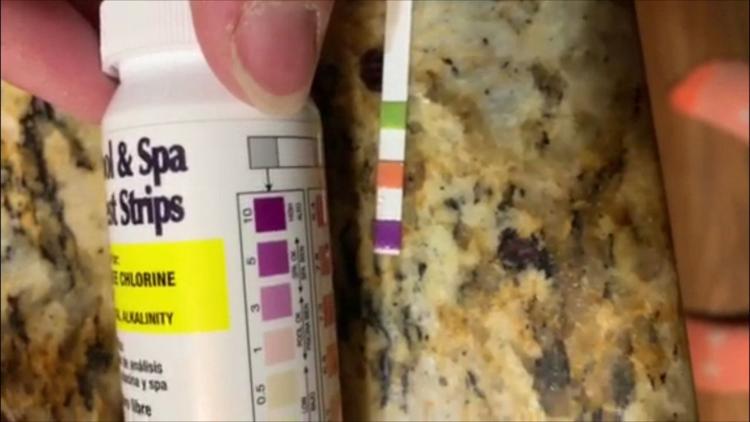 The chlorine levels were high and nobody's disputing that. But what happened next has left the family devastated.
"Later on that next day my dogs started having diarrhea, GI issues and I immediately switched the waters. All of them got better except for my elderly dog. The symptoms he had was from renal failure. Two months ago he had a clean bill of health and all of a sudden he lost 10 pounds in a week," said Fisher.
Fisher says she had to put her dog down a couple weeks later.
The main pumping station for the water system is directly behind Keachi Town Hall. And that's where KTBS caught up with the operator of the system to see if he could answer some questions.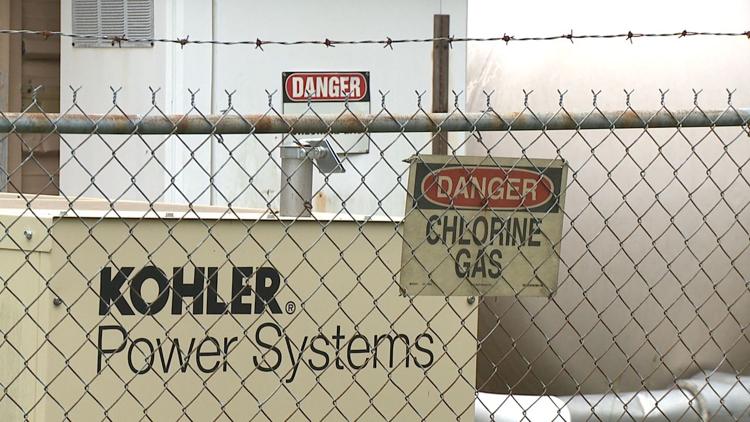 "This is where we had an incident with the water well malfunction. This one right here. That's the well and pump over there. What happened, the spline in between the motor and the pump stripped out, so it wasn't pumping water," said Keatchie Water System operator Dennis Daughtery.
"The amount of chlorine that goes into the water is based on water flow. These three wells combined, that's 190-gallons a minute. When this one went down, it went down to like a 100 gallons a minute. And, when that happens you still get the same amount of chlorine going in the water," Daugherty said.
Daugherty said the chlorine rate doubled for a short period of time until they could get the problem fixed.
"We drained this tank down, shut the station down completely, went to our alternate water source which is Waterworks District 1 and we started the flushing process throughout the system. Things happen, you know anything mechanical is going to fail. The timing for this was late in the afternoon or at night and by that time it messed the whole thing up," said Daugherty.
He said it took about a day and half to get everything fixed and back on line. He visited Fisher shortly thereafter to make sure everything was back to normal. KTBS asked him about what she says happened to her dogs.
"I really can't comment on that. Dog's got a lot of age on it ... but if it happened with the water we got probably on this Keatchie system alone 800,000 dogs down here," said Daugherty.
KTBS checked with the state and EPA and found no serious violations for the Keatchie Water System. Daughterty also provided the annual water quality report for the system for 2017 and 2018. Everything looked good.
KTBS also spoke with Charlie Roberts, the police juror for the Keachi area, about what happened. He said he was aware of the issue and issues with the water system over the years but didn't have any comment other than that.
On the water systems Facebook page KTBS found several comments about strong chlorine smells and pictures of brown or discolored water.
Another Keachi resident, Audrey Rochele, told KTBS, "The system is not good. It goes from one extreme to the other. It hasn't been good for a long time and I try not to use the system water for anything we don't have to."
"Everybody's complained about it. It's not just a one time thing. This has been going on for 20-something years," said Fisher.
The system was started back in 1973 with 102 customers. It now serves about 1,400 customers in Logansport, Kingston, Keachi and over into Centennial, Texas.
"Over the years water systems have their issues. It's ups and downs. This particular system runs very smoothly. We do care about everybody's health. We're literally responsible for people's lives. Clean water is very important. We monitor it everyday, we take care of it, we do the best we can," said Daugherty.
KTBS asked Fisher several times if she could provide a necropsy report from her veterinarian about the specific cause of death for her dog. Up to this point, the information has not been provided. So it's unknown if the dog got sick from the over chlorinated water or just old age or some other disease.