How do you keep an airplane that's bumping 60 years old looking good?
"Send it to the gym every day. We are the gym," said Master Sgt. Billy Cliff, aircraft structural supervisor with Barksdale Air Force Base's 307th Bomb Wing.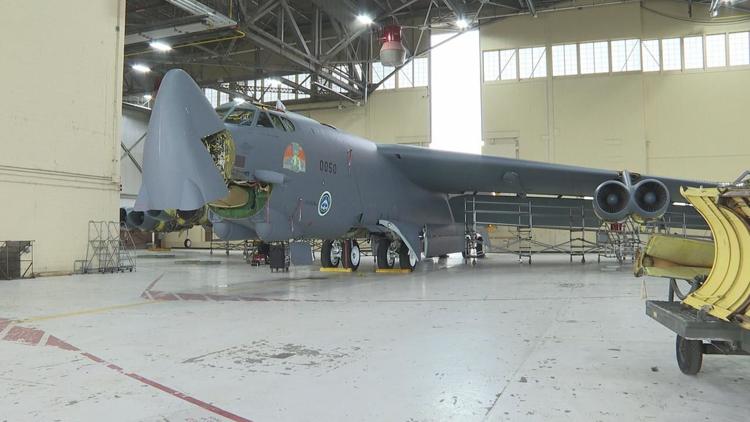 It's the airmen from the Barksdale Air Force Base's Metal Sheet Shop that keep the huge aircraft picture perfect. Essentially they are in charge of the skin of the aircraft.
When it's time, they bring in all 32 pieces of the plane's cowling and inspect each one by one, inch by inch. They fix cracks, change rivets and even paint the B-52.
"It's our shop's responsibility to bring each piece into the shop. We do a visual inspection and a tap to look for loose fasteners, cracks, anything that might be missing on the piece,"  said Cliff.
The B-52 has several models. The first test model was built in 1952. But the one you see most often flying in and out of Barksdale is the H model -- also known as the Cadillac of B-52's because of its many upgrades.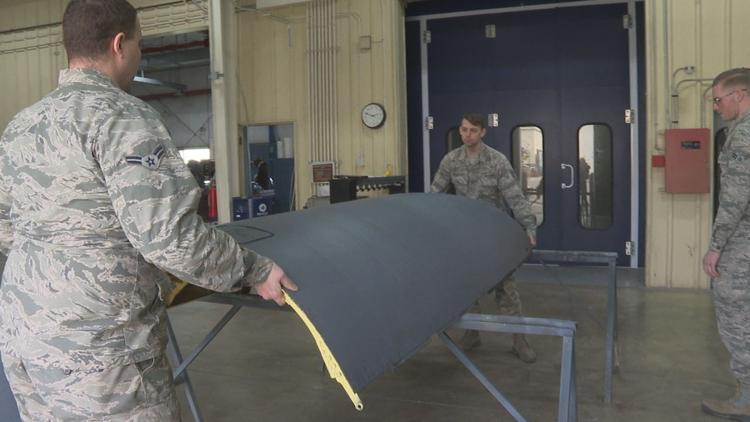 The first of the B-52s H models were delivered in 1961. And only the H model is still in the Air Force inventory, assigned to the 5th Bomb Wing at Minot Air Force Base in North Dakota and the 2nd and 307th Bomb Wings at Barksdale.
After every 450 flying hours the B-52 goes out of service for major maintenance. Several shops work on the aircraft to ensure it's air worthy. These airmen comb the plane.
Airmen at the sheet metal shop actually tap the B-52s entire surface to see if any rivets are loose. It's a tedious task. This aircraft has millions of them.
So how do they change a bad rivet?
"As you tap along-- that's a normal sound and then when I get to one that's a little bit loose, there's just a little bit of a rattling sound. We drill the rivet out and put the new one in and it's not loose anymore," said Staff Sgt. William Earnheart, sheet metal mechanic.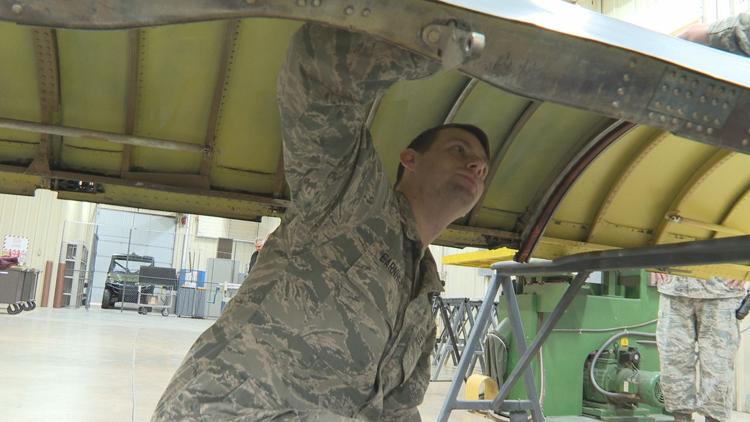 Also, if a piece is broken or cracked, they create a mimic piece.
"From the original part, make a new part that will replace the cracked part and he will splice it in. He will do that by building what we call doublers, tying the new piece to the old piece. It makes it stronger than it was before and hopefully extend the life of the part so we don't have to waste money on buying a new one," said Cliff.
No doubt it's a tough job, but the hardest job is not risking lives. Even though this process can be tedious, these airmen take pride in ensuring every flight crew makes it back home safely.
"Getting them home is probably more important to us than getting bombs on target," said Cliff. 
"It is a proud feeling to know that what you do matters and it keeps those planes in the sky," added Airman First Class Elijah Kremer.
Because in the Air Force, family is not an import thing; it's everything.
A lot of these airmen are part of the U.S. Air Force Reserve. If you are interested in joining, you can visit
https://www.307bw.afrc.af.mil/?fbclid=IwAR3qabSVcrN2TlHtHPSBSg9uk3KlVxwzBbIkiMzrbo9qUnvhlvadfVTSGJs