SHREVEPORT, La. -- It's hard to imagine but one in six children don't know where their next meal will come from. 
Twenty-two million children rely on the free lunch they get at school. So for many of them when school's out for summer that problem becomes even worse. 
Louisiana, Texas and Arkansas are among the highest number with families nationally that struggle with food insecurity. The challenges become more apparent when students are out on summer break.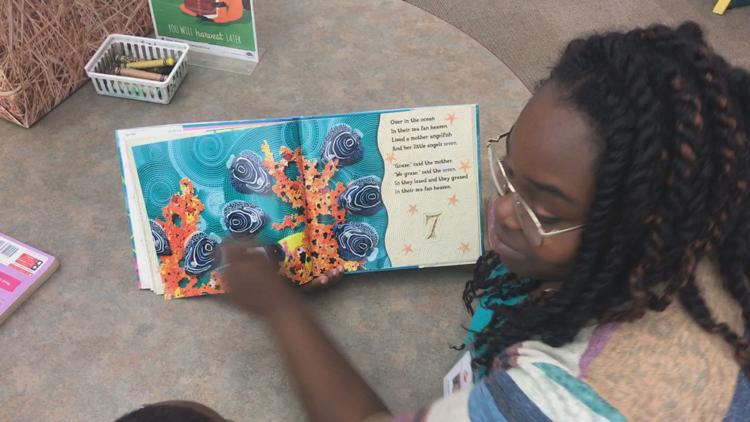 "If students are not participating in some type of educational program I feel it affects them greatly when they come back to us in August," said Angela Jordan, a teacher and mom who recently visited the Wallette Library with her 5-year-old son and 6-year-old niece. "As a teacher, I understand the important of keeping them involved some type of activity so we won't be affected by summer slide."
The summer slide academically is often accompanied by a nutritional slide.
"They're out of school so many kids are not getting that lunch that they're used to throughout the school year," said Samantha Bonnette with the Shreve Memorial Library. 
And that can create what's known as food insecurity and potentially be harmful for a child's health. A report from the National Institute of Health shows nutritional deficiencies directly undermine students' cognitive capacities are associated with childhood obesity.
Shreve Memorial Library is partnering with the Food Bank of Northwest Louisiana to once again offer the Summer Feeding Program. Children up to age 18 will receive free meals at participating Shreve Memorial Library branches as part of the Food Bank's Summer Food Service Program. A program of the U.S. Department of Agriculture (USDA), the Summer Food Service Program was established to ensure that children continue to receive nutritious meals when school is not in session. The program is sponsored by the State of Louisiana and the Food Bank of Northwest Louisiana.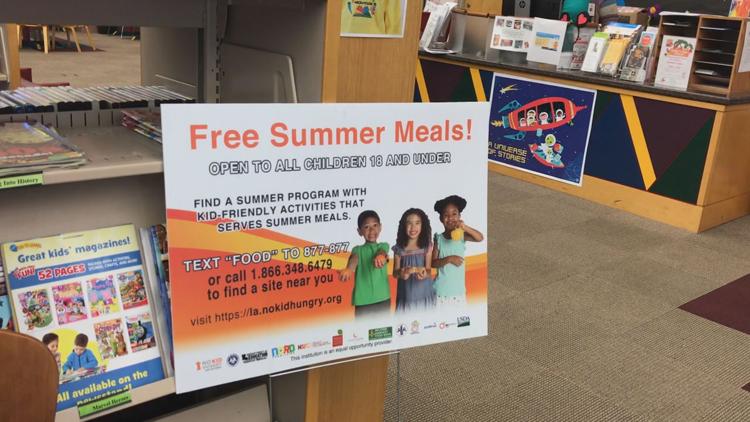 "When there is no nutrition then malnutrition sets in. And malnutrition doesn't always look like a child who's less in body weight, it can be that obesity sets in which is a form of malnutrition," said Martha Marak, Food Bank of Northwest Louisiana executive director. 
The absence of school food programs puts an added financial burden on parents who struggle with income.
"And when the Food Bank can step up and provide these children meals we want to be able to do that to help that family with their overall budget," leaving more money for things like medicine and high summer utility bills, and more capacity for a child's physical and mental success, Marak said.
Meals provided through the feeding program at the library include all of the main ingredients. "We have you dairy your fruits your vegetables your proteins and it's a very healthy and nutritious snack," Bonnette said.
Patrick Lee took his children there last summer.
"They come running in here. They know one thing, when they come here, they're going to get a nutritious meal, and they've got plenty to read. It's an excellent program," he said.
Arts and crafts and "all different types of socialization" are offered during the summer time, said librarian Wylonda Hall. "So with that nutritional component it makes it good for the whole family."
This is the third year that Shreve Memorial libraries have participated.
"And it's just a great way for them to come in and participate in our summer reading program and get a great meal to go along with it," Bonnette said. 
As for Jordan, "We are always looking for activities to keep them busy since the library is offering a free snack as well as them coming over to read some books, I think it will be a great convenience. I can put it on the schedule and it can be something we do on a daily basis." 
The Food Bank is serving 31 sites this summer in Caddo, Bossier, Bienville and Claiborne parishes. 
There are 7 library branches in Caddo participating through July 31. Participating locations and times are: 
• David Raines Branch, 2855 Martin Luther King, Jr, Drive, Shreveport
Monday – Friday 11:30 a.m. – 12:30 p.m.
• Gilliam Branch, 12797 Main Street, Gilliam
Monday, Tuesday and Thursday 1 - 2 p.m.
• Higginbotham-Bryson Branch, 9359 Greenwood Road, Greenwood
Monday and Friday 11:30 a.m. – 12:30 p.m.
Tuesday – Thursday 3:30 p.m. – 4:30 p.m.
• Hollywood/Union Avenue Branch, 2105 Hollywood Avenue, Shreveport
Tuesday and  Thursday 1 - 2 p.m.
• North Caddo Branch, 615 North Pine Street, Vivian
Monday – Friday 11:30 a.m. – 12:30 p.m.
• Rodessa Branch, 10093 Main Street, Rodessa
Monday – Thursday 12:30 p.m. – 1:30 p.m.
• Wallette Branch, 363 Hearne Avenue, Shreveport
Monday – Friday 2 - 3 p.m.