STONEWALL, La. - North DeSoto softball wouldn't be where it is today without Lori McFerren, but that wasn't the path she envisioned.
"I went from being an accountant to teaching night classes at BPCC to teaching one year at a middle school and then all of a sudden, I'm at North DeSoto and in two weeks time I go from being a business teacher to the head softball coach."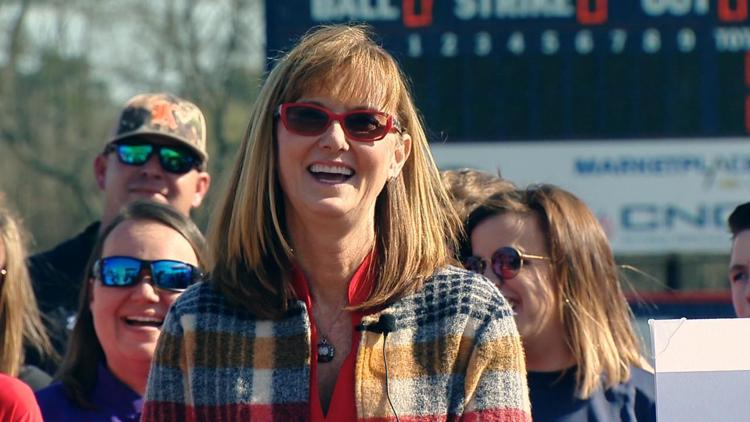 For 25 years, McFerren coached the Lady Griffins before retiring after the 2019 season, but sports has always been a part of her life thanks to her father, former Homer football head coach, Ronnie Beard.
"My dad was my hero and I mean I grew up from a little girl, I mean at six years old, when they (Homer) played Haynesville and lost with first downs in '71, I was the only little girl allowed in the coaches office so I grew up with that."
The Pelicans' football stadium is named after coach Beard and call it coincidence or destiny, but McFerren received a similar honor in Stonewall with the softball field being named, Lori Beard McFerren Field.
"When you're a teacher and coach, it's a way of life. It's not really a profession that you do, it's your life. I used to bleed purple and gold, but now I bleed red and blue and I always will. It's a family. I mean, it's my family."
That family extends to former players Jordan Thomas and Emily Henderson, who spoke at the field dedication ceremony.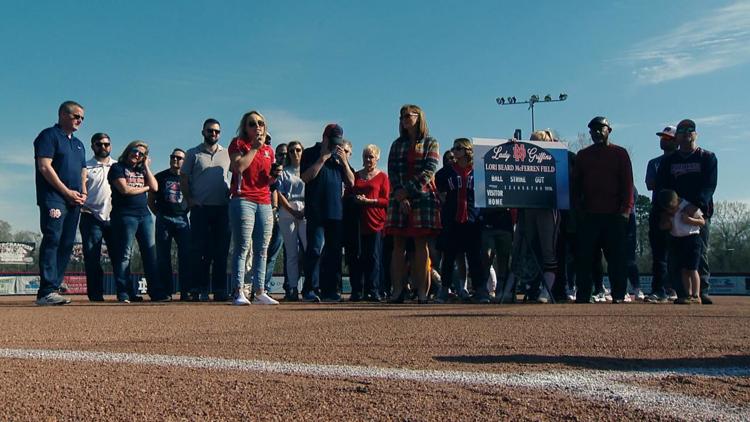 Henderson said, "Just to have someone so involved and invested in girls and just to truly care about their character and winning, I mean that's just a true blessing and just so well deserved."
Thomas added, "I'm 37 years old, I have two kids in the North DeSoto school system and I'm back here today because of Coach Mc because she is a person who meant that much to me and I knew that she was always going to expect me to be great and if I wasn't great, I was going to feel really bad.
"I didn't want to disappoint her and that's a person you don't always get in coaches."
McFerren said of her former players, "The things that we went through, that they went through, that I know they went through, but a lot of people don't know what they went through to accomplish what they did is just amazing.
"I mean I'm just in awe of their hard work and what they can overcome just in life and still be successful."
While state championships and other honors speak to McFerren's impact, it's the off the field interactions that mean more.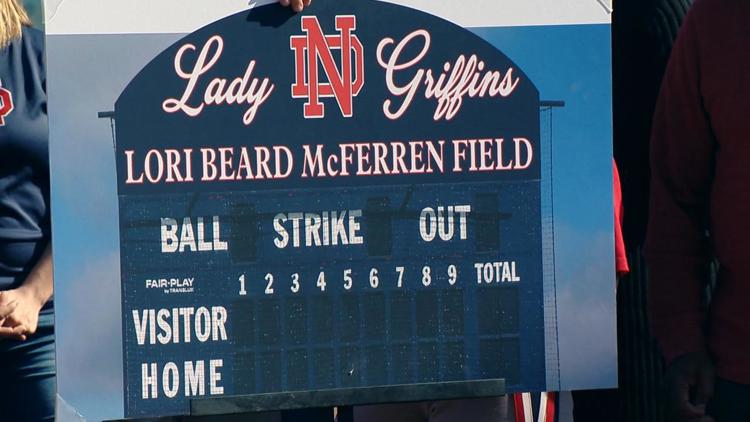 She still bumps into former players all the time saying of a recent meeting, "I went up to her because I recognized her right off and then she turned around and she just collapsed.
"It's weird because you watch this 40-year-old lady that you're seeing from a distance and all of a sudden when you go up to them and you talk to them, they become that 17 and 18-year-old young girl again when they see your face and start talking to you. It's just like they're back living back in those times, you can just see it. It's so sweet."
North DeSoto won three state championships under McFerren from 2015-17.