ZWOLLE, La. – Zwolle Police Chief Daniel Thomas was working a homicide in October when he said he got a message from his wife.
Thomas' wife had gotten wind that confidential law enforcement documents had been leaked, and Thomas was mentioned in the documents.
"I want some answers. I want an apology. I want my name cleared," Thomas said.
Those documents, belonging the Sabine Parish Sheriff's Office, contain detailed notes of a deputy's conversations with confidential informants, intelligence reports and spreadsheets containing the names and contact information of multiple informants.
According to Sabine Parish Sheriff Ronny Richardson, who declined to be interviewed for this story, the documents were stolen from a Sabine deputy's patrol vehicle in 2018. They did not surface until October, when the parish was in the middle of a contentious election season, and someone posted photos and videos of the documents on Snapchat.
The images spread through Sabine Parish like wildfire.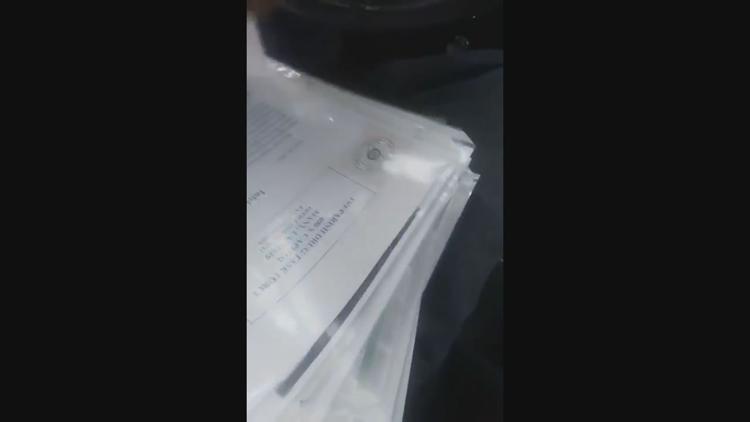 In one of the documents, the deputy recounts a conversation with an informant who claimed Thomas told a drug dealer he wouldn't arrest him if the dealer could bring the chief a woman to provide sexual favors.
Thomas, a church pastor and longtime lawman who is one year into is second term as police chief, vehemently denied the allegations.
"It took me years to build my reputation. I got a lot of people that look up to me. I got a lot of people that think highly of me, and at all costs I will defend that," Thomas said, telling KTBS he has nothing to hide. "It's affecting my children, it's affecting me at church, and it's affecting me to a standpoint in the community."
Not only is Thomas fighting to protect his reputation, he's fighting to protect his city. He's concerned that the leak has eroded the community's trust in law enforcement.
"These are confidential informants," Thomas said. "They are trusting law enforcement to tell them about people selling drugs and so forth. Now their names have mixed up and somebody could be hurt."
Richardson confirmed to KTBS that the deputy that left the documents in his patrol vehicle was fired.
The deputy was part of a multi-agency narcotics task force that includes DeSoto, Sabine and Red River parishes. The DeSoto Parish Sheriff's Office is the lead agency on the task force.
"That's never information that you want to get out because just the world of narcotics can be a dangerous world," said DeSoto Parish Sheriff Jayson Richardson, who is not related to the Sabine sheriff.
Jayson Richardson said he is looking into policies and procedures of the task force, although each agency within the task force has its own set of rules.
"I think had policy, procedure and protocol been followed, we wouldn't be having a conversation," Richardson told KTBS.
Richardson said the effects of the leak are not widespread.
When contacted for an interview about the investigation into the leak, Louisiana State Police Sgt. Scott Moreau replied with a brief statement:
"On Tuesday, December 10, 2019, Louisiana State Police Bureau of Investigations/Alexandria Field Office was contacted by the Sabine Parish Sheriff's Office (SPSO) in reference to one of their investigations.  Currently, Troopers are reviewing the SPSO's case to see if further action needs to be taken and if so, in what capacity. There is no further information available at this time."
A spokeswoman for Snap, Inc., which owns Snapchat, told KTBS on background that the company works closely with law enforcement agencies around the world. She would not specifically address the Sabine case.
According to the company's transparency report, Snap received 10,061 requests for user information and 16,058 for account identifiers during the first half of 2019. The report says Snap produced information in response to 80 percent of those requests.