SHREVEPORT, La. -- There's a growing problem for business owners, spiritual leaders, law enforcement and environmental groups in the City of Shreveport: What to do with the rising number of illegally dumped tires?
"Man, it does look awful," said Shreveport business owner Deidrick Johnson.
Johnson told KTBS he's seen a dramatic rise in rubber left behind.
"I always see tires on the ground near the road. I've seen them all across town and areas where these people dump tires especially used tires. We have a lot of tire shops around town. They charge for getting rid of used tires so that may be one of the reasons why you see so many around town abandoned," Johnson said. 
It's so bad, the tire messes are given a special name. They're called tire graveyards.
In photographs KTBS obtained from detectives you can see the areas recently targeted by the illegal tire dumpers. These areas are typically an abandoned parking lot, dead end street, or in some recent cases the parking lots of local churches.
The rising amount of illegally dumped rubber is getting so bad it's now having a major impact on the sanitation department's annual budget of $117 million. Each time one of these tire graveyards are found, it costs the city up to $10,000 to have the site cleared.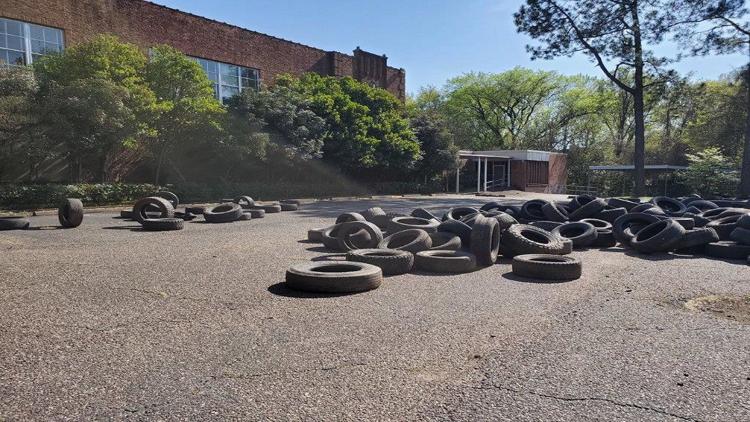 "I think this is probably one of the biggest deals from a trash standpoint that the city is faced with," said Gary Brown, Shreveport Sanitation Department manager.
The tires are more than just an eyesore for those living nearby, they're also an environmental concern. The stacked tires create a perfect breeding ground for mosquitoes and other pests like mice, rats and snakes.
Business owners we spoke with say they have a good idea who's dumping these tires. Law enforcement officers also believe this is the work of the used tire shop owners and they're getting more frequent.
"This is all regulated by the Department of Environmental Quality. What we're seeing happen is coming from the mom and pop tire shops where people pay to have tires disposed of and instead of disposing of them like they're supposed to, the money is pocketed and the stuff is dumped anywhere and everywhere," said Brown.
Things get tricky when it comes to figuring out who has to clean up the mountain of old tires.
Lisa Hayes, a manager with Shreveport's Property and Standards Department, told KTBS, "There's a rule that you can only transport so many and they can only be disposed of properly."
KTBS looked into it and discovered that according to Section 74-32 of the city's solid waste ordinance (e) The maximum number of tires that may be collected at any single appointment is four. Tires exceeding this number shall be disposed of by other lawful means."
Most of the time that is the case. Because of that ordinance in order to clean up a tire graveyard the city then has to contract an outside waste tire transporter. In Caddo Parish, those companies are D&S Tires and River City Iron and Metal Inc.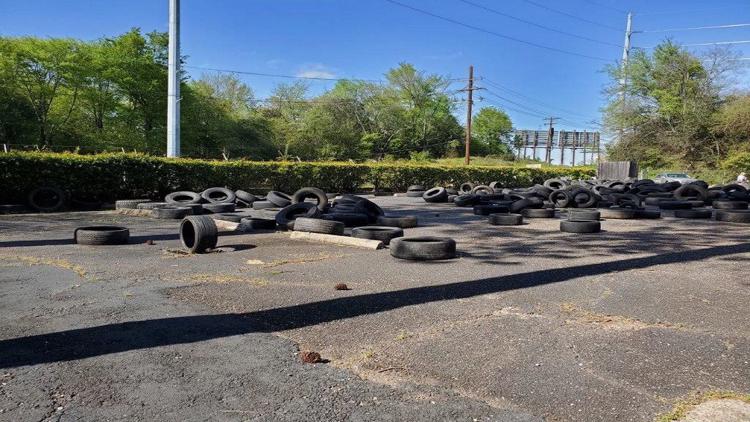 The process of cleaning up the abandoned tires can be quite costly. It costs the city an average of $2 a tire if an outside is used for removal. But it isn't just the city that always has to pay.
"If the tires are on your property then we end up citing you because that's the property they're on. We cite property and not people," said Hayes.
Tracking down the illegal tire dumpers is now in the hands of the Shreveport Police Department and the newly created Environmental Crimes Unit. In the meantime, city officials say they'll be proactive when it comes to combating these tire graveyards. In the coming months more free community waste removal days are planned across the city.
Hayes added: "Don't just dump them somewhere. We're asking to be responsible for them. We don't want them just thrown somewhere; that's why we have the sweep and the dumpsters set up so that you can properly dispose of them."
If caught the illegal tire dumpers could face fines of up to $5,000. If you see this happening in your neighborhood, call 225-219-3640 or 1-888-763-5424.