SHREVEPORT, La. -- For 38 years, Louisiana families have been battling insurance companies and state government to protect their severely disabled children; children who require around-the-clock care.
Thanks to presidential intervention dating back decades, some states found their way around restrictive insurance laws. But it was only recently Louisiana did the same.
"We are very proud of her," said Kathryn Smitherman. "She is now six months past her life expectancy."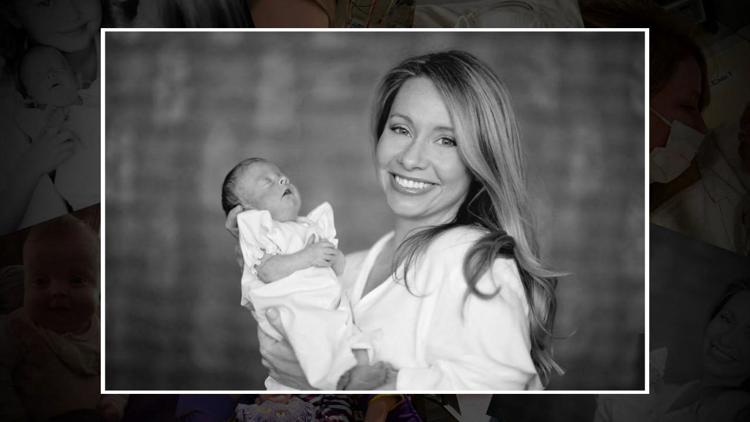 "She" is Margaret Smitherman, known to her family as Mae.
Mae is now two and a half years old and totally disabled. And the cost of her medical care, even with private insurance, is astronomical.
Until just recently in Louisiana, Medicaid would not cover home care for somebody like Mae. It's a battle dating to 1981 and a young girl named Katie Beckett and President Ronald Reagan.
"We just recently received word of a little girl who has spent most of her life in a hospital," said Ronald Reagan in 1981. "The doctors are of the opinion that if she could be sent home, and receive her care at home, it would be better for her."
But that's when things got complicated. In 1981, home care for Katie Beckett cost $1,000 a month. But Medicaid wouldn't pay even though it would pay six times that to keep her in the hospital.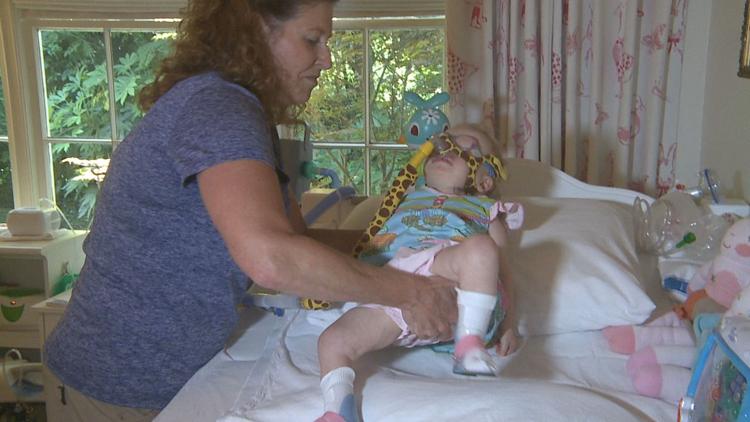 "Now, by what sense do we have a regulation in government," said President Reagan decades ago. "That says we'll pay $6,000 a month to keep someone in a hospital, that we believe would be better of a home. But the family cannot afford one-sixth of that amount to keep them at home."
"And the next year, TEFRA — the Tax Equity Fiscal Responsibility Act -- was passed, including a provision that states have the option of making all severely disabled children who need an institutional level of care be eligible for Medicaid," Smitherman said. 
Sounds simple enough, but the battle in Louisiana was just beginning. The TEFRA ACT left it up to individual states.
"Louisiana has a long history of attempting to pass a TEFRA option within our Medicaid state plan," Smitherman said. "We have tried multiple times to get funding, and unfortunately we have failed. It has usually ended upon the chopping block."
But this year, Smitherman crossed paths with state Rep. Dodie Horton, whom she calls a godsend for the TEFRA movement.
"For far too long, our parents who have a child that's disabled, who needs some help, have been told to either divorce or move to Texas, or sell everything you own and you may then qualify for Medicaid services. That is unacceptable," Horton said. 
Horton says the TEFRA bill passed unanimously at the end of this year's legislative session. 
"It was a great day in Louisiana when TEFRA was signed into law, because people from all walks of life need help when they have a child that's so severely disabled that their own insurance won't cover everything. And it keeps them from going bankrupt," Horton said.
Here are just a few examples of what she's talking about: "Mae has a medical bed that moves her head and feet. She needs to stay upright or else reflux. Even though she's had surgical procedures to prevent that, she could aspirate on reflux and get pneumonia," Smitherman said.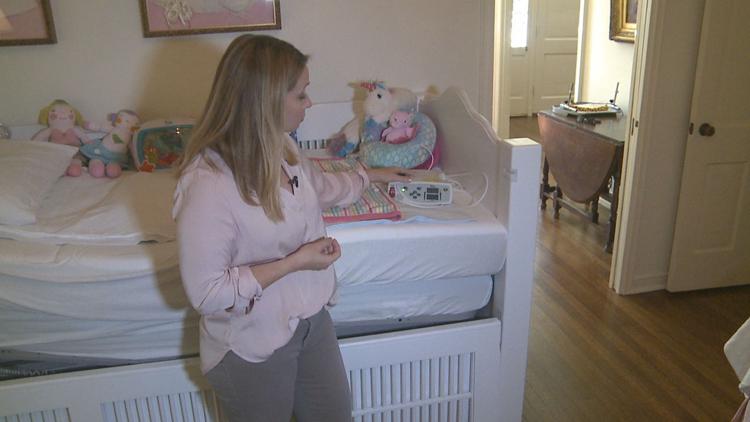 She then demonstrated the a cardiac respiratory monitor. "Children like Mae who have seizures or apnea can stop breathing, which Mae did quite often for about a year and a half. This machine can save their life."
Smitherman showed one of the other devices required to maintain Mae's life: "I have personally used this to resuscitate my child probably 75 times. Her nurse has probably done more than that. I have actually used it to breathe for her when she was blue while talking to her doctor on the phone."
And then there's the expense of that full time, live-in nurse who has become part of the Smitherman family. She is there to attend to virtually Mae's every need. The expenses never quit.
"All of these things add up for all of our families," said Smitherman. "I can tell you that we were out of pocket last year alone for $74,000."
Horton's thankful the Department of Health worked with her, Smitherman and others to make TEFRA a reality.
"It's a select group of people; a small group of people who just need a little help to pay the bills," Horton said, "and still be able to work, pay taxes and keep their child at home with them."
"We don't know how long we're going to have with her," said Smitherman. "But we know she's touched a lot of people, and TEFRA is one of the things she has inspired."
Currently, there are about 1,600 kids in Louisiana who qualify for Medicaid benefits under the TEFRA ACT.
Just about a week ago, Gov. John Bel Edwards was in Lafayette for a ceremonial signing of the TEFRA ACT, which gives families like Mae's an opportunity to receive those Medicaid benefits.
The governor was surrounded by Mae and her entire family. It was the culmination of a long battle for them and many families just like theirs.
And Mae's mother says years from now she'll take comfort knowing there will be many Louisiana families benefiting by being able to keep their kids at home.