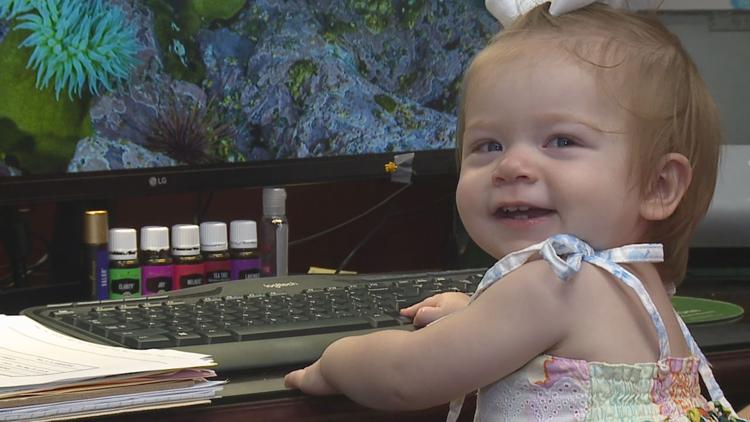 When a Shreveport mother didn't think the news could get any worse -- it did.
After her husband suddenly passed in a car accident, less than 24 hours later, doctors told her she was having complications during her pregnancy and her baby might not make it.
Kristen Cochran was at the lowest point in her life until her coworkers stepped in to become her family.
It looks like a normal office at Snell's Orthotics and Prosthetics in Shreveport. Except, this one's got a crib, toys and spilled cheerios lying on the floor.
But most importantly, this office has baby Raylee.
"They said yes bring her here, keep her healthy. She's been through enough already," said Kristen.
Raylee went through more than any newborn should ever go through.
"Her uncertainty before birth and after was unknown."
Raylee was born with a congenital diaphragmatic hernia (CDH). Her diaphragm never closed properly in utero, causing major organs like her bowel, liver and spleen to move upward into her chest.
Cochran says the survival rate for CDH infants is 50 percent. Raylee's right lung had collapsed and she appeared lifeless. Raylee went into surgery immediately after she was born.
Thankfully, Raylee's surgery was a success, and six weeks afterwards, a turning point.
"All she has now is a scar on her right abdomen," Kristen said. 
No long term damage to her heart or lungs. And today, she's moving, playing, smiling and laughing like any other one-year-old.
Cochran tried putting Raylee in daycare so she could return to work, but Raylee's weakened immune system made every sniffle and cough dangerous.
That's when Cochran was faced with a tough decision.
"I know this is where I'm supposed to be," Kristen said.
Since Raylee wasn't ready for daycare, Snells brought daycare to Raylee.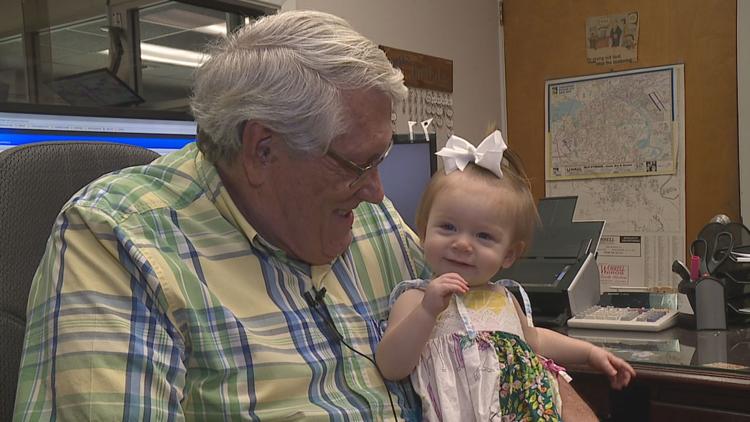 "We care a great deal for this little lady and her mama. We're just glad to see her grow up and take all those new steps and stages," said owner Clint Snells.
It was the least Snells could do after the one-two punch life threw at Kristen.
"It takes a village to get a mom back on track when she doesn't feel like she can do it," Kristen added.
When Kristen was 15 weeks pregnant, her husband Jason died in a car crash.
Kristen found out Raylee was having problems shortly after Jason died.
"Every time I went to the doctor, the news just got worse and worse," she said.
Doctors said Raylee had holes in her heart and fluid around her lungs and heart. This was even before they found the CDH. At that moment in her life Kristen was terrified of the world.
She could have never gone through this on her own.
"With the right people around, you can overcome all of life's challenges. It was an extremely difficult time, I'm not going to lie. It still is. But the family that I've made here at Snells, they let me be me. They let me cry, they let me talk and remember him… no one holds it against me," Kristen said.
And for five months, the staff at Snells stepped in when Cochran needed them most.
"It spread throughout the entire office. We'd take turns. She'd sit in the front with the ladies or sometimes go with the guys in the back," said a co-worker.
They don't refer to themselves as employees or simply as people who they work with.
Because they're more than that.
"I love them like family, they are my family," Kristen said.
Kristen has placed Raylee in daycare now that she's older and her immune system is stronger. She still brings her to the office once or twice a month. Kristen is starting a non-profit to support other women who are widowed or lose a loved one unexpectedly.
She also started a grief group for those who might need someone to lean on. You can email her at Kjcochran062@yahoo.com