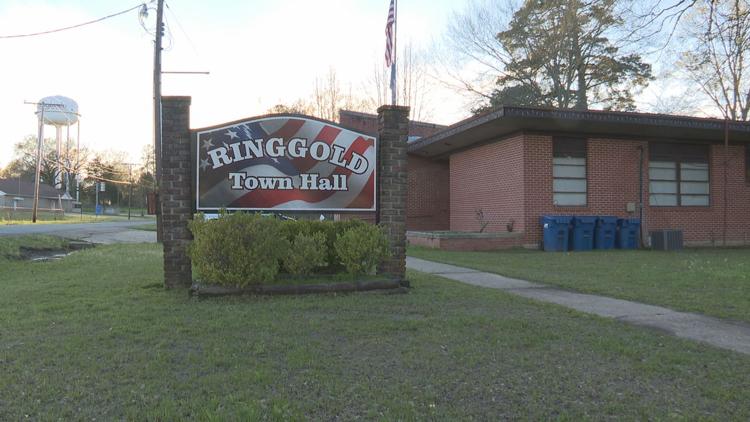 RINGGOLD, La. – Applause filled an already-full city council chambers on a mid-March evening.
The Ringgold City Council voted unanimously to hire a full-time and a part-time police officer.
The new officers stood, smiling alongside their families, beside a new police chief and a new mayor.
During a public comment period, citizens talked about how much they looked forward to an upcoming community clean-up event.
The friendly optimism of the March 14 meeting stood in stark contrast to what happened in Ringgold last year, when 30 people were arrested in a drug raid, and people complained of a crime problem in the town of fewer than 1,500 residents.
In June, then-Mayor Donna Wiggins said the city was having trouble paying its bills due to a lack of revenue.
In July, over 100 people gathered on Ringgold's softball field to pray for a better future.
In November, they elected new leadership.
"It seems like we're really going through a time of being blessed, and looking forward to what our future is going to be like," said Milton Vining, the city's current mayor.
Vining, a pastor who had never before held an elected position, said the city's finances have turned around in the two months since he took office.
"I've just kind of put my hand to the plow. We've required a lot of people to make sure that they're paying different utilities and things that they're supposed to be (paying)," Vining said. "Along with that, we're adding different options to be able to pay."
At the March 14 meeting, city councilors voted quickly and unanimously to pay all of the bills.
Ringgold also has a newly-elected Chief of Police.
"Our biggest challenge right now is just trying to get the community back, and trust," said Chief Freddie Peterson.
Peterson, a 16-year law enforcement veteran, began his career in New Orleans. He worked for police departments at Xavier and Grambling State Universities, before serving a two-year stint as a captain for the Ringgold Police Department. He left that job in 2015 for a security analyst job at a Shreveport-area casino.
Peterson said community policing one of his main priorities as Chief.
"Our job is to protect and serve, but I also want our officers to be more in the public view," Peterson said. "When they see somebody with a flat tire, stop. Ask them if they need help. If you see someone walking at two o'clock in the morning, stop and see what's wrong with them. If they need help, try to get them home." 
Peterson also forged a much closer partnership between his department and the Bienville Parish Sheriff's Office, which has provided equipment to Ringgold and helped officers with high-profile investigations. Since Peterson began his term, two suspects were caught in connection to recent shootings in Ringgold.
While there's still work to be done, city leaders feel empowered to tackle it.
"Just look up, because things are changing," Vining said. "We're not going to be known for the different things that have been reported. We're going to be seen as a good, nice, peaceful community that cares about everyone in our town."
"I pray for our families. I pray for the recovery of Ringgold," Peterson said. "And it's going well."
People in Ringgold will meet Saturday morning for a community-wide cleanup event.