SHREVEPORT, La - Rep. Mandie Landry, D-New Orleans, proposed a bill to decriminalize prostitution and to recommend changes to other laws needed to work with the proposed changes.
The House Criminal Justice Committee was headed in a direction that would reject the bill Tuesday, but Landry agreed to voluntarily scrap what she believed was the first bill of its kind. Landry worked with a New Orleans group called Women with a Vision, Inc. for a over a year and together they came up with House Bill 67.
Advocates for and against the bill spoke during the meeting, including those who are past and present sex workers. 
"Criminalization will not help, it only makes things worse. People in bad situations will do whatever they have to, to survive," said Amira Barakat Al-Baladi, a sex worker advocate of Heaven on Earth. She is based in New Orleans and spoke in favor of the bill.
In Shreveport, there was support for the bill meant to stop arresting those aged 18 and up for sex work. There were signs posted outside of businesses, and art projected onto the Caddo Parish Courthouse by Lessie LeBlanc-Melancon, an artist/Community Organizer with Project Protest La.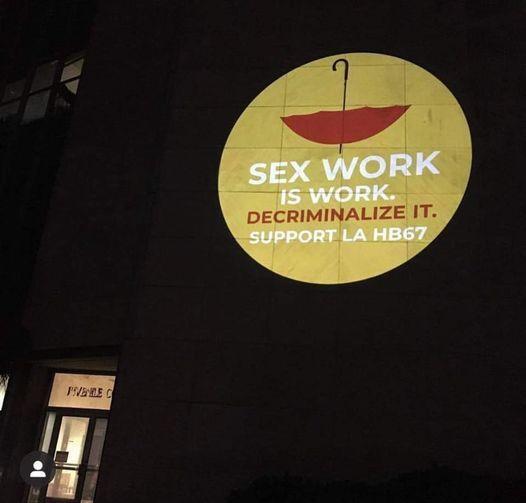 "I am disappointed that it was deferred, although I am encouraged that it was voluntary, and that there is an opportunity to continue discussing these issues," said Brittany Turner, the coordinator for the Sex Workers Outreach Project Shreveport/Bossier chapter.
"I think it's really important for our community, especially those who are most marginalized and most impacted by the current legislation," said Turner. "I think it was a really empowering experience to have people be able to use their voice in that forum, especially folks who generally aren't able to come forward for fear of persecution,"
A Shreveport resident, Glory Blankenship, was in Baton Rouge Tuesday speaking against the bill on behalf of Purchased: Not for sale. 
"It's a simple solution to what is a really, really complex problem," said Blankenship. "We know this bill is an attempt to push our state forward in the fight for true justice, and that those supporting it do so with a clear intention to prevent harm. But the data in places that have passed similar legislation demonstrates that full decriminalization will lead to an increase in sex trafficking, violence against workers and exploitation."
After the meeting, Landry tweeted what their plans are going forward.
After 3 hours of incredible testimony, it became clear that HB 67 was going to have little support from the committee. Deferring in favor of a task force/study resolution retains goodwill with the committee. Disappointing, but change takes time. #lalege @WWAVinc https://t.co/7rNLzOkwYb

— Mandie Landry (@votelandry) May 4, 2021