SHREVEPORT, La. –  Shreveport Mayor Adrian Perkins clarified claims Wednesday that the city would not provide security assistance for President Trump's visit to Bossier City on Thursday. The mayor now says that some Shreveport first responders will be used.
But that came after several officials confirmed to KTBS that Shreveport police and fire personnel were pulled off of the rally. 
Wednesday afternoon, the mayor called a 2:15 p.m. news conference to clarify the city's position.
Three Shreveport City Council members had asked Mayor Perkins to rescind an order prohibiting Shreveport police and firefighters from providing assistance for President Donald Trump's visit Thursday in Bossier City.
In a letter released in conjunction with the news conference, Perkins said he was "alarmed" that City Council members are "politicizing" the city's support of the president's visit. 
He referred to the letter Councilman John Nickelson emailed to Perkins, saying he, Councilman Grayson Boucher and Councilman James Flurry "implore you" to rescind the order and offer whatever help is necessary to ensure the safety of the president on his visit.
"When it comes to defending and protecting the Office of the Presidency, we are not Republicans or Democrats – we are all Americans. President Trump is our commander-in-chief, he is entitled to our respect, and politics should never compromise his personal safety," Nickelson wrote.
In his response, Perkins said, "I, of all people, respect the Office of the President and would be the first to provide additional security and other necessary resources if her were coming here in the capacity of President to discuss infrastructure, economic development opportunities, etc., rather than for campaigning. In fact, I invite him to do so."
Sheriff Steve Prator said law enforcement's role Thursday is providing security and assistance for the Office of the President, not supporting political activity.
"That's our commander-in-chief and we're going to make sure nothing happens to him whether he's down here seeing a doctor or visiting family or here on a political rally or down here to give us grant money. Whatever the occasion might be, we're going to protect the commander-in-chief," Prator told KTBS Wednesday. 
Prator already had deputies assigned to help with Trump's visit but that role increased Tuesday after a phone call from the state police saying more help was needed.
"They asked for assistance. They had been counting on some Shreveport police department units and they notified me that those units were no longer available, that the city of Shreveport was pulling its resources," Prator said. "And I confirmed that with Chief Raymond with the Shreveport Police Department."
The sheriff admitted to being surprised by the request.
"It was very surprising to me that all of the sudden Shreveport on something like this, I've never, I've been chief of police and sheriff now for a number of years … and I know of at least three different presidents that have visited while I have been in charge of things. And it doesn't matter what their party affiliation is or anything, you get the job done," Prator said.
Perkins cited the state Constitution, a state law and a city ordinance to back his position that public resources should not be used for political activity. 
That doesn't answer why the same law wouldn't apply to the state police, Bossier City police, Bossier Parish sheriff's deputies and Caddo Parish sheriff's deputies, which are providing services for the rally.
KTBS received a copy of a message reportedly received by a Shreveport police motorcycle officer that went out around 4 p.m. Tuesday, saying "We have been advised to stand down assisting with the Trump motorcade Thursday. LSP will be taking over. The Mayor has advised he does not want SPD or SFD involved."
The Shreveport Police Officers Association on Wednesday released the following statement: "The Shreveport Police Officers Association has honorably served every visiting President to the Shreveport/Bossier City area. Many of our members are prior military service veterans and current Reserve and National Guard members. We are astonished to learn that Mayor Perkins will prevent our members from serving as augmentation/perimeter/escort services as we have so many times in our history. Many of our members feel it is their duty to protect the President of the United States of America, and we are honored to do so. As members of the largest police department in Northwest Louisiana, we understand the duties of our office prohibit us from participating in political functions. Serving our President is not prohibited. SPOA requests that all individuals put partisan politics aside. It is our duty to provide public safety for all citizens and visitors, including President Donald J. Trump."
KTBS was made aware Tuesday night that Shreveport police were being pulled off of their assignments and reached out to the mayor's office. Spokesman Ben Riggs said then the city was providing "some resources" for security, including first responders, but said he could not offer specifics.
KTBS reached out Wednesday morning to Riggs again for a response to Nickelson's letter. Riggs referred to his previous statement and said Perkins is "absolutely unavailable" for interviews. That was before Perkins' hastily-called news conference.
Prior to noon, Riggs released the following statement, which says first-responders will be provided. Perkins' letter repeated some of the same information.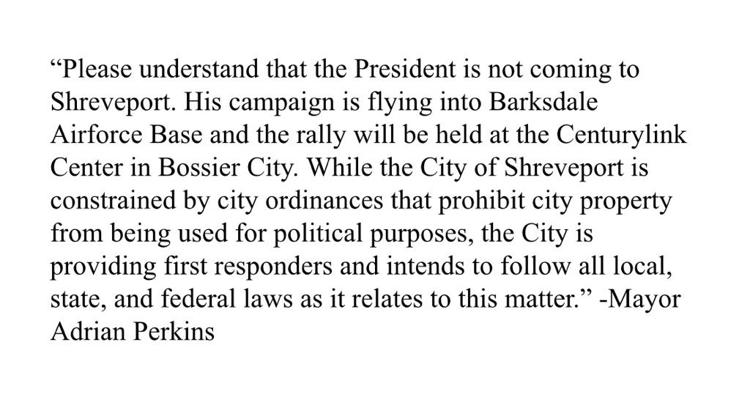 Congressman Mike Johnson also has weighed in on his Facebook page. Johnson said he learned of the news Wednesday morning and called Perkins to verify the "rumor." 
"The mayor told me he believes he is required to make that decree," Johnson wrote. "I just can't believe it."
Johnson noted the Shreveport police and fire departments receive millions of dollars each year in federal funding and "prohibiting our city's finest public servants from assisting with the first visit by a sitting President of the United States in 15 years is simply absurd," Johnson wrote.
Trump will be at the CenturyLink Center at 7 p.m. Thursday to drum up pre-election support for gubernatorial candidate Eddie Rispone who's challenging Gov. John Bel Edwards in Saturday's election.