UPDATE posted Feb. 20:
SHREVEPORT, La. -- Shreveport police have identified the officer involved in a shooting earlier this week as Officer Charles Strawn.
Strawn fired at homicide suspect Gregory Jones after Jones pointed a gun at him. Neither Strawn nor other officers were injured, according to a release from Cpl. Angie Wilhite.
Strawn has been with the department since August 2017. Chief Ben Raymond placed Strawn on departmental leave per civil service law.
In addition to murder charges and charges stemming from a domestic incident in October, Jones will also face another charge of aggravated assault upon a peace officer. He remains hospitalized.
ORIGINAL STORY posted Feb. 18: 
SHREVEPORT, La. - A homicide suspect who was shot Monday after pointing a gun at a Shreveport police officer remains hospitalized Tuesday with life-threatening injuries, according to SPD spokeswoman Cpl. Angie Wilhite.
Gregory Jones, 37, of Shreveport was shot once in the upper body. He remains in Ochsner LSU Health hospital in Shreveport. 
RELATED ARTICLE: Woman killed in Cedar Grove shooting identified
Shreveport police were armed with an arrest warrant charging Jones with second-degree murder in connection with the Sunday night shooting death of his girlfriend, 43-year-old Tasha Mayberry. She was shot multiple times in the upper body at the intersection of West 73rd Street and Union Avenue. She died at the hospital.  
Detectives had been searching for Jones since the shooting and on Monday learned he was at the Linwood Homes Apartments in the 7200 block of Bernstein Avenue. Officers didn't find him in the first apartment they went to. But they heard a "commotion" in a vacant next door apartment and that's where they found Jones hiding in a closet, Wilhite said.
"Jones pointed a firearm at officers and one officer fired at Jones, striking him at least once in the upper body," Wilhite said. 
Arrested at the scene was 28-year-old Tristan Mayberry on charges of accessory after the fact to second-degree murder and manufacturing and possession of Schedule 1. Details about his alleged role in Tasha Mayberry's death have not been provided.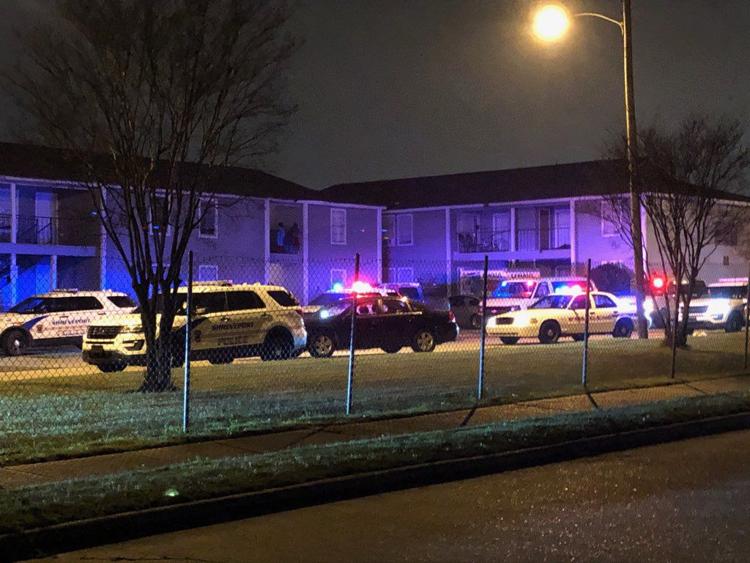 Jones was wanted by police even before Mayberry's shooting. SPD had active warrants on him for second-offense domestic abuse battery, aggravated assault with a firearm, aggravated assault on a peace officer and possession of a firearm or carrying of a concealed weapon by a person convicted of domestic abuse battery. No bond was set on those charges. 
The warrants stemmed from an alleged attack on Mayberry in late October. Officers responding to that incident chased Jones, and he pointed a firearm at the officer, Wilhite said. 
But Jones' criminal history started before then. He has multiple arrests for offenses including armed robbery, resisting an officer, manufacturing and distribution of Schedule I, forcible rape and unauthorized use of a movable. 
ORIGINAL STORY: 
SHREVEPORT, La. -- One man was shot by Shreveport police while officers were serving an arrest warrant connected to Sunday's homicide.
Around 5:30 p.m. Monday, officers went to Linwood Homes Apartments in the 7200 block of Bernstein looking for the suspect. 
Police say they found the man in a vacant apartment. The man pulled a gun and was shot twice. He was sent to Ochsner LSU Health with life-threatening injuries, according to Shreveport police spokesperson Cpl. Angie Willhite. 
Willhite says detectives are confidant the man who was shot was the suspect.  
KTBS does have a reporter at the scene. 
This story is breaking. Stay with KTBS as we learn more about this situation.