SHREVEPORT, La- The Better Business Bureau serving the ArkLaTex was recently targeted via e-mail by someone pretending to be the local president at the BBB, Tim Shane. The email asked them to buy gift cards along with specifics. BBB employees are familiar with these tactics and caught on. However, some people may not. The scammer used a scamming tactic called spoofing, and even used Tim Shane's signature.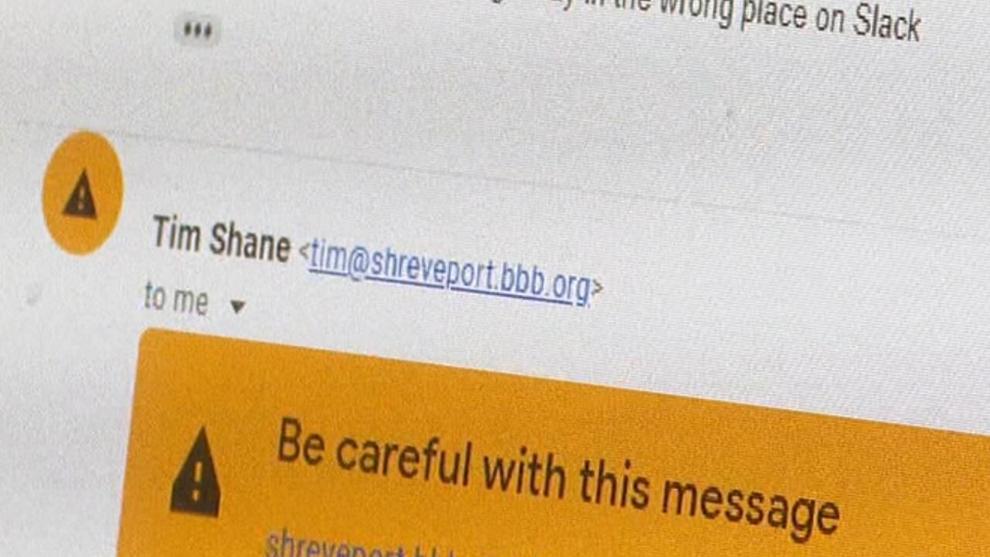 "We're usually the ones that are out there educating and informing the public," said Shane. Shane spoke with KTBS about this incident to make others are aware about another way they could be targeted.
His employee, who is a Market Place Investigator at the BBB in Shreveport, saw the e-mail.
"It just asked if we could grab him some gift cards as soon as possible because he needed to send them out as gifts," said Tammy Stone. Stone said they responded to the scammer to get more information to submit it to the BBB Scam Tracker. That way, others can have a heads up before something like this happens to them.
Stone explained that there are ways to find out where a strange e-mail comes from and to see if it's authenticated. 
For Microsoft Outlook: According to Microsoft, if you see a question mark in the sender image it means Microsoft could not identify the sender using their e-mail authentication system. That doesn't confirm that it's a scam every time, but you should still be cautious. 
Click here for Microsoft's full report.
For Gmail: You can click here to follow steps from Google to see if an e-mail is authenticated with Gmail. These emails will also display a question mark next to the senders name if the message isn't authenticated. 
For any other email host, you can Google: how to check for spoofed emails with your email provider. 
In the end, the BBB advises anyone targeted with this tactic to ask the person who it came from in person to confirm it was them. 
"It's an extra layer that they've been able to spoof and so it looks pretty legit." said Shane.
"Just don't don't believe everything you see, even emails, text messages, and on the internet," said Stone.
Click here for the BBB Scam Tracker.