SHREVEPORT, La. - Another step toward getting a permanent police chief was realized Tuesday afternoon with the announcement of scores from the chief's exam. 
The meeting of the Fire and Police Civil Service Board was brief and to the point. Sealed envelopes holding the scores were opened and accepted. Fire Capt. Michael Covert read the results to the media and a few of the chief candidates in attendance after the meeting adjourned.
The next step is for the results to go to Mayor Adrian Perkins and his committee to review before a final selection is made. 
Seven applicants are vying to fill in the position. Here are the results:
Ben Raymond: 94
Janice Dailey: 92
Michael Carter: 89
Jason Frazier: 89
Kevin Strickland: 88
Wayne Smith: 86
Tedris Smith: 78
Raymond, who is serving as the substitute police chief, scored the highest during the last go-round for police chief in 2016. That's when recently retired Chief Alan Crump was tapped by former Mayor Ollie Tyler despite his score of 77. A score of 75 is needed to pass. 
Crump took medical leave in November and officially retired on July 31.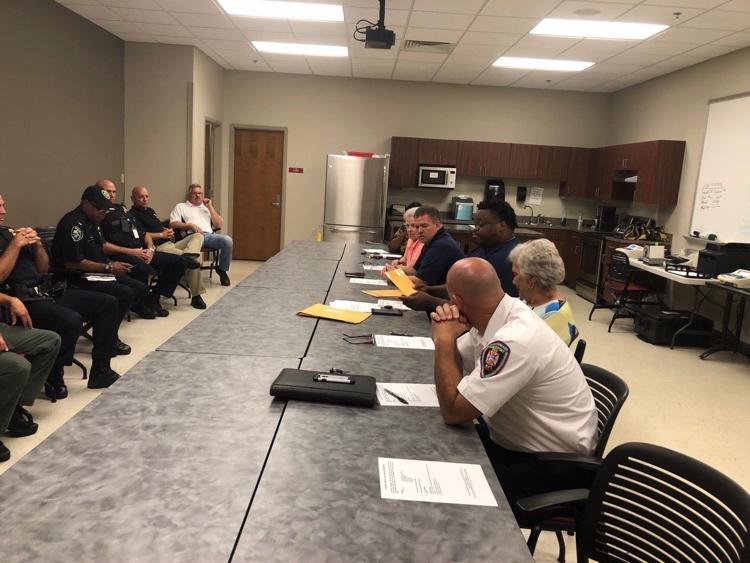 Perkins has formed an advisory team. It includes Caddo District Attorney James Stewart, along with two sheriffs -- Caddo's Steve Prator along with Victor Jones of Natchitoches. Also, two retired SPD officers -- E.J. Lewis and Jim Taliaferro, defense attorney Ron Miciotto and civil rights attorney Laurie Lyons and City Councilman Jerry Bowman.
The committee will review the candidates and be involved in the interview process. They will analyze their job histories, test scores and how they measure up to the mayor's preferences.
"Public safety is my administration's top priority," Perkins said in a statement earlier this month. "The next Police Chief must be committed to and capable of implementing community oriented policing strategies."
The mayor says there's no timetable to name a permanent chief. 
Related Content-- Civil Service Board set to approve test scores Tuesday