SHREVEPORT, La. – Whisk Dessert Bar reopened to foot traffic last week.
"We've really come a long way to keep the business going, to keep fighting through quarantine," said Blake Jackson, the owner of Whisk who also owns a catering company and is a managing partner of an event venue. 
Last week, after Shreveport Mayor Adrian Perkins issued a citywide mask mandate, Jackson received a Facebook message from a dissatisfied customer.
"They were just letting us know that they were frustrated that we were following the policies that were put in place by the mayor last week regarding masking up," Jackson said. "It was hard to have someone tell you, when you feel like you're finally coming out of it, 'Hey, I'm not going to support you now because you're following this rule.' It just kind of broke my heart a little."
Jackson posted his response, publicly, on his Facebook profile.
"My anxiety has peaked," the post read, in part. "I ask everyone, no matter where you sit, right or left, to start putting people, your neighbors, before your politics. Please continue to support local businesses. For those of us that are still standing, we are limping."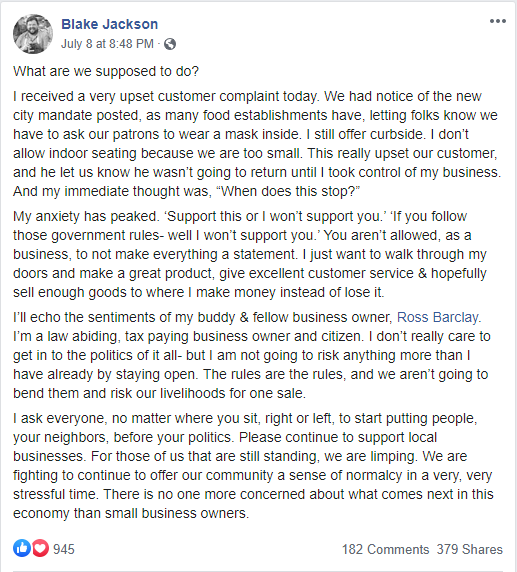 "I really wanted to just speak up on behalf of all my friends -- and even rivals -- in this game of small business and just say, 'Hey, we're doing what we can.'"
Jackson's post was shared hundreds of times.
"It kept growing, and then people from Colorado were sending me messages. People from California were sending me messages and saying, 'Hey, saw your post! That's really cool – like, way to stand up.'"
But it was someone local who really wanted to give Jackson his just desserts.
A donor, who asked to remain anonymous, bought $250 worth of cookies from Whisk for Jackson to give to his customers.
Jackson, again, took the news to Facebook.
"And then it rolled in," Jackson said. "People were calling, like 'Hey, I want to buy some stuff for you to give away, too.'"
Thanks to those donations, Whisk is hosting a different treat giveaway every day this week.
On Tuesday, Whisk gave a free Tigre, which is Jackson's signature dessert, to the first 25 customers. Whisk Sink is the shop's signature gelato flavor, and the first 25 customers on Wednesday will be treated to a small cup. On Thursday, customers will get a free carton of milk with each order. On Friday, the first 50 customers will get a freshly-baked chocolate chip cookie.
Jackson said the donations and giveaways have provided a much-needed boost to his business, but believes what happened this week speaks to a bigger picture.
"It's not about Whisk. It's about people getting out and supporting local businesses. "We just want to go into work, we want to make things happen, make good products, give excellent customer service, and then hopefully survive to see another day."
Face coverings became mandatory in Louisiana Monday to slow the spread of COVID-19.