SHREVEPORT, La. – A Shreveport man, who for months has dodged attempts to serve him with a stop work order on his construction next to the interstate, now faces a criminal charge after reportedly assaulting a private process server, according to Caddo Parish court records.
Almost a half-dozen court dates have been set for Olanza Sanders, who has been ordered by a Caddo District judge to stop work on a bronze-sided, four-story building at 1019 Pickett St. next to Interstate 20. The city of Shreveport obtained the temporary restraining order in March after finding that Sanders had exceeded the scope of work for which he was permitted.
A court hearing on the matter was to be held April 7. But sheriff's deputies were unable to serve the order on Sanders. The hearing was rescheduled multiple times when Sanders could not be located.
So in May the city hired Robert Jerry DeFatta and DeFatta & Associates as a private process server. The company made four attempts to serve Sanders and hours of surveillance. However, Sanders "again evaded service and ran inside the house," according to a motion filed Friday by city attorney Joseph Woodley.
On May 4, the private process server saw Sanders coming out of the house and walking toward an SUV. The server approached him, but Sanders ran to the front door, "turned and assaulted the process server," the motion states.
The process server filed an assault complaint against Sanders on the same day, according to a copy of the offense report obtained by KTBS. The city's separate court filing says an arrest warrant was issued and Shreveport police went to Sanders' house to arrest him. However, KTBS has learned an arrest warrant was not issued.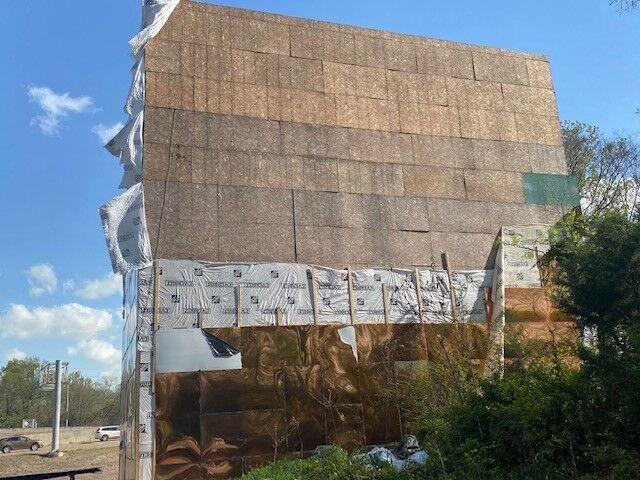 On May 19, the court extended the temporary restraining order and set a new hearing for July 6. As of Friday, Sanders still has not been served with the order demanding him to appear in court.
The court has approved appointment of another private server, Jeremy Homan of Homan and Associates.
Sanders' building became the talk of the town because of its appearance. The windowless structure with shiny bronze siding is visible from busy Interstate 20.
The city approved construction of a three-story, 4,500-square foot residential structure. Instead, Sanders added a fourth floor – in violation of building codes – which made it a commercial building.
He was first told to stop work on July 21. In January, he was given permission to install a roof and exterior moisture barrier to protect the exposed wood from further deterioration. But he was told not to put siding on it until his revised commercial building plans were approved by the state fire marshal and all city departments.
Despite that, Sanders installed partial siding.
-----
Editor's Note: This story has been updated to reflect an arrest warrant was not issued for Sanders, even though the city's court filing says it was.