KEITHVILLE, La. -- A deputy-involved shooting in south Caddo Parish Monday afternoon has left one man dead, Sheriff Steve Prator said. 
The man, Cody Hodges, 34, was shot, Prator said, when he refused to put down his gun when told to do so by a deputy who responded to a domestic call in the 6800 block of Williams Road in Keithville. 
"It's a tragic situation," Prator said, adding it "appears the deputy was justified in doing what he did." 
A deputy was sent to the home after Hodges's ex-girlfriend called 911 to say she received a text from him that said whoever showed up was going to die or he would, Prator said. 
When the deputy arrived he found Hodges sitting in a vehicle in the front yard. The deputy approached Hodges and he got out of the vehicle waiving a gun and pointed it at the deputy, Prator said. 
The deputy ordered Hodges to put down the gun but when he didn't, the deputy shot him. The deputy fired about 10 to 11 times, but Prator was unsure if he was hit that many times. 
Hodges suffered multiple gunshot wounds, according to the Caddo Parish coroner said Tuesday.
"But you got to do what you got to do until the threat is over," he said of the gunshots.
Hodges stumbled and fell on the ground after being shot. The first deputy and a second one who arrived on the scene performed CPR. Hodges was pronounced dead at the scene.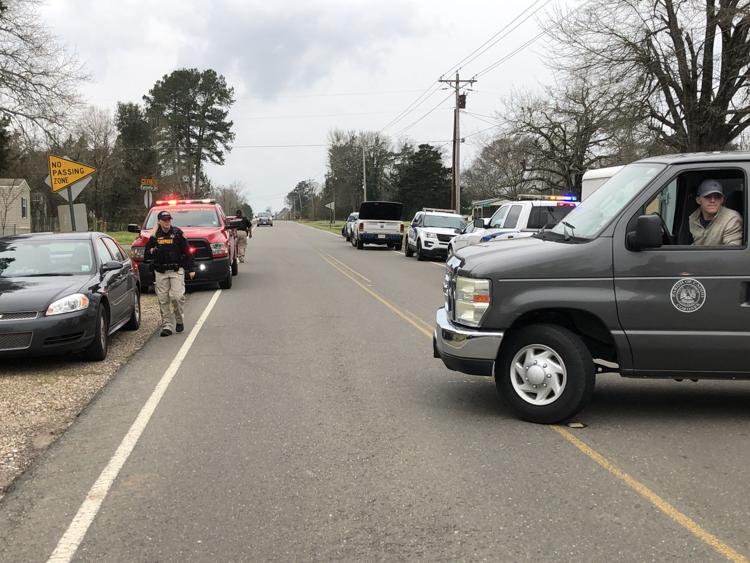 Hodges was armed with what Prator said was a makeshift gun. He described it as being pieced together from different parts of other guns. 
Prator said he has yet to view the dash cam or the deputy's body camera. 
The situation is a tragic one for the victim's family but also for the deputy "who has to live with this the rest of his life," knowing that he killed someone, Prator said. 
The deputy will be placed on routine leave. His name will be released within 48 hours. 
Hodges' body was sent for autopsy Tuesday.