SHREVEPORT, La. -- Shootings continue to wreak havoc for businesses in the area. One of the first of 2021 happened Sunday around 3:30 a.m.   
Police were called to a parking lot near Jewella Avenue and West 70th Street in response to a group of men shooting at each other. Five were hit and two died.
Of those, 18-year old Jamarvioun Oliver was killed. The mother of the second murder victim, 20-year-old Zacorian "Cory" Hinton, was at the scene Monday afternoon. She was pleading with the businesses in the plaza for video footage to speed up the investigation. She was unsuccessful in obtaining footage, as she says many of the cameras did not capture the incident according to the business representatives.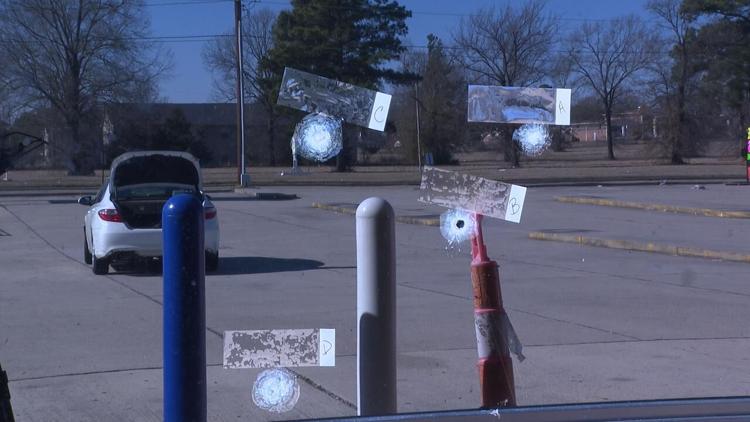 Business owners say despite their efforts to give back to the community, it's not enough for their business to stop getting a bad reputation. When these shootings broke out this weekend, none of the businesses were open. When on scene, it appeared the majority of the bullets pierced a window of a vacant unit.
KTBS spoke with Trendsetters tattoo shop owner Jonathan Clinton, who said his business gets the worst reputation because he's been in the plaza longer than anyone else.
"We can't control the parking lot. We call SPD, they take an hour to come. Like what do they want us to do as business owners?" asked Clinton.
KTBS also spoke with a Boost Mobile employee Brandy Mendoza, who's worked there for six months. At times, she said she's anxious working at night because of the shootings. Even in the short time she has worked there, she is fed up with the constant crime.
"I think these people need to take into more consideration when they're out here doing these shootings. We've already had several times children get hit and a pregnant woman got shot and that's not necessary. That is not the way we should be bringing up our kids, or the world we should be raising our kids in," Mendoza said. 
As of Monday, there have been three homicides in Shreveport. There was only one reported homicide in January 2020, according to Shreveport police.
The shootings are still under investigation.